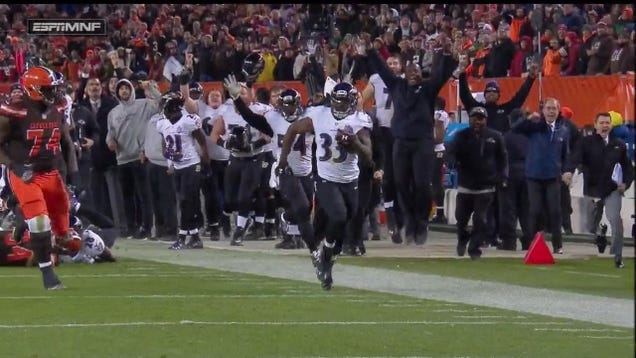 nytimes.com
profootballtalk.com
yahoo.com
deadspin.com
ESPN.com
Updated 1 hour ago
Brent Urban just wanted a chance to play. Will Hill wanted redemption.
Share
Tweet
profootballtalk.com ESPN.com

1 hour ago

Just a week ago, Browns coach Mike Pettine finally got permission to publicly discipline Johnny Manziel. The team released a statement last Tuesday that said Manziel had been demoted from starter to No. 3 quarterback for Monday night's game against the …

Share Tweet

profootballtalk.com

3 hours ago

Browns Coach Mike Pettine told reporters after Monday night's loss to the Ravens that quarterback Josh McCown was forced out in the fourth quarter due to a collarbone injury. Pettine said McCown will remain the team's starting quarterback for next Sunda…

Share Tweet

profootballtalk.com

3 hours ago

Seattle Seahawks cornerback Cary Williams had started 81 straight games, regular and postseason combined, dating back to his time in Philadelphia and Baltimore before he was benched for Sunday's game against the Pittsburgh Steelers. Williams was one of …

Share Tweet

Browns Fans Shot The Saddest Goddamn Videos As Their Team Blew It Once Again

deadspin.com

4 hours ago

These Browns fans thought they were going to capture a triumphant victory over the hated Baltimore Ravens, with the worst case scenario being the game going into overtime. Instead they managed to document a beautiful mosaic of Browns fan sadness, resign…

Share Tweet

profootballtalk.com

5 hours ago

Justin Gilbert's return to the lineup for the Cleveland Browns was cut short on Monday night. Gilbert was ruled out after sustaining a concussion on a kickoff return in the third quarter. Gilbert took the Justin Tucker kick six yards deep in the end zon…

Share Tweet

profootballtalk.com

6 hours ago

Matt Schaub lost his starting job in Houston due to a stunning propensity to throw interceptions that were returned for touchdowns. That trait seems to have followed Schaub to Baltimore. Linebacker Karlos Dansby intercepted Schaub's pass for Kamar Aiken…

Share Tweet

profootballtalk.com ESPN.com

7 hours ago

The Ravens have been in charge, but their lead over the Browns is only 17-10 in the second quarter. After the Browns had a 14-play drive that ended in a field goal to cut their deficit to 10-3, the Ravens easily went right back down the field with a dee…

Share Tweet

profootballtalk.com ESPN.com

7 hours ago

The Browns and Ravens traded punts to start Monday's game, and Ravens rookie Kaelin Clay took the one he caught 82 yards for a touchdown. So, the Ravens lead, 7-0, in a game that probably won't feature many explosive offensive plays. The Ravens got a 49…

Share Tweet

deadspin.com

11 hours ago

Tonight, the Ravens and Browns will play what will most likely be the least appealing Monday night game of the season. Look at the schedule. Vikings-49ers was horrid, but at least we had Jim Tomsula reaction shots to entertain us. This game will have no…

Share Tweet

Edmonton Wins Cup: The Edmonton Eskimos defeated the Ottawa Redblack…

deadspin.com

12 hours ago

The Edmonton Eskimos defeated the Ottawa Redblacks 26-20 Sunday and won their first Grey Cup since 2005. Here's where we'd say you wasted your time watching another week of regular-season NFL, but the 4 p.m. Steelers-Seahawks game was pretty damn good. …

Share Tweet

yahoo.com

18 hours ago

With 1:45 remaining and the Pittsburgh Steelers trailing 39-30, Seattle Seahawks safety Kam Chancellor made a leaping pick of a Landry Jones pass intended for Martavis Bryant, rolled out of bounds as Bryant stripped the ball from him and came away empty…

Share Tweet

profootballtalk.com

20 hours ago

The Steelers piled up 480 passing yards in Seattle on Sunday afternoon, but Antonio Brown wasn't the big reason why they had so much success through the air. Markus Wheaton went off for 201 yards on nine catches and Brown's 51 receiving yards were also …

Share Tweet

profootballtalk.com

21 hours ago

Bengals tight end Tyler Eifert missed a lot of time in his first two seasons because of injuries, including a stinger in his rookie season that likely jumped to many minds on Sunday when he left the team's victory over the Rams with the same injury. Any…

Share Tweet

profootballtalk.com

22 hours ago

Steelers coach Mike Tomlin faced questions about a couple of fourth down calls after losing 39-30 to the Seahawks on Sunday, including his decision to kick a field goal that cut Seattle's lead to 32-30 with three minutes left to play in the game. The St…

Share Tweet

Browns intercept Schaub for pick-6

Nov 30

Browns LB Karlos Dansby intercepts Ravens QB Matt Schaub and returns it for a 52-yard touchdown in the third quarter.

McCown scrambles and finds Moore for TD

Nov 30

Browns QB Josh McCown thinks twice before running and decides to step out of the pocket to find Marlon Moore on a 10-yard pass for a touchdown in the second quarter.

Clay returns punt 82 yards for TD

Nov 30

Ravens WR Kaelin Clay returns a punt for an 82-yard touchdown in the first quarter against the Browns.

Stugotz's Weekly Game Notes

Nov 30

Jon "Stugotz" Weiner shares his weekly game notes of observations he had over the weekend, including if he believes Les Miles should leave LSU.