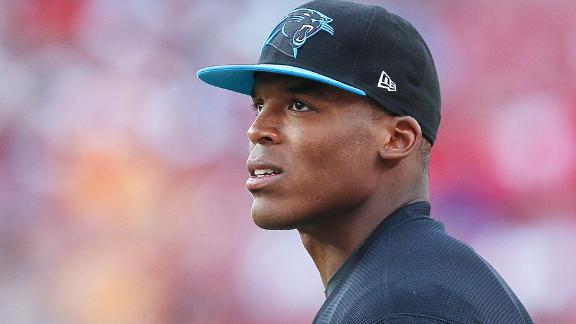 nytimes.com
ESPN.com
Updated 4 hours ago
Newton could return for Carolina against Cleveland on Sunday, 12 days after he broke bones in his back in a car crash.
Upvote
Share
Tweet
William Gay re-emerges as a force on defense

post-gazette.com

6 hours ago

Late in the 2008 season, Steelers coach Mike Tomlin wore a microphone for NFL Films during a game at Baltimore in which his team clinched the AFC North title. Cornerback William Gay recorded the first interception of his career to thwart a final Ravens …

Upvote Share Tweet

Annual Pro Bowl snub Andrew Whitworth deserves pick this season

ESPN.com

8 hours ago

CINCINNATI -- It's late December, meaning it must be time for the yearly tradition Andrew Whitworth has grown far too accustomed to. When the Pro Bowl teams are announced Tuesday night, the Cincinnati Bengals left tackle may not hear his name called. If…

Upvote Share Tweet

ESPN.com

9 hours ago

Barkevious Mingo's hit on Bengals QB Andy Dalton was costly to the Cleveland Browns on the field Sunday, and now it's costly to his bank account.

Upvote Share Tweet

ESPN.com profootballtalk.com

10 hours ago

The Browns have been supportive of Johnny Manziel's rebound efforts after his ugly debut, publicly building his confidence up in the locker room and the podium. "He's a playmaker," Kyle Shanahan said. But Manziel might not get the same treatme…

Upvote Share Tweet

nytimes.com ESPN.com

10 hours ago

Peyton Manning did not pass for more than 257 yards in any of Denver's last four games, but the Broncos went 4-0 because of a yeoman effort by C. J. Anderson.

Upvote Share Tweet

Pittsburgh has set a number of franchise records this season as Ben Roethlisberger, Le'Veon Bell and Antonio Brown have lit up the scoreboard.

Upvote Share Tweet

profootballtalk.com

11 hours ago

The Steelers host the Chiefs on Sunday in a game that's vital for both team's chances of making the playoffs and it looks like the Steelers are going to have to try to win it without safety Troy Polamalu. Polamalu has been out of practice all week after…

Upvote Share Tweet

Cam Newton is likely to return after practicing in a limited fashion, and Carolina still has a legitimate chance to reach the playoffs.

Upvote Share Tweet

Baltimore Ravens at Houston Texans Preview

Baltimore's defense has relied on a heavy pass rush this season, with Elvis Dumervil and Terrell Suggs wreaking havoc each week, but it has had no luck keeping its secondary healthy.

Upvote Share Tweet

ESPN.com

11 hours ago

CINCINNATI -- It's the most odd formula for beating a quarterback the caliber of the Denver Broncos' Peyton Manning, but it may be the Cincinnati Bengals' best hope for claiming a crucial 10th and playoff-clinching win. The Bengals believe if they can s…

Upvote Share Tweet

Joe Thomas facing charges for discharging manure

profootballtalk.com

12 hours ago

Some days the jokes fall right into your lap. According to the Associated Press, Browns left tackle Joe Thomas is accused of multiple enviornmental violations on his Wisconsin hunting land, including "discharging manure into a wetland." Considering his …

Upvote Share Tweet

ESPN.com

13 hours ago

Recently signed quarterback Case Keenum is expected to start for the Houston Texans against the visiting Baltimore Ravens on Sunday, according to a league source.

Upvote Share Tweet

Torrey Smith named Ravens' Man of the Year nominee

ESPN.com

13 hours ago

OWINGS MILLS, Md. -- Wide receiver Torrey Smith was officially recognized Friday as the Baltimore Ravens' nominee for the NFL's annual Man of the Year award -- named after former Chicago Bears running back Walter Payton. The award goes to one of 32 play…

Upvote Share Tweet

A.J. Green back to practice after brief illness

profootballtalk.com

13 hours ago

After worrying everyone through a series of big toe problems earlier this year, A.J. Green's latest reason to miss practice wasn't nearly as big a deal. According to Geoff Hobson of the team's official website, the Bengals wide receiver was back on the …

Upvote Share Tweet

AFC North going for rare trifecta

ESPN.com

14 hours ago

If the top three teams in the AFC North -- the Cincinnati Bengals, Pittsburgh Steelers and Baltimore Ravens -- all win this week, it would mark just the second time that an AFC division has had three teams with at least 10 wins since the current eight-d…

Upvote Share Tweet

Marvin Lewis doesn't get Jeremy Hill's touchdown celebrations, but likes how often he's celebrating

profootballtalk.com

14 hours ago

Bengals running back Jeremy Hill has made an impression on several fronts during his rookie season. He's made headlines with his mouth by criticizing opponents and his own offense's predictability and he's shown off a penchant for elaborate touchdown ce…

Upvote Share Tweet

Pittsburgh Steelers finally have some depth at outside linebacker

ESPN.com

15 hours ago

PITTSBURGH -- James Harrison did not have to introduce himself to the reporters hovering over him as he sat in front of his locker earlier this week. But the veteran outside linebacker felt the need to do so anyway following a question about whether the…

Upvote Share Tweet

Bengals' rushing success may hinge on Russell Bodine

ESPN.com

17 hours ago

CINCINNATI -- It was Russell Bodine's knack for physicality that impressed Cincinnati Bengals coaches during the pre-draft process last winter and spring. Film of his blocking ability in college at North Carolina, along with his impressive strength (he …

Upvote Share Tweet

Dick LeBeau says Ryan Shazier could play more this Sunday

ESPN.com

17 hours ago

Pittsburgh Steelers defensive coordinator Dick LeBeau said he expects rookie linebacker Ryan Shazier to play more Sunday when the Kansas City Chiefs visit Heinz Field. Shazier has played primarily on special teams the last two weeks after missing the pr…

Upvote Share Tweet

profootballtalk.com

18 hours ago

The Ravens will be in Houston Sunday, which means offensive coordinator Gary Kubiak will be back in town for a game for the first time since being relieved of his duties as Texans head coach last season. Kubiak said Thursday that he has nothing but "gre…

Upvote Share Tweet

Keenum To Start For Texans

Dec 19

John Clayton discusses Texans coach Bill O'Brien's decision to start Case Keenum at quarterback against the Ravens in Week 16.

President Obama Combines Franco And Flacco

Dec 19

President Barack Obama caused a social media stir, and a response from quarterback Joe Flacco's Twitter account, when he referred to actor James Franco as James Flacco during a White House news conference.

Cam Can Handle The Pain

Dec 18

John Clayton talks about how Cam Newton is preparing for week 16.

NFL Live Prediction: Broncos-Bengals

Dec 18

The NFL Live crew make their picks for Denver at Cincinnati.