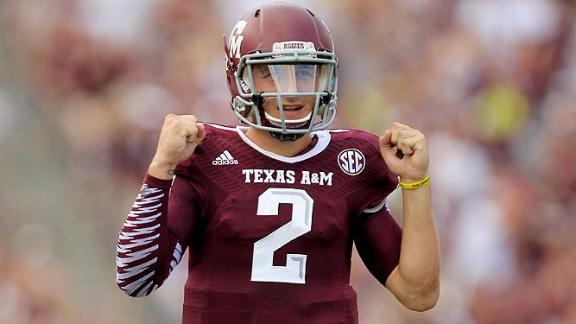 ESPN.com
Updated 8 hours ago
Johnny Manziel will work out for Cleveland Browns officials Saturday in College Station, Texas, a source told ESPN NFL Insider Adam Schefter.
Upvote
Share
Tweet
CNNSI.com

4 hours ago

Baltimore Ravens coach John Harbaugh was added to Miami (Ohio) University's Cradle of Coaches on Saturday. He unveiled a sculpture of himself with right arm raised in triumph.

Upvote Share Tweet

The Harbaugh family summer retreat

ESPN.com

10 hours ago

Nothing breaks up the monotony of training camp like a Harbaugh hoedown. As expected, the Baltimore Ravens announced they will host the San Francisco 49ers for some scrimmages during training camp. The workouts between the former Super Bowl opponents ap…

Upvote Share Tweet

ESPN.com profootballtalk.com

22 hours ago

Two seasons after battling in the Super Bowl, the Baltimore Ravens and San Francisco 49ers will hold four joint practices after their preseason opener on Aug. 7 in Baltimore, John Harbaugh said Friday night.

Upvote Share Tweet

profootballtalk.com

Apr 18 (yesterday)

Running backs might not be a first round staple anymore, but teams are still going to be selecting the top collegiate runners from 2013 at some point over the three day draft process. One that should be off the board near the top of the list is Boston C…

Upvote Share Tweet

ESPN.com

Apr 18 (yesterday)

Khalil Mack remains a very large mystery when it comes to the Cleveland Browns' draft plans. Mack was the standout linebacker for the University at Buffalo whose draft stock in the eyes of NFL types has remained consistently high. Merrill Hoge calls Mac…

Upvote Share Tweet

profootballtalk.com ESPN.com yahoo.com

Apr 18 (yesterday)

Rolando McClain's comeback attempt didn't get off to such a hot start, but the Ravens are apparently letting him continue to attempt it. According to Aaron Wilson of the Baltimore Sun, the plan is for McClain to join the Ravens "as soon as Monday" for t…

Upvote Share Tweet

Chuck Pagano: It's an important offseason for Trent Richardson

profootballtalk.com

Apr 18 (yesterday)

The Colts kick off their offseason program on Monday and it promises to be a big one for running back Trent Richardson. Richardson's in-season arrival in a trade with the Browns cost the Colts a first-round pick and got them a back who wound up being be…

Upvote Share Tweet

Bengals, A.J. Green not talking about a new contract yet

profootballtalk.com

Apr 17 (yesterday)

By May 3, the Bengals inevitably will exercise the fifth-year option on receiver A.J. Green's contract. The bigger question is whether the Bengals will be extending Green's contract by more than a year. Per a source with knowledge of the situation, talk…

Upvote Share Tweet

ESPN.com profootballtalk.com

Apr 17 (yesterday)

The Baltimore Ravens picked up the fifth-year option on cornerback Jimmy Smith well before the May 3 deadline, according to ESPN's Field Yates. This was never in doubt because coach John Harbaugh said at last month's NFL owners meetings that the Ravens …

Upvote Share Tweet

For some NFL teams, a practical impediment exists to hosting games in London: The stadium lease. Some leases require all "home" games to be played in the home stadium, with no "home" games played elsewhere. The Bengals' lease at Paul Brown Stadium previ…

Upvote Share Tweet

Rolando McClain wasn't the only former Alabama linebacker to pay the Ravens a visit this week. Aaron Wilson of the Baltimore Sun reports that the Ravens had C.J. Mosley in for a pre-draft visit. For Mosley's sake, let's hope it went better than McClain'…

Upvote Share Tweet

Another jam-packed PFT on NBCSN today

Thursday's edition of Pro Football Talk on NBCSN expands back to an hour. And we'll be covering plenty of ground during that time. It's Bengals and Chargers draft preview day, and we've interviewed Cincinnati coach Marvin Lewis and San Diego coach Mike …

Upvote Share Tweet

Ravens draft primer: Mike Evans

With 21 days until the NFL draft begins, here is another potential draft prospect for the Baltimore Ravens: MIKE EVANS Position: Wide receiver School: Texas A&M Height/weight: 6-foot-4, 231 Round projection: First File this away: Evans averaged 13.4…

Upvote Share Tweet

yahoo.com

Apr 17 (2 days ago)

Chad Johnson is back in football. It's not exactly what the one-time star receiver envisioned, probably, but it'll do. Johnson, who is mostly known for his time with the Bengals, signed with the Canadian Football League's Montreal Alouettes, the league …

Upvote Share Tweet

yahoo.com

Apr 17 (2 days ago)

Michael Sam is not expected to be a first-round pick in the upcoming NFL draft. He may not be selected in the middle rounds. In fact, there is a chance Sam is not drafted at all. However, there are plenty of NFL teams very interested in him. The Baltimo…

Upvote Share Tweet

Don't count on an extension with Ngata

The Baltimore Ravens were unable to reach an extension with defensive tackle Haloti Ngata despite offering a "lucrative, long-term" deal, according to the NFL Network. The Ravens are looking to reduce Ngata's $16 million cap number, which is t…

Upvote Share Tweet

Inside Slant: 'Draft Day' as an infomercial

Fair warning: Spoiler alert. The most cutting reviews of "Draft Day" suggested it was nothing more than a big-screen NFL infomercial, a modern-day NFL Films-like effort to glorify and dramatize what is now a $10 billion industry. That interpre…

Upvote Share Tweet

Taylor Mays working way back from shoulder dislocation and labrum tear

profootballtalk.com

Apr 17 (3 days ago)

The Cincinnati Bengals lost safety Taylor Mays for the season when he suffered a torn labrum and dislocated shoulder last October. Mays dislocated his shoulder when attempting to tackle Bilal Powell in a game against the New York Jets. According to Tom …

Upvote Share Tweet

DJ and Charles' mock draft

Apr 18

Daniel Jeremiah and Charles Davis take turns picking in the top 10 and deliver their latest mock draft. Is there a player that is slowly creeping his way up the draft board? Find out.

Better quarterback option for the Cleveland Browns: Derek Carr or Johnny Manziel?

Apr 18

The Cleveland Browns are likely to take a quarterback with one of their early-round picks in the 2014 NFL Draft -- but is Derek Carr or Johnny Manziel a better fit for the franchise?

Will Browns Take Manziel?

Apr 18

Adam Schefter discusses whether Cleveland will take Johnny Manziel with the fourth overall pick in the NFL draft.

Inside The Huddle With John Clayton

Apr 17

John Clayton goes deep analyzing the 2015 free-agent market. The impact of certain outcomes could be significant.