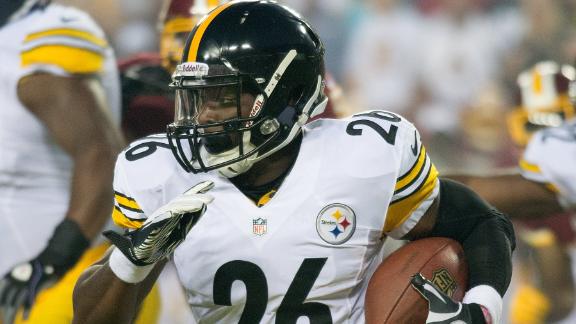 nytimes.com
ESPN.com
yahoo.com
profootballtalk.com
Updated Aug 23, 2013
If Santonio Holmes is able to return for the Jets' season opener, he will provide a lift to an unproven receiving corp, as well as to the quarterback.
Share
Tweet
Three AFCN players on Polian's 'pivotal' list

Bill Polian, former NFL general manager and current ESPN Insider, made a list of 10 players that will most affect their respective teams' success. Three of them came from the AFC North. It's an Insider article , so you'll need a subscription to view the…

Share Tweet

Rookie Wheaton makes an early impression

PITTSBURGH -- The injuries that have hampered running back Le'Veon Bell have also obscured the early returns on the Steelers' 2013 NFL draft haul are promising. It is way too early to evaluate the rookies as I am a firm believer that it takes at least t…

Share Tweet

Kyle Shanahan says RGIII's mechanics are fine

Earlier this week, Ron Jaworski of ESPN said that he thought Redskins quarterback Robert Griffin III's throwing mechanics during warmups for their game against the Steelers looked like they weren't as clean as they were last season before he injured his…

Share Tweet

NFL Training Camp Snapshots 2013: Cincinnati Bengals

CNNSI.com

Aug 23, 2013

The Bengals haven't won a playoff game since 1991. Much improved from their dark days, it's time.

Share Tweet

Anquan Boldin shining in mentor role for 49ers

The 49ers knew they were getting a proven receiver for their money, when they took Anquan Boldin's contract off the Ravens' books this offseason. But they're getting more than their money's worth in the lessons Boldin is sharing with a young receiving c…

Share Tweet

deadspin.com profootballtalk.com yahoo.com grantland.com

Aug 23, 2013

Nice little profile in ESPN The Mag of Joe Flacco, the defending Super Bowl MVP who can't get any respect. We'll have more on Flacco, but let's pull out one quote that's getting all the attention.Read more...

Share Tweet

ESPN.com is continuing to reveal its list of the top 100 NFL players. Here are the players from the division that landed in spots 51-60 for offense and defense: OFFENSE 53. Marshal Yanda, Baltimore Ravens guard: The Pro Bowl lineman is considered by man…

Share Tweet

Ray Lewis And Pharrell Team Up For A Mixtape Of Sorts

deadspin.com

Aug 23, 2013

So this is weird. Pharrell Williams, who is perhaps the hottest producer in music right now, has teamed up with former NFL linebacker and full-time crazy person Ray Lewis to release a mixtape. It's not really a mixtape, though, it's just four minutes of…

Share Tweet

PITTSBURGH -- The strongest indication of how badly the Steelers wanted rookie Le'Veon Bell to seize the job of feature back and run with it came this morning when the team traded for Felix Jones. The Steelers were clearly not comfortable with Isaac Red…

Share Tweet

Cam Newton: Offense didn't do its part on Thursday night

The Panthers defense and special teams had a great night against the Ravens. Ted Ginn returned a punt for a touchdown and the defense scored three touchdowns to account for 28 of the team's 34 points. As you would probably imagine, the offense wasn't cl…

Share Tweet

The Ravens played their third preseason game of the year against the Panthers on Thursday night and we'll be talking about the biggest developments in that contest during Friday's edition of PFT Live. Clifton Brown of CSN Baltimore will join Mike Florio…

Share Tweet

The Bengals have had several key players sidelined at various points this summer by injuries, with wide receiver A.J. Green's bruised knee starting things off at an early training camp practice. Green returned to practice last week, but didn't play in t…

Share Tweet

Panthers linebacker Luke Kuechly was angry when he was flagged for hitting Ravens wide receiver Aaron Mellette in the head, because it negated his breakup-turned-interception. As it turns out, that was bad news for the Ravens. Two plays later, Kuechly p…

Share Tweet

BALTIMORE -- One of the more uncharacteristic trends this preseason for the Baltimore Ravens has been Joe Flacco's turnovers. He has been intercepted four times in six quarters of work. He's been picked off in every game. Flacco threw an interception on…

Share Tweet

Schwartz benches one of his five personal foulers

Maybe it was the heady feeling of blowing out the Patriots in a game no one will remember in five minutes. Or maybe, the Lions are just conditioned to play undisciplined football. A week after talking about their three personal foul penalties against th…

Share Tweet

Ravens not panicking about offense

What looked so promising for the Ravens last night unraveled quickly. But after a sharp opening drive gave way to a bizarre loss on four return touchdowns by the Panthers, Ravens coach John Harbaugh refused to freak out about the state of his offense. "…

Share Tweet

The third preseason game, which is often considered the dress rehearsal, was more of a disaster at times for the Baltimore Ravens in a 34-27 loss to Carolina on Thursday night. You can click here for my observations on the game. For what's happening aro…

Share Tweet

NFL Fan Pass: Pittsburgh Steelers undercover with Shaun Suisham

Aug 23

Pittsburgh Steelers kicker Shaun Suisham goes undercover as a training camp chauffeur, shuttling players and coaches around campus. To watch the entire video go to Steelers.com.

Ravens Panic Meter

Aug 23

Eric Allen measures the level of panic the Ravens should be feeling about their offense.