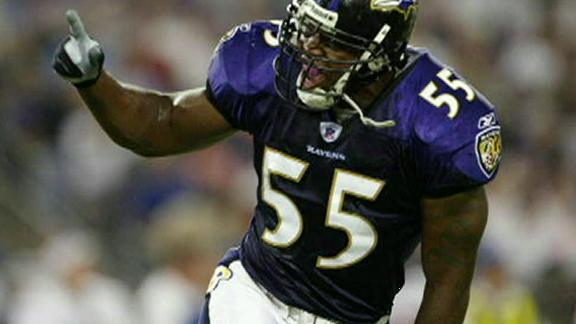 ESPN.com
profootballtalk.com
Updated Dec 6, 2012
Baltimore Ravens linebacker Terrell Suggs had to surrender several firearms stemming from a domestic case involving his girlfriend, Suggs' attorney told the Baltimore Sun on Thursday.
Upvote
Share
Tweet
ESPN.com profootballtalk.com CNNSI.com

Dec 6, 2012

Peyton Hillis lashed back at former teammate Joe Thomas on Thursday, comparing the Browns' offensive tackle to a "crazy ex-girlfriend" after he made disparaging comments about the Kansas City Chiefs running back.

Upvote Share Tweet

Report: Issue of control could determine Heckert's fate

With rumors swirling that new Browns CEO Joe Banner plans to fire G.M. Tom Heckert and replace him with Mike Lombardi, a new report suggests that Heckert's future hinges on one thing. Control. According to Patrick McManamon of FOXSportsOhio.com, Heckert

Upvote Share Tweet

Roethlisberger will wear special padding to protect rib

When Steelers quarterback Ben Roethlisberger returns to action on Sunday, nearly a month after injuring his shoulder and suffering a dislocated rib, he'll be carrying some extra baggage. Per the Associated Press, Roethlisberger will wear a "custom fit

Upvote Share Tweet

The Cowboys' offensive line will have a tough task protecting quarterback Tony Romo from Bengals defensive tackle Geno Atkins on Sunday. And that task will get even tougher if they're down a starting guard. But with starting guard Nate Livings out of

Upvote Share Tweet

The Steelers are getting Ben Roethlisberger back at quarterback on Sunday and we've got one of the guys he'll be throwing to on Pro Football Talk on NBC Sports Network on Thursday. Erik Kuselias will talk to Sanders about the return of Big Ben to the

Upvote Share Tweet

CNNSI.com ESPN.com profootballtalk.com

Dec 6, 2012

PITTSBURGH (AP) Pittsburgh Steelers quarterback Ben Roethlisberger will start on Sunday against the San Diego Chargers.

Upvote Share Tweet

Ravens linebacker Paul Kruger frequently wears his jersey tight and pulled up high, presumably because it makes it harder for opposing offensive linemen to grab it. But now that habit has proved costly for Kruger. The NFL has fined Kruger $5,000 for vio…

Upvote Share Tweet

nytimes.com

Dec 6, 2012

Kerry Collins and Trent Dilfer were high picks who had better playing days for teams that did not draft them.

Upvote Share Tweet

Ravens lineman shaves head to honor Pagano

It's a testament to Colts coach Chuck Pagano, that not only cheerleaders are willing to shave their heads in a show of support for him, but players on other teams as well. Ravens defensive lineman Arthur Jones has shaved his head and all his facial hair

Upvote Share Tweet

Where they rank on offense, defense

The lack of carries for Ray Rice has been a season-long problem for Baltimore. It shows up in the production. The Ravens currently have the 23rd-ranked ground game in the league, which is not typical for Baltimore. The Ravens' rushing attack has ranked …

Upvote Share Tweet

ESPN.com profootballtalk.com

Dec 6, 2012

The Bengals have signed kicker Josh Brown to fill in for the injured Mike Nugent, who hurt his right calf and didn't practice Wednesday.

Upvote Share Tweet

ESPN NFL Insider Adam Schefter says it looks like Ben Roethlisberger will be healthy enough to start Sunday against the Chargers.

Upvote Share Tweet

Is Hue Jackson interested in Volunteers?

Hue Jackson, an assistant coach for special teams and defensive backs for the Bengals, is reportedly interested in the University of Tennessee coaching job, AFC South blogger Paul Kuharsky posted on Twitter. Jackson would make a good coach on the colleg…

Upvote Share Tweet

Peter King: NFL Week 14 Picks

CNNSI.com

Dec 6, 2012

If the Pats get the AFC's No. 2 seed, they'll have earned it, thanks to a brutal two-game stretch that starts now. Can they slow the Texans' playmakers? Peter King picks Week 14.

Upvote Share Tweet

It's 'Hunger Games' for Bengals line

The way the Bengals' defensive line has been sacking quarterbacks, you're waiting for some comparison to the Fearsome Foursome or another memorable defense from the past. You probably weren't expecting a reference to a young adult novel about a fight to…

Upvote Share Tweet

profootballtalk.com ESPN.com

Dec 6, 2012

The Bengals took a look at three kickers Thursday while Mike Nugent recovers from a calf injury and they chose one of them to serve as a replacement until Nugent is ready to get back to work. The team announced that Josh Brown beat out Billy Cundiff and…

Upvote Share Tweet

Elusive three-game win streak for Browns

The Browns are looking for more than a win over their former coach (Romeo Crennel) and quarterback (Brady Quinn) Sunday against the Chiefs (2-10). It would also mark Cleveland's first three-game win streak since the Browns won their final four games at …

Upvote Share Tweet

Usama Young back at practice for Browns

Cleveland Browns safety Usama Young was back at practice Wednesday after missing last Sunday's game against the Oakland Raiders with a concussion. Young suffered the concussion two weeks ago against the Pittsburgh Steelers and wasn't cleared in time t

Upvote Share Tweet

The Cincinnati Bengals play host to the Dallas Cowboys this weekend in a match up that could determine the playoff fate for both teams. But to Bengals cornerback Adam Jones, there's even a little bit more on the line as well. Jones gets to play against

Upvote Share Tweet

NFL32OT: Cowboys Keeping Playoff Hopes Alive

Dec 6

Episode 232: Suzy Kolber and Chris Mortensen discuss the Cowboys chances to make the playoffs. John Clayton breaks down the impact of Brian Urlacher's injury on the Bears defense. The NFL32 discuss the return of Ben Roethlisberger.

NFL Cold Hard Facts

Dec 6

Cold Hard Facts looks at the Robert Griffin III, Redskins vs. Ravens and Giants vs. Saints.

Ben Roethlisberger To Start Sunday

Dec 6

Tedy Bruschi and Herm Edwards react to the news that Ben Roethlisberger will start Sunday against the Chargers.

Clark talks Big Ben's impact

Dec 6

Pittsburgh Steelers safety Ryan Clark phones in on "Around the League" to talk quarterback Ben Roethlisberger's return as well as the team's crucial victory over the Baltimore Ravens.