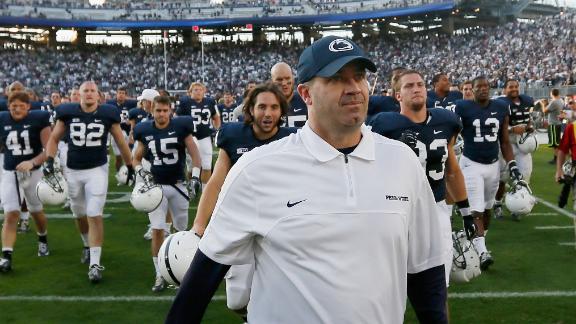 ESPN.com
profootballtalk.com
Updated Jan 3, 2013
Bill O'Brien will remain coach of Penn State next season, he said Thursday, turning away several NFL teams that were interested in talking to him for their head coaching vacancies.
Share
Tweet
yahoo.com

Jan 3, 2013

Saturday, January 5, 2012 - 4:30 p.m. ET NBC For the second consecutive January, the Cincinnati Bengals and Houston Texans will meet in an AFC wild-card playoff game at Reliant Stadium. When the two clubs met on Jan. 7, 2012, the Bengals seemed to be in…

Share Tweet

KANSAS CITY, Mo. (AP) -- Andy Reid and the Kansas City Chiefs should be quite familiar by now.

Share Tweet

profootballtalk.com deadspin.com ESPN.com yahoo.com CNNSI.com

Jan 3, 2013

It may seem like sheer sacrilege to criticize Ray Lewis as he heads into what will likely be his final game in Baltimore on Sunday. But amid all the talk of Lewis announcing his retirement this week, few have asked this question: At age 37 and coming of…

Share Tweet

Where they rank on offense, defense

Here's a look at the final NFL rankings for the 2012 season: CINCINNATI BENGALS Offense: Overall (22nd), run (18th), pass (17th) and scoring (12th). Defense: Overall (6th), run (12th), pass (7th) and scoring (8th). CLEVELAND BROWNS Offense: Overall (25t…

Share Tweet

The Brotherhood: A funny thing happened along the Bengals' way to …

A funny thing happened along the Bengals' way to stockpiling defenders no one else wanted: They built a dominant unit, one that will make its mark in January, Ben Reiter says.

Share Tweet

Kiper's All-Rookie team: Five from division

It wasn't a stellar year for the 2012 draft class in the AFC North, but five newcomers from the division were still named to Mel Kiper Jr.'s All-Rookie team. You'll need a subscription to read the entire piece because it's part of Insider. Here are the …

Share Tweet

One-minute drill: Peter King's team-by-team playoff previews

Share Tweet

Here's a Thursday afternoon roundup of the NFL head coaching rumor mill: Arizona Cardinals: The Cardinals are one of three teams interested in former Philadelphia Eagles head coach Andy Reid. The Cardinals were scheduled to meet with Reid on Thursday, h…

Share Tweet

Ben Roethlisberger's Moment in Time

ESPN.com's "Moment in Time" piece features Ben Roethlisberger's miracle tackle on Jan. 15, 2006, that helped the Steelers upset the top-seeded Colts. Roethlisberger's heroics were set up by Jerome Bettis' first fumble of the year. With the Ste…

Share Tweet

Bonnie Bernstein Explains Ray Lewis's Crimes With An Unfortunate Parable About Middle Schoolers Smoking

deadspin.com

Jan 3, 2013

Somewhere along the line, we as a nation apparently chose to forgive/forget the fact that Ray Lewis was involved in a murder at a Super Bowl party in 2000. That Lewis and his friends got into a fight with another group, and two people in that other grou…

Share Tweet

Something's Gotta Give

Rookie QBs reviving non-playoff teams aren't the only thing the Redskins and Seahawks have in common, but who continues deeper into January? Peter King has the answer.

Share Tweet

Peter King: NFL Wild-Card Picks

Share Tweet

ESPN.com profootballtalk.com

Jan 3, 2013

While the assumption is Oregon's Chip Kelly is at the top of the Browns wish list, Cleveland continued with its coaching search, interviewing former Cardinals coach Ken Whisenhunt, according to ESPN's Chris Mortsensen. Whisenhunt wouldn't make the same …

Share Tweet

Cincinnati Bengals kicker Josh Brown has been impressive in replacing the injured Mike Nugent this month. In fact, he was among the most impressive players in December. Brown was named the AFC special teams player of the month. Signed Dec. 6 after Nugen…

Share Tweet

The Bengals got one streak off their back when they clinched back-to-back playoff appearances for the first time since 1981-82. Now, they're looking to end another mark of postseason futility. Cincinnati hasn't won a playoff game since Jan. 6, 1991. The…

Share Tweet

Colts Owner Jim Irsay Is Ready For The Playoffs: "Time To Let The Monster Feed!!!!!!!!!!!!!"

deadspin.com

Jan 3, 2013

The Andrew Luck-led Indianapolis Colts, by some unexplainable circumstance, pulled off an 11-5 record this season and secured a wild-card playoff game against the Baltimore Ravens this Sunday. Colts owner Jim Irsay? Oh, he's ready to party, as you can s…

Share Tweet

nydailynews.com

Jan 3, 2013

Alabama coach Nick Saban arrived with his SEC championship team Wednesday afternoon to prepare for Monday's BCS national championship game against top-ranked Notre Dame in Miami amid a swirl of speculation that he may leave for the NFL at season's end

Share Tweet

About Last Night: Ray Lewis, Pregame Dance to Retire

grantland.com

Jan 3, 2013

In case you were busy explaining why your "flu-like symptoms" aren't just a cover for a two-day New Year's Eve hangover, here's what you missed in spo...

Share Tweet

Cold Hard Facts

Jan 3

Mark Schlereth shares which teams he believes are poised to win on Wild-Card Weekend.

How they got here: Baltimore Ravens

Jan 3

Follow the Baltimore Ravens as they battle through injuries and divisional foes on their way to the NFL playoffs and a Wild Card matchup with the Indianapolis Colts.

Brian Billick On Ray Lewis' Upcoming Retirement

Jan 3

Ray Lewis syas he will retire after the playoffs.

Baltimore Ravens RB Ray Rice: 'We're right where we need to be'

Jan 3

Baltimore Ravens running back Ray Rice joins "NFL Total Access" to discuss the legacy of teammate Ray Lewis and what we can expect from him during Wild Card Weekend.