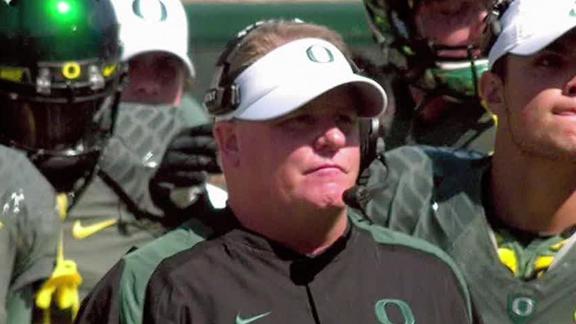 Updated Jan 4
Share
Tweet
Even with a new regime, something remains the same for the Cleveland Browns: Nothing comes easy for the franchise. After one report had Cleveland close to a deal with Oregon's Chip Kelly, the presumed top choice for head coach left a seven-hour meeting …
Updated Jan 4

Share Tweet

The New York Jets have begun their search for Mike Tannenbaum's replacement.

Updated Jan 4

Share Tweet

Andy Reid pulled up to Arrowhead Stadium in a black SUV on Friday, stepped out of it wearing a dark suit and red tie, and walked briskly toward the doors of the Kansas City Chiefs' home.

Updated Jan 4

Share Tweet

A person familiar with the Buffalo Bills' coaching search says the team is still scheduled to interview Denver Broncos offensive coordinator Mike McCoy this weekend.

Updated Jan 4

Share Tweet

The Cincinnati Bengals will likely be without starting strong safety Chris Crocker for Saturday afternoon's Wild Card Playoffs game against the Houston Texans. Crocker did not practice on Thursday or Friday and is listed as "doubtful" on the i…

Updated Jan 4

Share Tweet

Sunday's wild-card game will feature a reunion, and it's not just the Colts coming back to Baltimore. The referee for the game is Mike Carey, who has a history with Ravens linebacker Terrell Suggs. Seven years ago, in a game when the Ravens committed a …

Joe Namath's Wild-Card Picks: Texans, Ravens, Seahawks, Packers advance

Updated Jan 4

Share Tweet

As he did last year for the playoffs, NFL Hall of Famer and New York Jets legend Joe Namath will join Yahoo! Sports and the Shutdown Corner Blog during the playoffs to break down the key games, players and moments each weekend. Make sure you like the Of…

Updated Jan 4

Share Tweet

If there is one player on the Cincinnati Bengals who would like a shot at redemption, it would be strong safety Chris Crocker. But that's unlikely to happen. Crocker is listed as doubtful for Saturday's wild-card game after he injured his right quadrice…

Sources:

ESPN.com profootballtalk.com

Updated Jan 4

Share Tweet

Baltimore Ravens linebacker Ray Lewis will make his return from a torn triceps in Sunday's wild-card game against the Indianapolis Colts, coach John Harbaugh said Friday.

Sources:

ESPN.com profootballtalk.com

The NFL In Mexico Is The NFL Reduced To Its Essence

Updated Jan 4

Share Tweet

MEXICO CITY-Freedom Sports & Fun Bar is located in a neighborhood here called Del Valle, where many of the streets are named after American cities. Boston, Detroit, and Sacramento run east and west just outside the bar. But inside, the only city with an

Source:

deadspin.com

Wild-card weekend preview: Steady diet of Ray Rice should end Colts' remarkable season

Updated Jan 4

Share Tweet

There will be no shortage of intriguing story lines when the Indianapolis Colts visit the Baltimore Ravens on Sunday. Following a 2-14 season in 2011, the Colts fired longtime assistant and then-head coach Jim Caldwell, hired Chuck Pagano away from the …

Updated Jan 4

Share Tweet

With one of seven head-coaching vacancies filled, it's unclear when the next seat will be occupied. A candidate for three of the open jobs has put the hay in the barn, and he's applying patience as the teams gather information on other candidates. Per

Sources:

profootballtalk.com ESPN.com

Updated Jan 4

Share Tweet

I picked both games correctly last Sunday for my first perfect week since Week 11. Way to end the regular season strong. But it's a new season with the playoffs (although these games will still count in my season record): Bengals 20, Texans 13: The Beng…

Jaws' final QB rankings: Flacco moves up

Updated Jan 4

Share Tweet

ESPN analyst Ron Jaworski posted his final quarterback rankings for the 2012 season. It's an Insider post, but I can tell you that three AFC North quarterbacks moved up in his rankings: BEN ROETHLISBERGER, STEELERS Current ranking: No. 6 Previous rankin…

Middle Men: Despite an influx of playoff rookies at quarterba…

Updated Jan 4

Share Tweet

Despite an influx of playoff rookies at quarterback, the story of Wild Card Weekend will be told by the men under center and those assigned to stop them, writes Peter King.

Favorable history for AFC sixth seed

Updated Jan 4

Share Tweet

If the Bengals beat the Texans on Saturday, would it really be considered an upset? Not based on the recent history of the sixth seed in the AFC. For the past four seasons, the sixth seed in the AFC has won three times in the wild-card round. In the 200…

Ravens need Rice to break playoff slump

Updated Jan 4

Share Tweet

Everyone remembers Ray Rice's first carry as a starting running back in the postseason. Three years ago in New England, he broke an 83-yard run for a touchdown, the second-longest run in NFL playoff history. What you may not know is how Rice has failed …

NFL Kickoff OT: Wild Card Weekend

Jan 4

NFL Live OT previews this weekends' NFL playoff games.

'Playbook': Can the Texans catch fire?

Jan 4

Can the Houston Texans overcome their recent struggles and gain momentum when they take on the Cincinnati Bengals? The "NFL Playbook" crew gives their answers.

'Playbook': Bengals vs. Texans preview

Jan 4

Will J.J. Watt's MVP-like presence be enough to help lead the Houston Texans to a wild-card victory over the high-powered Cincinnati Bengals offense? The "NFL Playbook" crew breaks down the matchup.

Ray Lewis Probable Vs Colts

Jan 4

John Clayton with the latest on Ray Lewis' playing status for the Ravens' playoff matchup against the Colts.