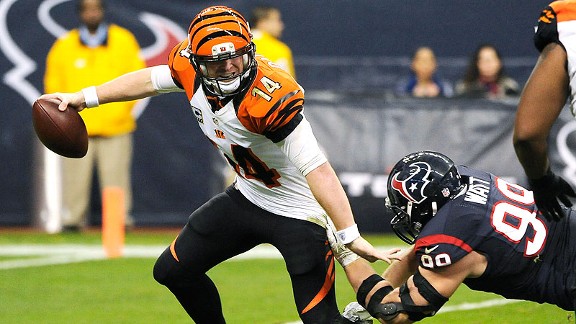 ESPN.com
profootballtalk.com
deadspin.com
Updated Jan 5, 2013
HOUSTON -- The look on the faces of the Cincinnati Bengals' players entering the locker room Saturday night was telling. Andy Dalton, A.J. Green and Jermaine Gresham all had a look of disappointment and shock after a game in which they missed many oppor…
Share
Tweet
Survive And Advance: Did the Texans right the ship after their 19-13 w…

CNNSI.com

Jan 5, 2013

Did the Texans right the ship after their 19-13 wild-card win over the Bengals? Austin Murphy says we'll know the answer next Sunday, when Houston re-visits New England.

Share Tweet

profootballtalk.com ESPN.com CNNSI.com

Jan 5, 2013

Thanks to Joe Webb's introduction to the forward pass, we're counting on external means for drama tonight. We may have found it in the person of for-now Oregon coach Chip Kelly. The plan was for him to have a perfunctory lunch with the Eagles, then di

Share Tweet

yahoo.com

Jan 5, 2013

In Cincinnati's 19-13 wild-card loss to the Houston Texans, Bengals quarterback Andy Dalton's day was defined by one underthrow and one overthrow, and a whole lot of bad throws in-between. With 11:10 left in the first half and the ball on his own 38-yar…

Share Tweet

Pro Bowl running back Arian Foster accounted for 178 yards from scrimmage and a touchdown as the Houston Texans advanced to the divisional round of the AFC Playoffs with a 19-13 win over the Cincinnati Bengals at Reliant Stadium on Saturday afternoon. T…

Share Tweet

Who Wants To Sex J.J. Watt? Bengals-Texans, In Three Gifs

So, 23 years now, and a guaranteed extra 365 days (at least) on that 8,400 day playoff winless streak for the Bengals. Yikes! They sure do suck. Matt Schaub played just OK but still completed 29/38 passes, Arian Foster ran for 140 yards, and J.J. Watt c…

Share Tweet

ESPN.com

Jan 5, 2013

Baltimore fans will have to say goodbye to Ray Lewis on Sunday. With the Bengals losing at Houston, there is no chance for the Ravens to host another game in the postseason (the fourth-seeded Ravens would be the lowest remaining seed if they win). That …

Share Tweet

The Browns are waiting to find out if Chip Kelly will be their next head coach, but that's not stopping them from checking out possible general managers to team with Kelly or whoever else becomes their head coach. Jay Glazer of FOX Sports reports that t

Share Tweet

yahoo.com profootballtalk.com

Jan 5, 2013

The Houston Texans had dominated the Cincinnati Bengals through the first quarter-and-a-half of their wild-card matchup, at least in yardage. Starting their second drive of the second quarter, the home team at Houston Reliant Stadium had well over 100 t…

Share Tweet

Watch today's wild card games on NBCSports.com

If you can't get in front of a TV today or you want even more than the TV has to offer, you're in luck: Both of today's wild card playoff games will stream live as part of Wild Card Extra right here at NBCSports.com. Wild Card Extra features the liv

Share Tweet

Cincinnati strong safety Chris Crocker is inactive for the Bengals' AFC wild-card playoff game against Houston.

Share Tweet

After playing more on special teams than on defense during the regular season, inside linebacker Barrett Ruud will be a starter in the postseason. As we noted would likely be the case thanks to the Texans' injuries at the position, the team has official

Share Tweet

The Bengals Really Could Break Their 8,400-Day Playoff Winless Streak Today

For a summer in college I interned for the sports department of the Columbus Dispatch, which sent me for a few days to cover Cincinnati Bengals training camp. The 1990s had just come to a close-a dismal era even by the Bengals' standards-and the beat

Share Tweet

Ray Lewis: Linebacker, Leader

nytimes.com

Jan 5, 2013

One of Ray Lewis's former teammates, Trevor Pryce, writes about what makes the Ravens linebacker, who plans to retire after the season, extra special.

Share Tweet

Horton remains a finalist in Cleveland

If the Browns don't hire Chip Kelly to be their next coach, Cleveland could opt for a defensive mind instead of an offensive specialist. Per a source with knowledge of the situation, Cardinals defensive coordinator Ray Horton remains in the mix for Clev

Share Tweet

ESPN.com

Jan 5, 2013

Join our ESPN.com NFL experts for the wild-card match up between the Cincinnati Bengals and the Houston Texans. Contribute your thoughts and questions beginning at 4:30 p.m. ET. See you there. Countdown Live: Bengals-Texans

Share Tweet

Steelers Safety Ryan Clark Made A Good Point About Hypocritical Steelers Fans

If there's one thing we learned while sifting through the assorted vitriolic, typo-ridden responses to the Why Your Team Sucks series, it's that many fans have no perspective when it comes to their favorite teams and players. Morals go out the window (&…

Share Tweet

profootballtalk.com ESPN.com

Jan 5, 2013

The latest name to emerge as a candidate for the Eagles' head-coaching vacancy is Gruden. But not Jon Gruden. The Eagles are expected to seek permission from the Bengals on Monday to talk to their offensive coordinator, Jay Gruden, ESPN's Adam Schefte

Share Tweet

The disclosure of Rex Ryan's wife-in-Sanchez-jersey-while-Tebowing tattoo could be having its intended effect, even if the effect wasn't specifically intended. According to Newsday, former Browns and Eagles G.M. Tom Heckert has canceled his interview

Share Tweet

Bengals postgame press conference

Jan 5

Bengals react following game with Texans

Bengals postgame press conference

Jan 5

Bengals react following game with Texans

Countdown Daily Recap: Bengals-Texans

Jan 5

Jim Basquil and Eric Allen break down the Texans' 19-13 win over the Bengals

Texans Trump Bengals On Wild-Card Weekend

Jan 5

Arian Foster ran for 140 yards and a touchdown to propel the Texans past the Bengals.