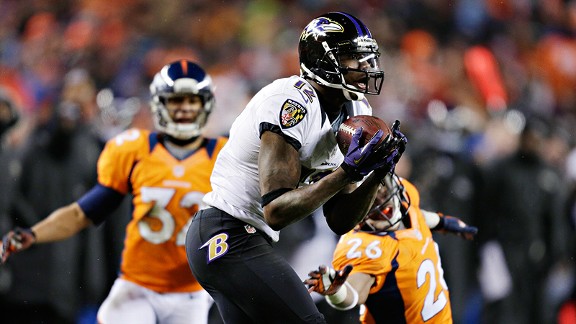 profootballtalk.com
ESPN.com
Updated Jan 13, 2013
Throughout the 2012 regular season, Ravens quarterback Joe Flacco wasn't pushing for a new contract, but he wouldn't have complained if the team wanted to do a deal. They didn't. Now, if the Ravens decide that Flacco's performance to date in the p
Share
Tweet
nytimes.com ESPN.com

Jan 13, 2013

A preview of the A.F.C. championship game between the Baltimore Ravens and the New England Patriots.

Share Tweet

While New England was defeating Houston on Sunday to set up an AFC Championship Game rematch with Baltimore, Ravens linebacker Brendon Ayanbadejo ripped the Patriots on Twitter, particularly criticizing their no-huddle offense.

Share Tweet

Stepping It Up: When Rob Gronkowski and Danny Woodhead were hurt …

When Rob Gronkowski and Danny Woodhead were hurt in the first quarter, the Patriots turned to their reserves and ripped the Texans 41-28. It is the Patriot Way, says Don Banks.

Share Tweet

Attack Mode: Tom Brady found an edge, and the Texans never adj…

Tom Brady found an edge, and the Texans never adjusted, says Chris Burke, who weighs in on the Patriots' 41-28 win that set up a rematch with the Ravens in the AFC title game.

Share Tweet

For the second straight year, the Baltimore Ravens and New England Patriots will face each other in Foxborough, Mass., for the right to go to the Super Bowl. Kickoff for Sunday's AFC Championship Game is 6:30 p.m. ET. The fourth-seeded Ravens advanced S…

Share Tweet

Cincinnati Bengals offensive coordinator Jay Gruden interviewed for the San Diego Chargers' vacant head coaching position Sunday.

Share Tweet

PHILADELPHIA (AP) The Philadelphia Eagles have interviewed former Ravens coach and current Fox analyst Brian Billick for their coaching vacancy, a person familiar with the meeting told The Associated Press on Sunday.

Share Tweet

Ravens' Ray Rice is tough up the middle

DENVER -- Leading up the AFC divisional playoff game, the talk surrounding Ray Rice was his fumbling in the postseason. In the 38-35 win over the Broncos, Rice didn't just hold onto the ball. He toughed it out with 30 carries, including 24 in between th…

Share Tweet

The Mayor Of Denver Has To Do The Ray Lewis Dance Now

Mayors of rival cities make cities make light-hearted bets on the outcome of sporting events all the time. Just yesterday the Packers-49ers game had chocolates, cheese curds, sparkling wine, "a free admission day to the Children's Museum" and …

Share Tweet

deadspin.com nydailynews.com

Jan 13, 2013

Broncos fans should be used to this by now: a big time, Super Bowl-winning quarterback lost to an obviously lesser quarterback in an overtime classic in Denver. The comparisons have been as inescapable as they are stupid: More »

Share Tweet

The Jets will hold follow-up discussions with three general manager candidates: former Chicago Bears GM Jerry Angelo, Jets assistant GM Scott Cohen and Pittsburgh Steelers director of football and business administration Omar Khan, according to sources.

Share Tweet

Ravens' tight ends take advantage of Denver

DENVER -- Joe Flacco's memorable throws went to wide receivers on Saturday. He threw touchdown passes of 59 and 32 yards to Torrey Smith and hit Jacoby Jones for a 70-yard score. The Ravens' tight ends played a strong supporting role in the AFC division…

Share Tweet

Justin Tucker's Practice Kicks Before His Game-Winner Were Not Allowed, But They Were Also Not Not Allowed

Before Justin Tucker made the field goal that ended the the fifth longest game in NFL history yesterday, he jogged onto the field between the two overtimes and had an assistant coach hold the ball for him while he practiced his kicks. Champ Bailey was d…

Share Tweet

A humbled Peyton Manning, with reporters hammering away on deadline and videocameras shut off after the last postgame question had been answered, took his family into the Ravens' locker room on Saturday night and visited with Ray Lewis.

Share Tweet

Caption this: Postgame chat

Denver quarterback Peyton Manning and Baltimore linebacker Ray Lewis were seen talking following Saturday's playoff game. What do you think a conversation between two future Hall of Famers included? Share your thoughts in the comments section below. Hav…

Share Tweet

profootballtalk.com

Jan 13, 2013

There aren't too many similarities that jump to mind between San Diego and Cleveland, but it's looking like the Browns staff will be familiar to those who follow the Chargers. Adam Schefter of ESPN reports that the Browns have their eyes on Chargers

Share Tweet

A Summit Of Two Of The Most Widely Loved And Reviled Football Players In The NFL Took Place After Ravens-Broncos

A tableau: Peyton Manning and Ray Lewis talking in a Mile High Stadium locker room, 90 minutes after the end of the pitched battle that was their AFC divisional playoff matchup, 85 minutes after Ray Lewis yelled Bible verse at Solomon Wilcots, and about…

Share Tweet

Ravens proving to be team of destiny

DENVER -- As the Baltimore Ravens celebrated winning one of the best playoff games in NFL history, the players came off the field yelling, "No one thought we would win." The Ravens made a convincing statement in Saturday's AFC divisional playo…

Share Tweet

Officials have a rough day in Denver as the Broncos lose to the Ravens

yahoo.com

Jan 13, 2013

DENVER - The best thing that can be said about the officiating crew for Broncos-Ravens, headed by referee Bill Vinovich, was that they didn't seem to play favorites. There were really baffling calls against both sides. But the final pair of questionable…

Share Tweet

Patriots Moving On Without Gronkowski

Jan 13

Mike Reiss looks ahead to next Sunday's AFC Championship game, in which the Patriots will face the Ravens without TE Rob Gronkowski

Patriots Expecting Tough Game

Jan 13

Bill Belichick and Tom Brady comment on the Patriots' upcoming matchup against the Ravens in the AFC Championship game.

Has Baltimore Ravens quarterback Joe Flacco finally proved his worth?

Jan 13

Michael Lombardi discusses the contract situation of Baltimore Ravens quarterback Joe Flacco and the latest news on the coaching carousel.

Baltimore Ravens linebacker Lewis: 'It was an exciting time when we came back'

Jan 13

Baltimore Ravens linebacker Ray Lewis joins 'NFL GameDay Final' to talk about his divisional playoff win against the Denver Broncos.