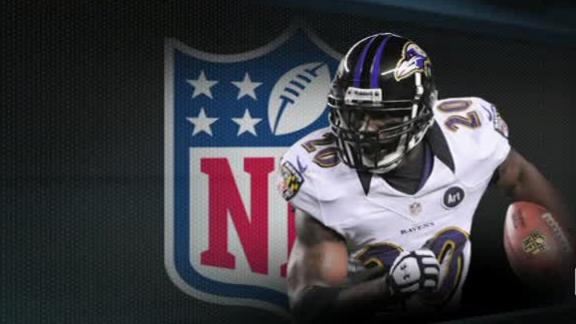 ESPN.com
profootballtalk.com
yahoo.com
Updated Mar 20, 2013
Free-agent safety Ed Reed has informed the Houston Texans that he will sign with them, a league source told ESPN NFL Insider Adam Schefter.
Share
Tweet
Once the shock of being traded from the Super Bowl champion Baltimore Ravens wore off, Anquan Boldin called Colin Kaepernick to get a feel for the 49ers' young quarterback.

Share Tweet

profootballtalk.com CNNSI.com ESPN.com

Mar 20, 2013

Bengals owner Mike Brown, the only one of the league's 32 owners to vote against the new rule against initiating contact with the top of the helmet, says he did so because he believes the rule will be too tough for the officials to enforce properly on c

Share Tweet

For the past two years, ever since Ben Roethlisberger turned 30, the Steelers have been questioned on when they would draft a quarterback to develop behind the two-time Super Bowl winner. Based on a tweet from ESPN NFL Insider Adam Schefter, this could …

Share Tweet

deadspin.com

Mar 20, 2013

Ravens owner Art Modell, who died last September at age 87, made lots of enemies when he moved the Browns to Baltimore. But Modell's FBI file, which was released by the bureau today, contains no death threats from Cleveland fans. Indeed, nothing in his …

Share Tweet

A look back at the Browns career of kicker Phil Dawson, who signed a one-year deal with the 49ers on Tuesday: 0 -- Remaining players now left from the Browns' 1999 expansion season. 1 -- Number of Pro Bowls. He earned his first trip to Honolulu in 2012.…

Share Tweet

profootballtalk.com

Mar 20, 2013

Wide receiver/kick returner Ted Ginn visited the Panthers this week and the meeting must have gone well. Panthers coach Ron Rivera had plenty of good things to say about Ginn, who has also visited with the Bengals. Ginn hasn't signed with the Panthers,

Share Tweet

Don't underestimate the dismantled Ravens

Six weeks after celebrating their Super Bowl title, the Baltimore Ravens watched another parade. This time, it was the long line of starters leaving the team's facility. The Ravens have already parted ways with six Super Bowl starters, a record for dism…

Share Tweet

After last week's free-agency chat marathon, the AFC North weekly chat goes back to its regular day and time. Maybe I should check with the Orioles first to see if there is a conflict in schedules. I'll be happy to address all issues, from free agency t…

Share Tweet

ESPN.com profootballtalk.com

Mar 20, 2013

Jim Brown, who had a falling out with the Cleveland Browns in recent years, will soon have a formal role with the team again, owner Jimmy Haslam III said Tuesday.

Share Tweet

Wake-up: Tomlin's message to skeptics

Owners and coaches continue to provide some notes from the NFL owners meetings, which are beginning to wind down in Arizona. Here's another packed edition of the wake-up call ... BALTIMORE RAVENS Owner Steve Bisciotti told The NFL Network that he has a …

Share Tweet

CNNSI.com

Mar 20, 2013

PHOENIX (AP) -- Concerned with how it will be officiated, NFL owners delayed voting Tuesday on a rule change that would ban offensive players from using the crown of their helmets against defenders in the open field.

Share Tweet

Dancing And Diving

Mar 20

Highlights from ABC's Dancing With The Stars and Splash.