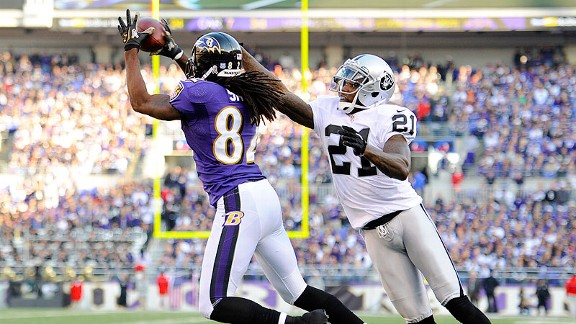 ESPN.com
profootballtalk.com
Updated Nov 11, 2012
BALTIMORE -- Wide receiver Torrey Smith was asked if the Baltimore Ravens' 55-20 dismantling of the Oakland Raiders was a statement game. "Nah," Smith said. "It was just another game." The only statement made by the Ravens was the im…
Share
Tweet
CNNSI.com

Nov 11, 2012

The Giants know how to get themselves out of their November slumps, and they'll have to do it again this year, says Don Banks, who goes around the league in his Snap Judgments.

Share Tweet

Donovan McNabb wants to know where everyone's going. The Rams and 49ers just tripped across each other repeatedly in overtime, finishing in a 24-24 tie. It's the first tie in the NFL since McNabb and the Eagles drew with the Bengals on Nov. 16, 2008.

Share Tweet

nytimes.com profootballtalk.com

Nov 11, 2012

A look at Monday night's game between the Chiefs and the Steelers.

Share Tweet

Searching for Answers

nytimes.com

Nov 11, 2012

A capsule look at the Giants' 31-13 loss to the Bengals.

Share Tweet

Bill Belichick Cares Not For Your Lousy Officiating: Your Sunday NFL GIF Roundup

deadspin.com

Nov 11, 2012

We'll be putting all our GIFs for the day here, from Bill Belichick emphatically challenging the officials to A.J. Green exploiting New York's defensive holes. We'll update the post as the later games conclude, so stay tuned. More »

Share Tweet

As people around the league tried to figure out why the fire has gone out of the Giants' passing game over the last month, one suggestion offered up by Greg Cosell of NFL Films was that Manning is dealing with a tired arm. Manning had another dreadful d

Share Tweet

ESPN.com profootballtalk.com

Nov 11, 2012

My thoughts on the Cincinnati Bengals' 31-13 victory over the New York Giants at Paul Brown Stadium: What it means: In their first win over a team with a winning record in more than a year, the Bengals (4-5) ended their four-game losing streak and keep …

Share Tweet

yahoo.com

Nov 11, 2012

The Raiders-Ravens game started to get a little chippy in the second half as Baltimore opened up a huge lead. The Raiders took their fourth personal foul penalty of the game on a late hit on Ray Rice. Oakland cornerback Joselio Hanson decided being down…

Share Tweet

The Giants lost wide receiver Domenik Hixon and backup safety Tyler Sash for the remainder of Sunday's game against the Cincinnati Bengals due to injuries.

Share Tweet

Anyone expecting an instant fix for the Giants' recent offensive woes was left disappointed by their play in the first half against the Bengals. The Giants failed to convert their first four third downs and couldn't get a touchdown on either of their

Share Tweet

Yep, That's A "Baltimore Fuckin' Maryland" T-Shirt On CBS

deadspin.com

Nov 11, 2012

It's America's most-watched network for a reason. Coming up at the half, it's Shannon, Boomer, and the others with the fuckin' Verizon halftime report. [CBS] More »

Share Tweet

Earlier this week, Bengals wide receiver A.J. Green said that there were "a lot of holes" in the Giants defense. The Giants took some umbrage at that suggestion, but they didn't seem to close all of the holes that Green picked up on film. The Bengal

Share Tweet

Every week we'll bring you all the inactives from the early games in one post, constantly updated with the latest information. So check back often to see the full list as it becomes available. Raiders at Ravens Raiders: RB Darren McFadden, RB Mike Goods

Share Tweet

Reggie Nelson inactive for Bengals

Bengals safety Reggie Nelson is inactive Sunday against the Giants, the team announced. Nelson was considered doubtful with a hamstring injury. This ends Nelson's streak of 27 straight starts. He will be replaced by Taylor Mays in the starting lineup. W…

Share Tweet

BALTIMORE -- The Ravens announced their inactive list for today's game against the Oakland Raiders, and the only starter out is defensive end Pernell McPhee. Three starters -- defensive tackle Haloti Ngata (shoulder, knee) and guards Marshal Yanda (ankl…

Share Tweet

Steelers receiver Emmanuel Sanders, who has been accused of faking an injury three weeks ago against the Bengals, will file a very real appeal. A source with knowledge of the situation tells PFT that the appeal will be handled by Ted Cottrell or Art She…

Share Tweet

The list of potential MVP candidates contains a handful of names.  Matt Ryan.  Peyton Manning.  Aaron Rodgers.  J.J. Watt.  Some are suggesting that Andrew Luck could get some votes. But what about the guy who has as many Super Bowl rings than those

Share Tweet

BALTIMORE -- Sunday will start an AFC North doubleheader for me in Week 10. I will begin with the Raiders-Ravens game today and head to Pittsburgh on Monday for the Chiefs-Steelers game. As for Sunday's game at M&T Bank Stadium, this one will likely…

Share Tweet

Once seemingly invincible, Baltimore Ravens suddenly look vulnerable: AFC North Insider

cleveland.com

Nov 11, 2012

Injuries and a hot streak by the Steelers have the Ravens teetering atop the AFC North.

Share Tweet

CNNSI.com

Nov 11, 2012

INDIANAPOLIS (AP) -- The Indianapolis Colts used some down time Saturday night to support coach Chuck Pagano and raise money for the Leukemia and Lymphoma Society of Indiana.

Share Tweet

Challenges For Steelers

Nov 11

DE Brett Keisel and OT Max Starks break down the challenges facing the Steelers down the stretch.

Steelers Can't Stumble On Monday Night

Nov 11

Tom Jackson on the Steelers' matchup with Chiefs on Monday Night Football, prior to critical meeting with Ravens.

Sunday Blitz: Giants-Bengals Recap

Nov 11

Prim Siripipat and Cris Carter break down the Bengals' 31-13 win over the Giants.

Sunday Blitz: Raiders-Ravens Recap

Nov 11

Prim Siripipat and Cris Carter break down the Ravens' 55-20 win over the Raiders.