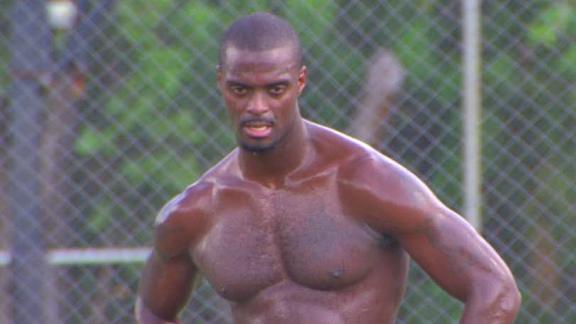 ESPN.com
profootballtalk.com
Updated Nov 19, 2012
Free-agent wide receiver Plaxico Burress is expected visit with the Pittsburgh Steelers and take a physical for his former team, a league source told ESPN.
Share
Tweet
ESPN.com baltimoresun.com CNNSI.com steelersgab.com yahoo.com

Nov 19, 2012

Revisiting the Pittsburgh Steelers' 13-10 loss to the Baltimore Ravens at Heinz Field: There has been talk that Mike Adams was playing so well at right tackle that Marcus Gilbert may not get his starting job back when he's healthy. In the Sunday night l…

Share Tweet

Ravens WR Jacoby Jones gives Michele Tafoya a wink and a 'Thank you, gorgeous' during SNF interview

yahoo.com

Nov 19, 2012

Baltimore Ravens receiver Jacoby Jones had another great game in his team's 13-10 win over the Pittsburgh Steelers. His 63-yard punt return was the only touchdown the Ravens could come up with against Pittsburgh's typically impressive defense, and that …

Share Tweet

deadspin.com CNNSI.com yahoo.com ESPN.com profootballtalk.com

Nov 19, 2012

In the third quarter last night, Ravens safety Ed Reed drew an unsportsmanlike conduct penalty for this helmet-to-helmet hit on defenseless Steelers receiver Emmanuel Sanders, who didn't even bother to fake an injury. This being Reed's third such violat…

Share Tweet

ESPN.com profootballtalk.com yahoo.com

Nov 19, 2012

For the second time in two games, the Steelers lost a starting quarterback to rib and shoulder injuries. That's really unlucky, right? Not necessarily. Losing starting quarterback Ben Roethlisberger was a major hit to the Steelers because he was having …

Share Tweet

Cowboys wide receiver Dez Bryant had a very productive Sunday. He caught 12 passes for 145 yards to help the Cowboys come back in the second half against the Browns and ultimately win the game in overtime. That didn't stop him from hearing boos at Cowbo

Share Tweet

Revisiting the Cincinnati Bengals' 28-6 win at the Kansas City Chiefs: The Bengals got back to their winning formula -- running the football. BenJarvus Green-Ellis went over 100 yards rushing for the first time in 10 games as a Bengal, gaining 101 yards…

Share Tweet

Revisiting the Cleveland Browns' 23-20 overtime loss at the Dallas Cowboys: Tony Romo picked apart the Browns' soft coverage after halftime and it didn't matter how much pressure the Browns tried to put on him. When Cleveland built a 13-0 halftime lead,…

Share Tweet

Slideshow: Your AFC North fan pictures

The physical nature of the Ravens-Steelers rivalry started before the opening kickoff judging by the headlock on the Ravens fan. Even though the Bengals were in Kansas City, one fan made sure his living room remained "Bengals country." And one…

Share Tweet

Mike Holmgren's tenure with the Browns doesn't officially come to an end until the year is out, so he was in Dallas with the team on Sunday. After a week filled with talk about Holmgren's interest in coaching the Cowboys and Jerry Jones' appreciat

Share Tweet

Leading Off: Eyesores of All Kinds

nytimes.com

Nov 19, 2012

Yipes! Stripes! The Steelers' throwback uniforms were just one reason Sunday's game against the Ravens was tough to watch.

Share Tweet

Ravens tie mark for division dominance

PITTSBURGH -- When Ravens running back Ray Rice walked off Heinz Field, he draped a Terrible Towel over his head and sang Styx's "Renegade," the song that traditionally energizes Steelers fans in the second half. In other words, the Ravens hav…

Share Tweet

Jammal Charles wants Romeo Crennel to stick around

The Chiefs' latest loss left quarterback Matt Cassel pretty sure that his run in Kansas City is coming to an end, but running back Jammal Charles isn't ready to give up on coach Romeo Crennel. In the wake of Sunday's 28-6 loss to the Bengals, Charle

Share Tweet

Matt Cassel won't say as much, but he seems to know it's over. And Brady Quinn doesn't seem to know where he is. After being benched for the second time this season, this time at halftime of a 28-6 loss to the Bengals, the Chiefs opening day startin

Share Tweet

CNNSI.com

Nov 19, 2012

Josh Freeman wasn't perfect, but on Sunday he looked a lot like a recent Super Bowl winner, Peter King writes. He was just one QB who had an impact, good or bad, on Week 11.

Share Tweet

Ravens rookie kicker Justin Tucker moved on quickly from rare missed field goal

baltimoresun.com

Nov 19, 2012

Tucker: "The most important kick is the one after a miss"During a tense 13-10 AFC North showdown victory over the Pittsburgh Steelers on Sunday night at Heinz Field, Ravens rookie kicker Justin Tucker didn't let nerves or a rare missed field g…

Share Tweet

Wake-up call: Playoff picture shaping up

PITTSBURGH -- It wasn't a decisive win over the rival Steelers, but the Ravens have to feel good about themselves compared to what some of other top AFC teams endured Sunday. The Texans nearly lost to the Jaguars, and the Patriots lost tight end Rob Gro…

Share Tweet

Week 11 MVPs: Schaub rebounds with a historic performance

yahoo.com

Nov 19, 2012

Matt Schaub, QB, Houston Texans: In his last three games before Sunday's matchup with the Jacksonville Jaguars -- games against the Baltimore Ravens, Buffalo Bills, and Chicago Bears -- Schaub had thrown for a total of five touchdowns. His one-score, tw…

Share Tweet

PITTSBURGH -- The reason why the Baltimore Ravens strengthened their grip on another AFC North title was the timely and tenacious play of their defense. For the previous decade, that statement wouldn't come as a surprise. But for a banged-up defense -- …

Share Tweet

Plaxico Burress To Visit Steelers

Nov 19

John Clayton on the Steelers expected to meet with free-agent WR Plaxico Burress on Tuesday.

Moment of truth

Nov 19

Find out what big moments in the game allowed the Green Bay Packers and Baltimore Ravens to come away with victories.

NFL Live OT Reacts To Ed Reed's Suspension.

Nov 19

Ravens safety Ed Reed suspended 1 game for repeated hits to head of defenseless players.

Batch to become Pittsburgh Steelers' third QB in three weeks

Nov 19

How do Pittsburgh Steelers players feel about QB Charlie Batch taking over at quarterback in Week 12? Aditi Kinkhabwala has the latest on the Steelers' injuries.