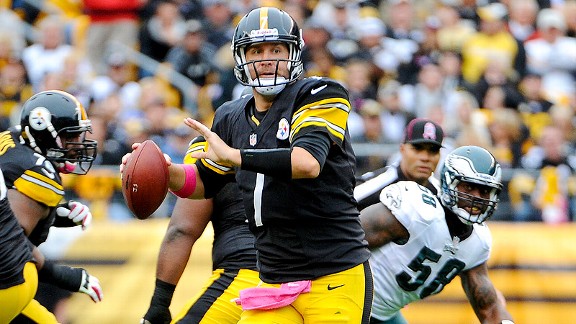 ESPN.com
Updated Oct 7, 2012
PITTSBURGH -- Ben Roethlisberger walked onto the field after the Steelers' defense blew another fourth-quarter lead with a 1-3 start hitting him in the face as hard as the rain at Heinz Field. But the Steelers came back to beat the Eagles because of Roe…
Share
Tweet
Defensive end Osi Umenyiora rushed out of the locker room without talking to reporters following the Giants' 41-27 win over the Browns. He had good reason, as his son Tijani was taken to the hospital with what was thought to be an asthma attack. Umenyio

Share Tweet

profootballtalk.com ESPN.com yahoo.com

Oct 7, 2012

The official word after Sunday's loss by the Chiefs to the Ravens was that quarterback Matt Cassel is being evaluated for a head injury. The evaluation has been completed.  Per a league source, Cassel has a concussion. And so Cassel's status will dep

Share Tweet

The Colts Discount Double Checked And B.J. Raji-Shuffled All Over The Packers: Your Sunday NFL GIF Roundup

deadspin.com

Oct 7, 2012

Here's where we're putting the GIFs of the week, from Donald Brown triumphantly trolling the Packers to Brandon Lloyd dancing around like no one's looking. Only the Chargers and Saints have yet to play, so let's see what the week had to offer. More »

Share Tweet

Kurt Coleman throws away Antonio Brown's shoe (VIDEO)

yahoo.com

Oct 7, 2012

Antonio Brown had a big game during the Pittsburgh Steelers' tight win over the Philadelphia Eagles. He finished the day with 86 yards on seven catches, so the Eagles had to get creative in defending him. For example, Kurt Coleman tried the old Steal Br…

Share Tweet

Thoughts on the Cincinnati Bengals' 17-13 loss to the Miami Dolphins at Paul Brown Stadium: What it means: The Bengals (3-2) slipped into second place and one game behind the Ravens in the AFC North because they failed to do what they've done since the …

Share Tweet

Thoughts on the Cleveland Browns' 41-27 loss at the New York Giants: What it means: The Browns remain winless on the season, dropping to 0-5 for the first time since they returned to the NFL in 1999. If it matters at this point, they fall four games beh…

Share Tweet

ESPN.com CNNSI.com profootballtalk.com

Oct 7, 2012

Shaun Suisham hit a 34-yard field goal as time expired to lift the Pittsburgh Steelers to a 16-14 victory over the Philadelphia Eagles on Sunday.

Share Tweet

Reshad Jones intercepted Andy Dalton's overthrown pass at midfield with 1:22 left on Sunday, preserving a 17-13 victory over the Cincinnati Bengals that ended two weeks of miserable, last-minute finishes for the Dolphins.

Share Tweet

Victor Cruz and Ahmad Bradshaw set career bests Sunday in leading the New York Giants to a 41-27 victory over the winless Cleveland Browns.

Share Tweet

Sometimes when you're watching a dumpster fire, it's easy to pay more attention to the fire than the dumpster. Despite their best attempts to give it away, the Ravens actually beat the Chiefs Sunday, taking a stirring 9-6 decision at Arrowhead Stadium

Share Tweet

CNNSI.com ESPN.com profootballtalk.com

Oct 7, 2012

PITTSBURGH (AP) -- Pittsburgh Steelers safety Troy Polamalu left Sunday's game against the Philadelphia Eagles in the first quarter after aggravating his strained right calf.

Share Tweet

The Browns' chances of slowing or stopping the Giants' 27-3 run to close out the first half are a little bit worse thanks to some injury news from team's locker room. Middle linebacker D'Qwell Jackson will not return to the game after suffering a

Share Tweet

Halftime thoughts on Steelers-Eagles

PITTSBURGH -- Some thoughts at halftime, where the Steelers lead the Eagles 10-0: The Steelers' defense is getting turnovers, but the offense isn't capitalizing. Pittsburgh scored no points off two Michael Vick fumbles. The Steelers only had three takea…

Share Tweet

Dolphins hold one-point edge at the half

Correction week could be continuing in Cincinnati, when the 1-3 Dolphins are poised to knock off the 3-1 Bengals.  At the half, Miami holds a one-point lead in a low-scoring game, 7-6. The Dolphins are hanging in there despite injuries in the secondary …

Share Tweet

Browns mistakes erase early lead

When the Browns jumped out to a 14-0 lead in the first quarter, there couldn't have been many people writing off the chances of a Giants comeback. Given past history, they probably would have bet on an Eli Manning winner in the fourth quarter. Thanks to

Share Tweet

The injuries continue to pile up for the Steelers. Shortly after the Steelers announced safety Troy Polamalu reinjured his calf, Pittsburgh reported that outside linebacker LaMarr Woodley is questionable to return with a hamstring injury. Woodley missed…

Share Tweet

Eagles quarterback Michael Vick continues to be a turnover machine. Vick lost two fumbles in the first quarter of today's game in Pittsburgh, continuing a rough season in which he simply hasn't been able to protect the ball. Heading into today's gam

Share Tweet

COVINGTON, Ky. (AP) -- A former cheerleader for the Cincinnati Bengals apparently has reached a plea deal in the sex abuse case against her.

Share Tweet

Your Sunday NFL Open Thread

deadspin.com

Oct 7, 2012

Here is your designated spot to yak it up about all things football. For instance, you can talk about the myriad ways the Browns will piss away a two score lead to the Giants. Just an example. More »

Share Tweet

Giants defensive end Osi Umenyiora invited Browns running back Trent Richardson to see if he could find some "candy" running the ball against the Giants defense. Three plays into the game, Richardson is looking like a happy kid on Halloween. Richardso

Share Tweet

Here are the inactives for the AFC North teams today: EAGLES AT STEELERS STEELERS: QB Charlie Batch, FS Robert Golden, RB Jonathan Dwyer, OLB Adrian Robinson, G Kelvin Beachum, ILB Brandon Johnson, NT Alameda Ta'amu. EAGLES: QB Trent Edwards, WR Riley C…

Share Tweet

ESPN's Chris Mortensen is reporting that the most realistic return for Baltimore Ravens linebacker Terrell Suggs is early November. Suggs is rehabbing from April surgery for a partially torn Achilles tendon. What I find curious about the report is that …

Share Tweet

Join our ESPN.com NFL experts as they break down the match up between the Philadelphia Eagles and the Pittsburgh Steelers. Contribute your thoughts and questions beginning at 1 p.m. ET. See you there. Countdown Live: Eagles-Steelers

Share Tweet

AFC North game day by the numbers

A look at the stats to remember for Sunday's games: 3 -- Straight games in which Pittsburgh wide receiver Antonio Brown has at least 70 yards receiving. 5 -- Straight games by the Steelers in which they have no more than two sacks, including playoffs. T…

Share Tweet

Pre-game notes: Steelers to rotate LBs

Here are some happenings over the weekend for each AFC North team: RAVENS: Baltimore is preparing for Kansas City's press coverage with cornerbacks Brandon Flowers and Stanford Routt. "They had a little bit of a switch from last year," offensi…

Share Tweet

With receivers Mohamed Massaquoi and Travis Benjamin both staying in Cleveland with hamstring injuries, the Browns will be shorthanded at the position that relies heavily on a guy's ability to use his hands. Enter Greg Little, whose hands have been susp

Share Tweet

AFC North programming note

PITTSBURGH -- As you might have noticed by the first word in this post, I'm in Pittsburgh (my home away from home, as I like to call it) for the Philadelphia Eagles-Pittsburgh Steelers game today. I will provide a Rapid Reaction and column from what sho…

Share Tweet

nydailynews.com

Oct 7, 2012

Rushing the passer and stuffing the run have always been points of pride for the Giants defense. Now it has become a sore point, as the Big Blue defensive front has had trouble getting much heat on quarterbacks or containing running backs in the first f…

Share Tweet

Sunday Blitz: Dolphins-Bengals Recap

Oct 7

Prim Siripipat and Cris Carter break down the Dolphins 17-13 win over the Bengals

Sunday Blitz: Ravens-Chiefs Recap

Oct 7

Prim Siripipat and Cris Carter break down the Ravens' 9-6 win over the Chiefs

Sunday Blitz: Eagles-Steelers Recap

Oct 7

Prim Siripipat and Cris Carter break down the Steelers' 16-14 win over the Eagles as Shaun Suisham kicked a late field goal to win it.

Steelers postgame press conference

Oct 7

Steelers react following game with Eagles

Sports Columnists

Don Banks: Broncos were prepared mentally, but not physically, for Patriot…

Oct 7

FOXBORO, Mass. -- After another loss to New England was in the books -- their third in the span of 10 games, including last season's playoffs -- Champ Bailey and the rest of his Broncos teammates found the repetition of it all a little wearing.