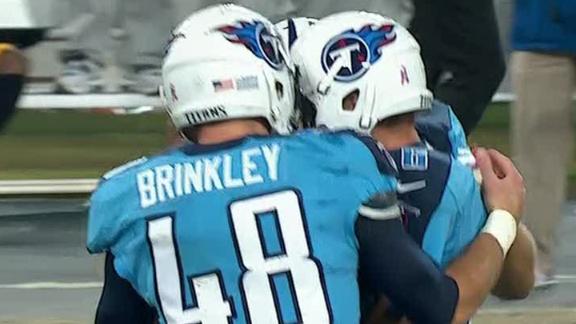 CNNSI.com
profootballtalk.com
ESPN.com
nytimes.com
Updated Oct 11, 2012
The Steelers will have to wait for their first road victory of the season. Rob Bironas chipped in a 40-yard field goal as time expired to help Tennessee hold off visiting Pittsburgh 26-23.
Share
Tweet
CNNSI.com profootballtalk.com ESPN.com

Oct 11, 2012

NASHVILLE, Tenn. (AP) -- Ben Roethlisberger has passed Terry Bradshaw as the Pittsburgh Steelers' career passing leader, and he needed fewer games to reach that mark.

Share Tweet

Pittsburgh center Maurkice Pouncey injured his right leg on the Steelers' first offensive play from scrimmage against Tennessee on Thursday night, and will not return.

Share Tweet

yahoo.com

Oct 11, 2012

Ever since the Cleveland Browns either misdiagnosed Colt McCoy's concussion (or didn't diagnose it at all) late last season, the NFL has put forth the appearance that it is far more proactive when it comes to protecting players from returning to games a…

Share Tweet

profootballtalk.com ESPN.com

Oct 11, 2012

Mike Wallace has shown once again why he may be the best deep threat in the NFL. After the Steelers and Titans traded field goals on Thursday night, it was Wallace who gave the Steelers an early lead by catching a deep ball from Ben Roethlisberger and r…

Share Tweet

Week 6 picks: The Pats' offense is a juggernaut, but unstoppabl…

CNNSI.com

Oct 11, 2012

The Pats' offense is a juggernaut, but unstoppable? The Seattle crowd, and a crazed pass rush, will have something to say about that, Peter King writes as he picks Week 6's games.

Share Tweet

profootballtalk.com ESPN.com yahoo.com

Oct 11, 2012

With Steelers safety Troy Polamalu out after re-aggravating his calf injury, Will Allen is in tonight's starting lineup. The Steelers announced that Allen - and not Ryan Mundy, who started the first three games of the season, first in place of startin

Share Tweet

profootballtalk.com

Oct 11, 2012

Every Thursday morning, we unveil the respective picks from MDS and yours truly.  Every Thursday afternoon, MDS joins PFT Live to discuss the games on which we disagree - and other games that make us nervous. Today, we talked Vikings-Redskins, Broncos-

Share Tweet

Join our ESPN.com NFL experts as they break down the AFC matchup between the Pittsburgh Steelers and the Tennessee Titans. Contribute your thoughts and questions beginning at 8:25 p.m. ET. See you there. Countdown Live: Steelers-Titans

Share Tweet

deadspin.com

Oct 11, 2012

Not so long ago, Jets linebacker Bart Scott uttered some immortal words: "We take a lot of slack, people gave us no chance... we're a good football team." This is not the rhetoric emerging from Cleveland now, but it should be. Instead, we have…

Share Tweet

yahoo.com

Oct 11, 2012

Despite catching just four passes for 59 yards in last Sunday's win over the Cincinnati Bengals - nearly 200 fewer yards than he had the week before against the Arizona Cardinals - Miami Dolphins wide receiver Brian Hartline remains the NFL's leader i

Share Tweet

Dallas Cowboys starting outside linebacker Anthony Spencer said he expects to play in Sunday's game at the Baltimore Ravens. Spencer missed the Week 4 loss to the Chicago Bears with a pectoral muscle injury.

Share Tweet

profootballtalk.com

Oct 11, 2012

Ravens linebacker Ray Lewis sent a message to the Cowboys running game. And Cowboys fullback Lawrence Vickers said he's not backing down. During a conference call with Dallas media, Lewis said the Ravens had other plans if the Cowboys wanted to try to f

Share Tweet

The Dallas Cowboys could turn to Tony Romo as the holder on field goal attempts in Sunday's game against the Ravens.

Share Tweet

N.F.L. Week 6 Game Probabilities: Penalizing Pittsburgh

nytimes.com

Oct 11, 2012

What has been holding the Steelers back is their penalty rate. They have a league-worst rate of 0.7 penalty yards per play; the league average is 0.4 yards per play.

Share Tweet

Big Ben all about winning

Oct 11

Pittsburgh Steelers QB Ben Roethlisberger may not put up flashy statistics, but he does have a proven track record of winning. Kurt Warner digs deeper into the two-time Super Bowl champion's will to win.

Big Ben breaking records

Oct 11

Pittsburgh Steelers quarterback is 287 yards away from breaking former Steelers quarterback Terry Bradshaw's passing record. Will he be considered a better than his predecessor?

Preview: Dallas Cowboys vs. Baltimore Ravens

Oct 11

NFL Films previews the Week 6 matchup between the Dallas Cowboys and the Baltimore Ravens.

Preview: Cincinnati Bengals vs. Cleveland Browns

Oct 11

NFL Films previews the Week 6 matchup between the Cincinnati Bengals and the Cleveland Browns.