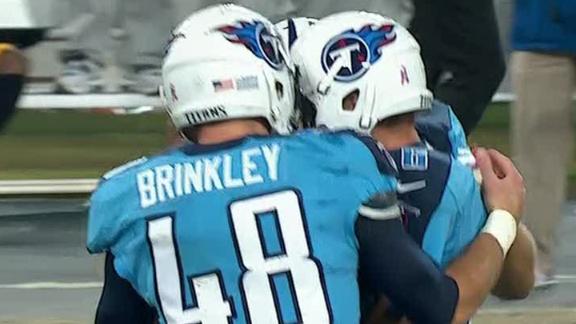 ESPN.com
profootballtalk.com
Updated Oct 12, 2012
The Achilles injury Pittsburgh Steelers running back Rashard Mendenhall suffered in Thursday night's loss to the Tennessee Titans is minor, a person who has spoken to the player told NFL.com on Friday.
Share
Tweet
Pro Football Talk on NBC Sports Network will be getting a jump on Sunday with a pair of players from the AFC North on Friday afternoon. Erik Kuselias will speak with Ravens wide receiver Torrey Smith ahead of this weekend's date with the Cowboys. Smithâ

Share Tweet

Dre Kirkpatrick is close to making his debut

The Bengals secondary has gotten healthier in the last couple of weeks, but they still haven't been able to see what first-round pick Dre Kirkpatrick can do in a game. Kirkpatrick hurt his knee before training camp and then aggravated the injury in camp

Share Tweet

Even If Icing The Kicker Doesn't Work, It's Better Than Never Icing The Kicker

Mike Tomlin iced the kicker twice last night, but with an unfortunate twist: First, he called a timeout on his own kicker, Shaun Suisham, who proceeded to miss a 54-yarder. Then he stopped the Titans' Rob Bironas just as he was about to attempt the game…

Share Tweet

With a selfish act, Joe Haden damaged more than his reputation.

Share Tweet

Revisiting the Pittsburgh Steelers' 26-23 loss to the Tennessee Titans: You can justify failing to hold fourth quarter leads to Peyton Manning and Michael Vick because they've done it so many times before. You can understand losing in the final minute t…

Share Tweet

Final Word: AFC North

Five nuggets of knowledge about Week 6: Home sweet home: The Ravens are among the best teams in the NFL, sporting a 4-1 record. But no team is better than Baltimore at home. The Ravens' 13-game winning streak (14 if you include playoffs) is tops in the …

Share Tweet

Bengals Cheerleader Who Humped High School Student: "We Still Haven't Been On Our First Date Yet"

Now that all that messy business of sleeping with one of her former students is behind her, Sarah Jones and that former student are ready to consummate their relationship, perhaps by having dinner and seeing a movie. More »

Share Tweet

Browns could be down 2 defensive starters

Browns defensive starters Ahtyba Rubin and Scott Fujita both missed practice and may sit out Sunday's game against Cincinnati.

Share Tweet

Week 6 predictions: Mea culpa edition

So, the Week 6 predictions didn't get off to a great start. I expected the Steelers-Titans game would be close, but I never thought Pittsburgh was leaving with a loss. That is, not until the Steelers started holding tryouts for offensive linemen at half…

Share Tweet

ESPN.com profootballtalk.com

Oct 12, 2012

Baltimore Ravens linebacker Ray Lewis -- a 13-time Pro Bowler and one of the NFL's all-time great linebackers -- was asked if he still has "it."

Share Tweet

As expected, NFL Commissioner Roger Goodell's idea of a compromise has not satisfied the four players who were suspended in the league's investigation of the Saints' bounty program. Saints linebacker Jonathan Vilma, Saints defensie end Will Smith, B

Share Tweet

ESPN.com profootballtalk.com

Oct 12, 2012

The Steelers have lost fourth-quarter leads in four of five games this season and all three of their defeats have come to teams with losing records. What's the problem? It's something you don't usually hear a Steelers player say. "We're not strong menta

Share Tweet

Ben Roethlisberger Is Not Impressed

Tennessee upset Pittsburgh last night in a Thursday Night Football game full of exciting field goals and the sort of play that led most viewers to seek out more compelling sports TV on TBS or TNT. A last-second field goal by Rob Bironas-his fourth of th

Share Tweet

NASHVILLE, Tenn. -- The Ravens were criticized for winning ugly Sunday in Kansas City. My guess is the Steelers would take a win instead of the pain of losing on a game-ending field goal in Tennessee. The same goes for the Bengals, who were upset by the…

Share Tweet

Hasselbeck gets the fourth quarter comeback he needed

The Titans needed it as a group. But quarterback Matt Hasselbeck needed a comeback win like Thursday's over the Steelers for his own reasons. After losing the starting job to Jake Locker in camp, and then playing poorly in relief, the 37-year-old Hassel

Share Tweet

Chris Johnson credits the offensive line after 91-yard game

When Titans running back Chris Johnson got off to a brutal start this season, he said he's only as good as Tennessee's offensive line. So it's only fair that after a good game Thursday night against the Steelers, Johnson praised the line. Johnson, w

Share Tweet

Age Before Beauty: The Titans survived the Steelers 26-23 largely be…

CNNSI.com

Oct 12, 2012

The Titans survived the Steelers 26-23 largely behind the veteran heroics of Matt Hasselbeck. The 37-year-old proved that age is just a number -- and it's all relative, writes Chris Burke.

Share Tweet

At 1-4 entering Thursday night's game against the Pittsburgh Steelers, the Tennessee Titans needed a win to keep  any realistic hopes they had for making the postseason alive. Thanks to 290 yards passing from Matt Hasselbeck, 91 yards rushing from Chris…

Share Tweet

'Playbook': Cowboys vs. Ravens

Oct 12

The "Playbook" crew explains why the running game will be important for both teams in the Dallas Cowboys' Week 6 matchup with the Baltimore Ravens.

'Playbook': Cincinnati Bengals vs. Cleveland Browns

Oct 12

Why are the Browns still winless? Our experts explain why questionable play calling from the Browns and the talent of the Bengals wide receivers could prove to me a major issue for Cleveland on Sunday.

NFL Live OT: Losing Teams That Can Make The Playoffs

Oct 12

Trey Wingo, Tedy Bruschi and Mark Schlereth discuss which teams with losing records they think can make the playoffs.

Steelers Panic Meter

Oct 12

Herm Edwards discusses the level of panic in Pittsburgh.