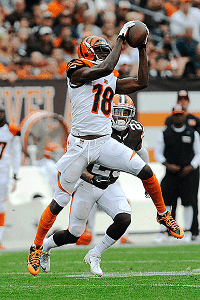 Green won't suffer in more diverse offense
ESPN.com
Updated Oct 18, 2013
CINCINNATI -- As the Cincinnati Bengals begin opening up their passing game and directing more balls to more receivers, their star pass-catcher, A.J. Green, should fare better than other receivers who have gone through similar offensive changes on their…
Share
Tweet
Quentin Groves not fined for roughing Matthew Stafford

Late in the fourth quarter of Sunday's game, with the Lions leading 24-17, Detroit quarterback Matthew Stafford threw a third-down incompletion. But the Browns' celebration was short-lived because Cleveland linebacker Quentin Groves was flagged for roug…

Share Tweet

The NFL has confirmed the $31,500 fine handed down to Detroit defensive tackle Ndamukong Suh for his hit on Cleveland Browns quarterback Brandon Weeden.

Share Tweet

The Green Bay Packers might not have enough players to dress the maximum number of 46 on game day Sunday against the Cleveland Browns.Asked McCarthy if #Packers have to suit up 46 players even if they don't have 46 healthy ones. "That's a good ques…

Share Tweet

The Browns appear ready to give Tori Gurley a chance to play one of his many former teams. According to the league's transaction wire, the Browns have promoted Gurley and cornerback Julian Posey from the practice squad, and waived running back Bobby Rai…

Share Tweet

Browns update: Sheard listed as probable

It seemed that linebacker Jabaal Sheard would return for the Browns last week. He didn't. But he might on Sunday against Green Bay. Sheard was a full participant in practice all week and is listed as probable on the team's injury report. He missed three…

Share Tweet

There will be no Calvin Johnson watch this week. The Lions wide receiver, recovering from a sore knee that cost him a game and made him a game-time decision last week, appears to have recovered nicely. The Lions are listing him as probable for Sunday's …

Share Tweet

Browns quarterback Brian Hoyer had his torn ACL repaired at the Cleveland Clinic on Friday.

Share Tweet

The Packers were hoping to have more clarity about the status of wide receiver James Jones and outside linebacker Mike Neal on Friday, but a question mark is just going to have to suffice. Both players were listed as questionable for this weekend's game…

Share Tweet

OWINGS MILLS, Md. -- You can no longer blame the Baltimore Ravens' struggles in the running game on Ray Rice's hip injury. The Pro Bowl running back declared himself at full strength heading into Sunday's game at the Pittsburgh Steelers. "There is …

Share Tweet

pittsburghlive.com ESPN.com

Oct 18, 2013

By Ralph N. Paulk, Pittsburgh Tribune-ReviewRookie linebacker Jarvis Jones, diagnosed with a concussion after Sunday's win at the Jets, is listed as questionable for Sunday's game against AFC North rival ...

Share Tweet

ESPN.com profootballtalk.com

Oct 18, 2013

CINCINNATI -- For the second straight weekend, the Cincinnati Bengals will be leaving town Saturday for a road game with an injury-free roster. Sure, there are players among them who have minor bumps and bruises. We are, after all, heading to the midpoi…

Share Tweet

ESPN.com profootballtalk.com

Oct 18, 2013

OWINGS MILLS, Md. -- Baltimore Ravens starting inside linebacker Josh Bynes was ruled out for Sunday's game against the Pittsburgh Steelers after he needed surgery on an infected finger, coach John Harbaugh announced Friday. Bynes cut his finger last we…

Share Tweet

. The Baltimore Ravens and the Pittsburgh Steelers renew their storied rivalry Sunday at Heinz Field, and both teams are badly in need of a win. That should only increase the intensity, which is never an issue anyway when these teams meet. What is a bit…

Share Tweet

The Browns' starting tailback resumed practicing on Friday. Willis McGahee, who sat out practice on Thursday with a knee ailment, returned to the field on Friday morning, multiple media outlets reported, including the Canton Repository. According to mul…

Share Tweet

Buffalo Bills running back C.J. Spiller will play Thursday against the Cleveland Browns despite a sprained ankle, a league source told ESPN NFL Insider Adam Schefter.

Share Tweet

Flacco eyeing rare four-peat in Pittsburgh

OWINGS MILLS, Md. -- Baltimore Ravens quarterback Joe Flacco is looking to accomplish something that hasn't been achieved in Pittsburgh for 44 years. With a win at Heinz Field on Sunday, Flacco would become the first visiting quarterback to win four str…

Share Tweet

Wake-up caw: Webb is 'baiting' teams

Teams are testing Baltimore Ravens cornerback Lardarius Webb more this season, and they're having success doing so. Webb has been targeted 40 times through six games, an average of 6.7 times per contest -- his highest mark in three seasons, according to…

Share Tweet

'Playbook': Baltimore Ravens vs. Pittsburgh Steelers

Oct 18

Will the problems with the Baltimore Ravens offensive line be an issue against the Pittsburgh Steelers' defense? The "Playbook" gang takes a look at the battle up front and explains who will come out on top.

'Playbook': Cleveland Browns vs. Green Bay Packers

Oct 18

Is Green Bay Packers running back Eddie Lacy going to provide another dimension to the Packers' offense that could make them unstoppable? Our analysts dissect Lacy's game and offer a Browns player that could stop Lacy.

'Playbook': Cincinnati Bengals vs. Detroit Lions

Oct 18

Can the Cincinnati Bengals offensive line hold off the impressive Detroit Lions front seven? The guys discuss the battle in the trenches and the play of Lions tight end Joseph Fauria.