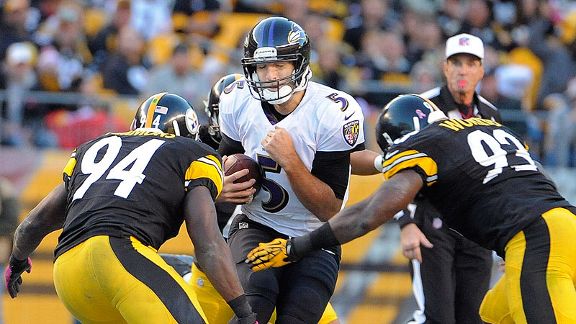 ESPN.com
profootballtalk.com
CNNSI.com
Updated Oct 20, 2013
PITTSBURGH -- It's too early to write off the Baltimore Ravens, even though this is the first time they have a losing record this late in a season in their six years under John Harbaugh. But let's be honest: Their 19-16 loss to the Pittsburgh Steelers w…
Share
Tweet
D'Qwell Jackson scoffed at the notion that the difference between the Green Bay Packers and Cleveland Browns is that Aaron Rodgers plays for the Packers and not the Browns. "I can come up with 100 different excuses why we didn't win," Jackson …

Share Tweet

baltimoresun.com ESPN.com profootballtalk.com steelersgab.com

Oct 20, 2013

Shaun Suisham's 42-yard field goal sends Ravens into bye week with second straight defeatTerrell Suggs didn't want to hear about how the Ravens were still right in the thick of the AFC North race or about how they still had nine games remaining and a by…

Share Tweet

The Ravens have lost three of their last four games and stand at 3-4 heading into their bye week, a state of affairs that is not being met with a shrug of the shoulders by linebacker Terrell Suggs. Suggs deemed himself "very concerned" with the team's p…

Share Tweet

ESPN.com profootballtalk.com

Oct 20, 2013

The numbers for Brandon Weeden in Sunday's 31-13 loss to the Green Bay Packers included these: -- The Cleveland Browns quarterback threw for 149 yards. -- He threw 42 times to get those yards. -- He completed 40 percent. -- He averaged 3.5 yards per att…

Share Tweet

Green Bay Packers tight end Jermichael Finley was taken off Lambeau Field on a gurney after he sustained a neck injury in the fourth quarter of Sunday's game against the Cleveland Browns.

Share Tweet

DETROIT -- When Cincinnati Bengals cornerback Terence Newman made it back to the sideline after the Lions' first-quarter touchdown Sunday, he was given some of the hardest news he's heard all season. "I lost it," Newman said. He didn't say muc…

Share Tweet

profootballtalk.com ESPN.com

Oct 20, 2013

The Bengals got a win today, but it came with a terrible cost. A league source confirms to PFT that Bengals cornerback Leon Hall suffered a torn Achilles and will be lost for the season. Hall went down in the first quarter while covering Calvin Johnson,…

Share Tweet

CNNSI.com

Oct 20, 2013

No one gave the Jets a chance this year, but a dramatic OT win over the Pats puts them at an impressive 4-3.

Share Tweet

yahoo.com

Oct 20, 2013

Maybe it was just anticipation. Maybe it was just eagerness. Maybe it was just the luxurious hair. No matter what it was, Pittsburgh Steelers safety Troy Polamalu really wanted to block Baltimore's extra point attempt in the fourth quarter.There was onl…

Share Tweet

Are the Cincinnati Bengals emerging as the biggest threat to Denver in the AFC?

yahoo.com

Oct 20, 2013

The Cincinnati Bengals came into the season as a trendy Super Bowl pick. Then they had a couple early losses and fell off the radar. Most people probably haven't noticed they might be emerging as the biggest threat to keep Denver from winning an AFC cha…

Share Tweet

DETROIT -- Observed in the locker room after the Cincinnati Bengals' 27-24 win over the Detroit Lions: Jokes on who? Like we wrote earlier this weekend, Bengals receiver A.J. Green and Lions wideout Calvin Johnson share a unique friendship. In front of …

Share Tweet

A back-and-forth battle in Detroit ended with Bengals kicker Mike Nugent drilling a 54-yard field goal as time expired, giving Cincinnati a hard-fought 27-24 win over the Lions. The story of the day was that two of the best receivers in the NFL both put…

Share Tweet

ESPN.com steelersgab.com

Oct 20, 2013

PITTSBURGH -- Right outside linebacker Jarvis Jones will miss his first NFL game after suffering a concussion in the Steelers' 19-6 win over the Jets last Sunday. That Jones is among the seven Steelers inactives today does not necessarily mean he didn't…

Share Tweet

Steelers' decision to deactivate Curtis Brown catches Ravens' attention

Who says the Ravens-Steelers rivalry has lost some luster? OK, it has. But that's beside the point for now. A pre-game development has added a little intrigue to the first game of this year's home-and-home clash between Pittsburgh and Baltimore. Cornerb…

Share Tweet

PITTSBURGH -- Baltimore Ravens inside linebacker Jameel McClain is officially active, which means he'll play in his first game since suffering a spinal cord contusion Dec. 9. McClain had been on the physically unable to perform list until Saturday and d…

Share Tweet

Chris Houston is the Lions' best cornerback, but he's no match for Cincinnati's A.J. Green. Houston was badly beaten by a Green double-move, biting on the fake and watching helplessly as Green sprinted past him to get wide open deep in the Lions' second…

Share Tweet

NFL Vice President of Operations Merton Hanks admitted this week that the hit on Browns quarterback Brandon Weeden that drew a $31,500 fine for Lions defensive tackle Ndamukong Suh $31,500 was not an "egregious" offense. Hanks said part of the reason fo…

Share Tweet

The trade deadline comes in only nine days. With four significant trades already happening during the 2013 season (Trent Richardson to Indy, Jon Beason to the Giants, Eugene Monroe to the Ravens, and Levi Brown to the Steelers), more could be coming. Ia…

Share Tweet

Join our ESPN.com NFL experts as they break down the Cincinnati Bengals' visit to the Detroit. Contribute your thoughts and questions beginning at 1 p.m. ET. And, be sure to visit our NFL Nation Blitz page for commentary from every game, as well as fan …

Share Tweet

AFC North notebook: Ravens missing stars Lewis, Reed

pittsburghlive.com

Oct 20, 2013

By Alan Robinson, Pittsburgh Tribune-ReviewRavens defensive end Terrell Suggs is arguably the most disruptive defensive player to oppose the Steelers in the past 30 years. Since the sack became ...

Share Tweet

Sunday Blitz: Browns-Packers Recap

Oct 20

Jim Basquil and Eric Allen break down the Packers' Week 7 win over the Browns.

Late Field Goal Lifts Bengals

Oct 20

ESPN Bengals reporter Coley Harvey and Lions reporter Michael Rothstein talk about how Cincinnati was able to leave Detroit with a win.

Sunday Blitz: Ravens-Steelers Recap

Oct 20

Jim Basquil and Eric Allen break down the Steelers' Week 7 win over the Ravens.

Browns postgame press conference

Oct 20

Browns react following game with Packers

Sports Columnists

Don Banks: Jets prove lucky and good in win over Patriots; more Week 7 Sna…

Oct 20

INDIANAPOLIS -- Musings, observations and the occasional insight from an entertaining Week 7 while awaiting the spectacle of P. Manning's big homecoming in Colts-land. ...

Kansas City Chiefs riding proven formula to championship contention

Oct 20

Go ahead and snicker at the way the Chiefs win games. People did the same to the 2000 Ravens ... until they won the Super Bowl.