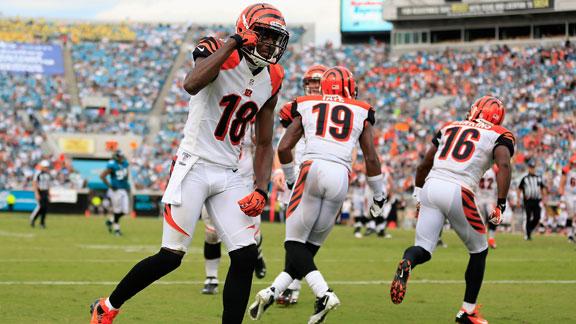 ESPN.com
profootballtalk.com
Updated Sep 30, 2012
Let me know if you've heard this one before: Are the Cincinnati Bengals for real? Last season, the surprising Bengals went 9-0 against non-playoff teams and 0-7 against playoffs teams. This year, Cincinnati has followed the same path. After getting rout…
Share
Tweet
Last second field goal allows Redskins to avoid blowing win in Tampa

When Billy Cundiff last tried a clutch field goal at the end of a game, his Ravens wound up as losers of the AFC Championship Game. Cundiff got another shot on Sunday as the Redskins drove in position for him to try a 41-yarder with seconds left in thei…

Share Tweet

Tom Brady Says "Fuck You, Bitches" And The Bengals Win Gangnam Style: Your Sunday NFL GIF Roundup

deadspin.com

Sep 30, 2012

This is where we'll be stashing the best GIFs from Week 4-from Percy Harvin returning a kickoff for the first touchdown of the day to, in all likelihood, Michael Vick breaking a rib. The day is done, except for the Eagles and Giants, so let's take a loo

Share Tweet

Rookie kickers are performing in the clutch as never before

yahoo.com

Sep 30, 2012

In late August, the Baltimore Ravens released Pro Bowl kicker Billy Cundiff in favor of rookie kicker Justin Tucker. A missed field goal in the AFC championship game was probably a factor, but that story was overplayed -- in truth, Tucker won the job on…

Share Tweet

There were dramatic finishes and displays of incredible football all over the NFL today. There was also a game in Jacksonville. The Bengals did what a (relatively) good team should do to a (relatively) bad one,  thumping the Jaguars 27-10. They did it e…

Share Tweet

yahoo.com

Sep 30, 2012

The Arizona Cardinals will be without veteran defensive tackle Darnell Dockett, who had been listed as "doubtful" with a hamstring injury. Before Sunday's game, Dockett had missed just one game in his eight-plus seasons in the NFL. The Cardina…

Share Tweet

profootballtalk.com ESPN.com

Sep 30, 2012

The Bengals will suit up just three cornerbacks today, with Nate Clements, Jason Allen, Dre Kirkpatrick and Leon Hall inactive for today's game against the Jaguars. That leaves just Terence Newman, Adam Jones and Chris Lewis-Harris at the position. Then

Share Tweet

Flacco's contract is "up to Bisciotti"

After a second solid showing from Ravens quarterback Joe Flacco in five days, as the team finished a four-games-in-17-days-stretch with a 3-1 record, the phone of agent Joe Linta still isn't ringing. Linta tells PFT that there have still been no talks s

Share Tweet

ESPN.com

Sep 30, 2012

In the video, Herm Edwards and Darren Woodson make their predictions for the Bengals at the Jaguars. As far as the other experts go, ESPN NFL Insider Adam Schefter is the only one to predict the Bengals to get upset at Jacksonville: Eric Allen: Bengals …

Share Tweet

Yes, he injured a shoulder last weekend against the Browns.  Sure, it looked bad at the time.  Yep, he's been limited in practice this week.  Yeah, Spiller will be the backup to Fred Jackson. But a source close to Spiller says that Spiller, who enter

Share Tweet

ESPN.com

Sep 30, 2012

The Ravens and Browns played Thursday. The Steelers are on their bye. That means all of the pressure of upholding the good name of the division rests on the Bengals today. Before we start Who Dey Sunday, let's take a look at what is happening around the…

Share Tweet

Sunday Blitz: Bengals-Jaguars Recap

Sep 30

Jim Basquil and Eric Allen break down the Bengals' 27-10 win over the Jaguars.

Bengals Down Jaguars

Sep 30

Andy Dalton threw two touchdown passes to lead the Bengals past the Jaguars 27-10.

Cincinnati Bengals vs. Jacksonville Jaguars highlights

Sep 30

Andy Dalton throws for over 200 yards and two touchdowns to help the Cincinnati Bengals knock off the Jacksonville Jaguars 27-10.

'Gangnam style' sack

Sep 30

Cincinnati Bengals defensive tackle Domata Peko sacks Jacksonville Jaguars quarterback Blaine Gabbert and does the popular "Gangnam Style" dance.