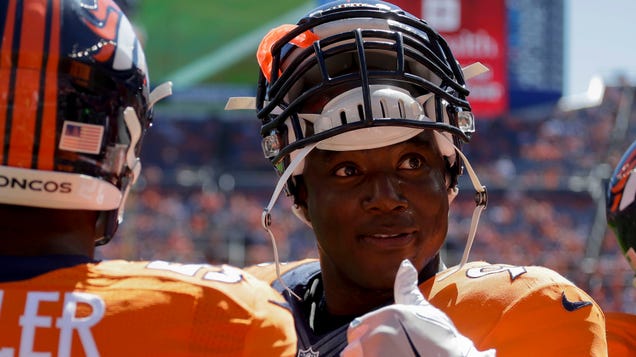 deadspin.com
profootballtalk.com
Updated 3 hours ago
Broncos linebacker DeMarcus Ware returned home from Monday night's game against the Houston Texans to discover that his house had been burglarized. Ware was understandably upset, but was also comforted by the fact that his house was equipped with hidden…
Share
Tweet
Nate Washington works out for Bucs

profootballtalk.com

1 hour ago

Veteran wide receiver Nate Washington worked out for the Buccaneers Tuesday. Washington, 33, was released by the Patriots in August. He caught 47 passes for the Texans last year and has caught at least 40 passes every season since 2008. Last week, the B…

Share Tweet

ESPN.com profootballtalk.com

2 hours ago

Blake Bortles on Jaguars' color rush uniforms: 'They're ugly as hell'

Share Tweet

profootballtalk.com nytimes.com ESPN.com yahoo.com

4 hours ago

The Texans offense failed to produce a touchdown in Monday night's loss to the Broncos and quarterback Brock Osweiler turned in the latest poor performance in a season that's seen more of them than the Texans were hoping to see when they signed him to a…

Share Tweet

yahoo.com profootballtalk.com

6 hours ago

A fan died after falling an estimated 30-50 feet at Denver's Mile High stadium. (Associated Press) A fan exiting Monday night's game between the Denver Broncos and Houston Texans died after falling from a "severe height" at Mile High stadium, according …

Share Tweet

profootballtalk.com ESPN.com

7 hours ago

Jaguars fans in Jacksonville have supported the team steadfastly, despite nearly a decade of mediocrity. But with increased expectations in 2016 that aren't being met, the locals are getting restless. And that isn't sitting well with receiver Allen Robi…

Share Tweet

ESPN.com profootballtalk.com

8 hours ago

Colts WR Donte Moncrief expected to return to practice this week

Share Tweet

profootballtalk.com

10 hours ago

The Jaguars have lost a starter on their defensive line for the rest of the season. The team announced Tuesday that nose tackle Roy Miller tore his right Achilles in last Sunday's loss to the Raiders. Miller will have surgery and be placed on injured re…

Share Tweet

Brian Schwenke, Brice McCain likely to start for Titans on Thursday

ESPN.com

13 hours ago

Brian Schwenke, Brice McCain likely to start for Titans on Thursday

Share Tweet

Marqise Lee admits he was flagged for using the N-word

profootballtalk.com

14 hours ago

Among the Jaguars who lost their cool (in addition to a game, but that's no longer news) Sunday was Marqise Lee. And the wide receiver said his unsportsmanlike conduct penalty came from directing the N-word at the Raiders, saying he was responding to th…

Share Tweet

ESPN.com

20 hours ago

Texans unsure what they have in Brock Osweiler after disastrous Denver return

Share Tweet

Watt has sights set on Week 1

Jul 31

J.J. Watt tells reporters his mindset is he will play in Week 1 for the Texans.

More valuable to Texans: Watt or Hopkins?

Jul 31

Darren Woodson thinks not having DeAndre Hopkins will have a greater negative effect on the Texans than not having J.J. Watt.

Hopkins subject to $40,000 fine per day

Jul 30

ESPN's Field Yates explains why Texans wide receiver DeAndre Hopkins won't necessarily be held accountable for a $40,000/day fine for holding out of training camp if contract negotiations are settled in a timely manner.

Hopkins has 'outplayed' his contract

Jul 30

ESPN analyst Darren Woodson says Texans wide receiver DeAndre Hopkins matches the skill level of Julio Jones and Odell Beckham Jr. and should be paid accordingly.