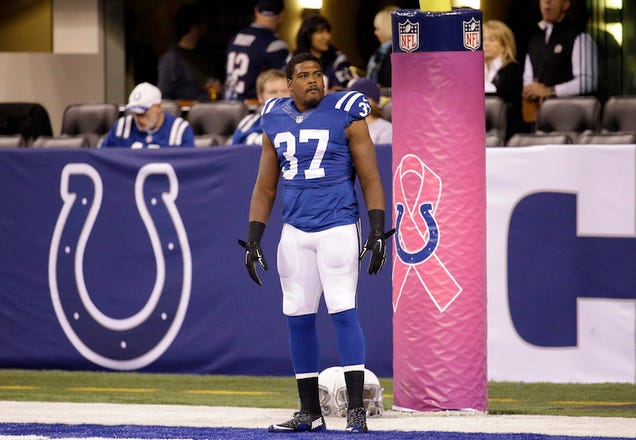 Former Colts Running Back Fatally Shoots Himself After Moving Gun-Filled Bag At Auto Dealer
deadspin.com
Updated 5 hours ago
Former Indianapolis Colts running back Zurlon Tipton is reportedly dead after he accidentally shot himself today while picking up a duffel bag containing two guns in his car. He was 26.Read more...
Share
Tweet
profootballtalk.com ESPN.com

1 hour ago

The death of ex-Colts running back Zurlon Tipton hit Frank Gore hard. Teammates for much of last season, Gore and Tipton spent plenty of time together in the running back meeting room and in practices. "This really messed me up," Colts running back Fran…

Share Tweet

Jaelen Strong not threatened by new arrivals at receiver

profootballtalk.com

6 hours ago

Just as receiver Jaelen Strong, a third-round pick in 2015, was ready to emerge as the primary complement to star Texans wideout DeAndre Hopkins, the Texans added two more in the draft — first-rounder Will Fuller and third-rounder Braxton Miller. So how…

Share Tweet

Marcus Mariota fine with handing ball off 40 times "if we win games"

profootballtalk.com

12 hours ago

After the Titans removed the interim part of head coach Mike Mularkey's title this offseason, Mularkey said that he hoped to build an "exotic smashmouth" offense and the team acquired running backs DeMarco Murray and Derrick Henry and offensive linemen …

Share Tweet

ESPN.com

14 hours ago

AFC South Q&A: Will Mike Mularkey finally find success with Titans?

Share Tweet

yahoo.com

15 hours ago

Back in 2012, when Peyton Manning's career was hanging in the balance following four neck surgeries and his release from the Indianapolis Colts, he placed a call to an old friend from his college days. We don't know if it was for advice or reassurance, …

Share Tweet

profootballtalk.com deadspin.com

Jun 27 (yesterday)

The lawyer representing Jaguars linebacker Dan Skuta has done something far more conventional than accidentally text strategic secrets to the media. Mark NeJame has declared his client's innocence. NeJame told TMZ that the allegation of Skuta shoving th…

Share Tweet

Texans hope Jadeveon Clowney has already had as many injuries "as he needs to have"

profootballtalk.com

Jun 26 (2 days ago)

When the Texans took linebacker Jadeveon Clowney with the first overall pick of the 2014 draft, their hope was that he'd team with defensive end J.J. Watt to lift the team's defense to the top of the league. Injuries have kept that from happening. Clown…

Share Tweet

Julius Thomas could be poised to have a huge year

Three years ago, former Broncos quarterback Peyton Manning provided during a preseason DirecTV-sponsored media tour a tip for anyone who was paying attention: Pay attention to tight end Julius Thomas. As Thomas prepares for his second season with the Ja…

Share Tweet

It took some time for WR Will Fuller and the Texans to work out the details of Fuller's first professional contract, but they've finally come to an agreement. According to multiple reports, Fuller has agreed to his rookie deal with Houston. It's a four-…

Share Tweet

Jim Irsay buys a Prince guitar for $137,500

Colts owner Jim Irsay isn't saving all his money for Andrew Luck's next contract. Irsay spent $137,500 on the "Yellow Cloud" guitar that Prince used in the 1990s, the Associated Press reports. Irsay made the purchase at an auction in Beverly Hills on Sa…

Share Tweet

Luck's admission of poor play doesn't affect his leverage

profootballtalk.com

Jun 25 (3 days ago)

When hearing that Colts quarterback Andrew Luck admitted he didn't play well last year even when he was healthy, it would have been reasonable to say something like, "Don't say things like that when you're trying to land the biggest contract in league h…

Share Tweet

From Heisman House, Derrick Henry looks forward to meeting Herschel Walker

ESPN.com

Jun 24 (4 days ago)

From Heisman House, Derrick Henry looks forward to meeting Herschel Walker

Share Tweet

Can Blake Bortles overcome Jaguars' shaky QB history?

ESPN.com

Jun 24 (4 days ago)

Can Blake Bortles overcome Jaguars' shaky QB history?

Share Tweet

profootballtalk.com

Jun 24 (4 days ago)

In his first year of retirement, Peyton Manning will have a lot of favorite teams. One will be the Texans. Manning said today at the Manning Passing Academy that he'll be rooting for Texans quarterback Brock Osweiler, his old teammate in Denver, to have…

Share Tweet

yahoo.com profootballtalk.com

Jun 24 (4 days ago)

The league's three Florida-based teams - the Jacksonville Jaguars, Miami Dolphins and Tampa Bay Buccaneers - have joined with the NFL Foundation to do a little good. It was announced on Friday that the four groups are combining to donate $400,000 to the…

Share Tweet

Dorial Green-Beckham more confident, comfortable in second season

profootballtalk.com

Jun 24 (4 days ago)

Seven receivers came off the board before the Titans selected Dorial Green-Beckham in the second round of the 2015 draft and only one of them had more catches, yards and touchdowns during their rookie seasons. That didn't stop Titans coach Mike Mularkey…

Share Tweet

yahoo.com

Jun 24 (4 days ago)

How much is a jersey number worth? For Jalen Ramsey, $30,000 sounded about right. For James Sample, that wasn't enough for the No. 23 he has and Ramsey wanted. Sample made it clear his number was not for sale. This week Ramsey, the cornerback who was th…

Share Tweet

profootballtalk.com

Jun 24 (5 days ago)

The Houston Texans are attempting to create an edge off the field with the addition of a sports science department, which General Manager Rick Smith started this offseason. But if you want to know exactly what a sports science department does, Smith won…

Share Tweet

Brunell: Expectations are high for Jags

Jun 26

Mark Brunell analyzes the Jaguars' 2016 season outlook and if he sees them elevating their game as a team.

Darren Rovell relives Watt workout

Jun 24

Darren Rovell joins SportsCenter to break down the J.J. Watt workout regimen he and other reporters were put through by Watt.

Luck is 100 percent invested in Colts

Jun 24

Andrew Luck speaks with Bob Holtzman about his contract situation with the Colts and looks back at his performance from last season.

Luck poised to redefine QB market

Jun 24

Josina Anderson says Andrew Luck should be expected to make an average of $25 million per season when he signs a new contract, which falls in line with how the NFL's salary cap has risen.