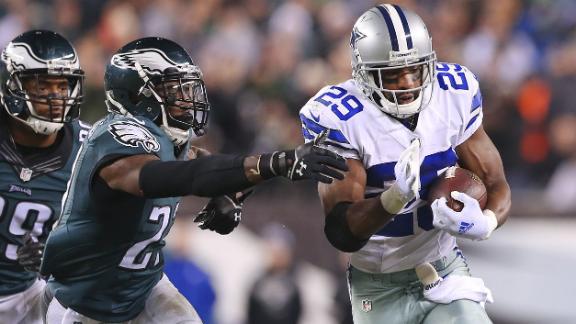 ESPN.com
profootballtalk.com
Updated 1 hour ago
Cowboys star running back DeMarco Murray will probably wait until Sunday morning to make a final decision on his playing status for Dallas' home game against the Colts.
Upvote
Share
Tweet
Jaguars Fans Brawl Over Free T-Shirt

deadspin.com

1 hour ago

Not a lot of background on these videos from Thursday night's game in Jacksonville, other than that the two fans—both of whom were arrested—were trying to choke each other out over a free T-shirt that was launched into the crowd. I do not know if either…

Upvote Share Tweet

jacksonville.com

4 hours ago

Notes and observations from the Jaguars' 21-13 win over the Tennessee Titans on Thursday: OFFENSE ■ Playing time leaders (59 snaps): RB — Toby Gerhart 27 and Jordan Todman 24. TE — Marcedes Lewis 55 and Clay Harbor 19. WR — Cecil Shorts 53, Marqise Lee …

Upvote Share Tweet

Grading the Jaguars vs. Titans

jacksonville.com

4 hours ago

Times-Union sports columnist Gene Frenette grades the Jaguars' game against the Tennessee Titans based on performance, effort and injury circumstances. OFFENSE B-For this maligned unit, 21 points against the lowly Titans is a cause for celebration. A fo…

Upvote Share Tweet

jacksonville.com profootballtalk.com ESPN.com

5 hours ago

Here's what Jaguars quarterback Blake Bortles showed his teammates on Thursday. Nothing. They already knew what kind of toughness Bortles possesses. The rookie played through a foot sprain and helped lead the Jaguars to a 21-13 win over Tennessee at Eve…

Upvote Share Tweet

profootballtalk.com ESPN.com

19 hours ago

The Texans' quarterback situation is a mess right now, with the team down to fourth-stringers Case Keenum and Thad Lewis as the only healthy options. But the quarterback whose injury began this mess hopes he can stabilize the position next year. Ryan Ma…

Upvote Share Tweet

profootballtalk.com

22 hours ago

The Texans will wait until Sunday to make a call on wide receiver DeAndre Hopkins. After a third straight missed practice, Hopkins (ankle) is listed as questionable on the injury report. According to Drew Dougherty of Texans TV, head coach Bill O'Brien …

Upvote Share Tweet

ESPN.com nytimes.com

22 hours ago

INDIANAPOLIS – The Indianapolis Colts talked about wanting continuity on the offensive line this season. That hasn't been the case, as they could be using their ninth different starting lineup on the line against the Dallas Cowboys on Sunday. Right tack…

Upvote Share Tweet

Tracing the Titans' route to the No. 1 pick

ESPN.com

24 hours ago

NASHVILLE, Tenn. -- It's silly to say the Tennessee Titans have the first pick in the NFL draft as of today. Tennessee has played one more game than the other contenders, so they have the lead. Two other two-win teams still have to play this weekend, an…

Upvote Share Tweet

profootballtalk.com ESPN.com

Dec 19 (yesterday)

The Colts are listing wide receiver T.Y. Hilton as questionable for Sunday's game against the Cowboys, and he has taken the designation to heart. Hilton told Stephen Holder of the Indianapolis Star that he felt "50-50," in reference to his ankle injury,…

Upvote Share Tweet

Baltimore Ravens at Houston Texans Preview

Baltimore's defense has relied on a heavy pass rush this season, with Elvis Dumervil and Terrell Suggs wreaking havoc each week, but it has had no luck keeping its secondary healthy.

Upvote Share Tweet

deadspin.com

Dec 19 (yesterday)

Every season, there are at least a few atrocious NFL teams, teams that are disasters. But this season there are six of those teams—Jets, Jaguars, Titans, Raiders, Buccaneers, and Washington. Which seems like an abnormally high amount of shitty teams. So…

Upvote Share Tweet

ESPN.com

Dec 19 (yesterday)

Recently signed quarterback Case Keenum is expected to start for the Houston Texans against the visiting Baltimore Ravens on Sunday, according to a league source.

Upvote Share Tweet

The Jaguars announced a contract extension for defensive tackle Roy Miller earlier this week that will allow them to hold onto Miller without competing for his services with other teams when free agency opens in 2015. It will also allow Miller to avoid …

Upvote Share Tweet

yahoo.com

Dec 19 (yesterday)

It was one tackle in a game that was, otherwise, the definition of unmemorable. A tackle to bring a merciful end to a slapfight between two 2-12 teams, a sack of the Tennessee Titans' Charlie Whitehurst through an indifferent O-line. But for Jacksonvill…

Upvote Share Tweet

The Ravens will be in Houston Sunday, which means offensive coordinator Gary Kubiak will be back in town for a game for the first time since being relieved of his duties as Texans head coach last season. Kubiak said Thursday that he has nothing but "gre…

Upvote Share Tweet

When you're one of the worst teams in the league, and you lose to one of the teams you were tied with for that honor, there has to be a reason. Naturally, it was the officials who doomed the Titans last night, as they lost to the mighty Jaguars. Titans …

Upvote Share Tweet

Sen'Derrick Marks slipped by Andy Levitre, grabbed Charlie Whitehurst around the legs and dragged him to the ground.

Upvote Share Tweet

A Look at NFL's Most Underappreciated, Overblown

Tony Romo, Dez Bryant and the rest of the Dallas Cowboys head into Sunday's game against the Colts leading the NFC East and on the verge of a playoff berth. A ton of the credit for that should go to head coach Jason Garrett's assistants.

Upvote Share Tweet

ESPN.com

Dec 19 (yesterday)

Defensive tackle Sen'Derrick Marks popped up and did the money sign after his sack to close out the Jaguars' win. He wasn't mocking Johnny Manziel, though.

Upvote Share Tweet

Keenum To Start For Texans

Dec 19

John Clayton discusses Texans coach Bill O'Brien's decision to start Case Keenum at quarterback against the Ravens in Week 16.

Jaguars Lose By Winning

Dec 19

Adam Schefter discusses how Jacksonville hurt its draft stock by winning and Tennessee won by losing. Herm Edwards and Mark Dominik talk about the thought process of a coach and general manager at the end of a losing season.

NFL Live Prediction: Colts-Cowboys

Dec 18

The NFL Live crew make their picks for Indianapolis at Dallas.

Inside Edge: Colts-Cowboys

Dec 18

ESPN NFL Insider Mike Sando delivers stats to help you make a pick for Indianapolis at Dallas.