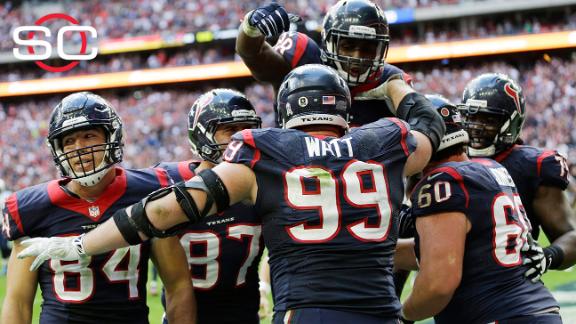 ESPN.com
profootballtalk.com
yahoo.com
deadspin.com
Updated 4 hours ago
How the Texans will avoid revealing too much on 'Hard Knocks'
Share
Tweet
ESPN.com profootballtalk.com

9 hours ago

Marcus Mariota showed anticipation, threw to tight windows on Day 2

Share Tweet

GM, owner keep thoughts with flood victims as Texans resume business

ESPN.com

10 hours ago

GM, owner keep thoughts with flood victims as Texans resume business

Share Tweet

ESPN.com

10 hours ago

Marcedes Lewis eager to co-exist with Julius Thomas

Share Tweet

profootballtalk.com

11 hours ago

Last year, the Browns applied the transition tag to center Alex Mack, allowing the team to match any offer sheet signed with a new team. The Jaguars signed Mack to an offer sheet that gives Mack the right to void the contract after two years. Which mean…

Share Tweet

Colts sign Phillip Dorsett

profootballtalk.com

12 hours ago

Wide receiver Phillip Dorsett is the latest first-round pick to sign his rookie contract. The Colts announced Wednesday that Dorsett has agreed to the standard four-year deal with the team. As a first-round pick, Dorsett's contract also comes with a tea…

Share Tweet

profootballtalk.com

14 hours ago

A rookie who could have a major role in the Jacksonville offense in Year One has signed with the club. The Jaguars and second-round pick T.J. Yeldon have finalized a four-year deal, the team said Wednesday, posting a picture of the former Alabama star t…

Share Tweet

profootballtalk.com ESPN.com

18 hours ago

Jaguars quarterback Blake Bortles set out to refine his game this offseason by working with quarterback guru Tom House and others in California. His tutors were pleased with the results of Bortles's labor and the reviews from Jacksonville are positive a…

Share Tweet

profootballtalk.com

20 hours ago

Jaguars wide receiver Marqise Lee had a hard time staying healthy during his rookie season and his second year isn't getting off to a much better start. Lee did not take part in the Jaguars' first OTA session on Tuesday because of a knee injury he suffe…

Share Tweet

The Jaguars had one healthy player fail to report for organized team activities last season and they had one player missing again on Tuesday as they kicked off this year's sessions. It has been defensive end Chris Clemons both times and the big differen…

Share Tweet

Dorial Green-Beckham, Sammie Hill injured at Titans practice

The Titans drafted wide receiver Dorial Green-Beckham despite character questions from his college career because they believe he's talented enough to boost their offense, but they'll need to get him healthy and on the field consistently for that bet to…

Share Tweet

Colts sign CB Chance Casey, OG Will Corbin

The Colts added two players to the roster and removed another Tuesday, signing cornerback Chance Casey and offensive guard Will Corbin and waiving cornerback Josh Mitchell with an "injured" designation. The club announced the moves this morning. The 24-…

Share Tweet

ESPN.com

May 26 (yesterday)

Views of the severe flooding in Houston this morning

Share Tweet

Torrential rains have created chaos in Texas and Oklahoma over the weekend, with at least five deaths due to flash flooding. In Houston, the downpours shut down roadways on Tuesday, prompting the Texans to pull the plug on today's OTA session. Via KHOU-…

Share Tweet

Sports book installs Seahawks-Colts as the most likely matchup for Super Bowl 50

profootballtalk.com

May 25 (2 days ago)

We used to approach pro football odds posts with the tack of "Gee whiz, can you believe those wacky oddsmakers are accepting bets on (insert topic here)?" Well, let's cut it out. The surprise now is if something isn't available to bet. We know it and yo…

Share Tweet

yahoo.com profootballtalk.com

May 24 (4 days ago)

The Tennessee Titans' draft was fascinating. They had a conviction in quarterback Marcus Mariota and took him with the second overall pick in the NFL draft. I won't knock them for that, and for the most part I like Mariota. But the rest of their draft s…

Share Tweet

nytimes.com

May 23 (4 days ago)

A Jacksonville, Fla., teenager with liver cancer who went to her high school prom with an N.F.L. player has died.

Share Tweet

profootballtalk.com

May 23 (5 days ago)

J.J. Watt is just the kind of player the NFL wants to market, a fierce warrior on the field who turns into an easygoing, likable guy as soon as the game ends. So with process of elimination seeming to leave the Texans as the team that will be featured o…

Share Tweet

What is Whitehurst's impression of Mariota?

May 27

ESPN Titans reporter Paul Kuharsky discusses Tennessee quarterback Charlie Whitehurst's early impression of Marcus Mariota, as well as what the veteran can do to help mentor the rookie.

Bright future for Mariota

May 27

Mark Brunell discusses the learning curve for Titans QB Marcus Mariota and adjustments the team can make to help Mariota's development.

Texans picked for 'Hard Knocks'

May 27

ESPN NFL Insider Bill Polian discusses the challenges ahead for the Texans, who will take part in HBO Sports' "Hard Knocks" show.

Mariota practices with Titans' veterans

May 26

ESPN Titans reporter Paul Kuharsky breaks down rookie quarterback Marcus Mariota's performance in his first practice with the Titans' veteran players.