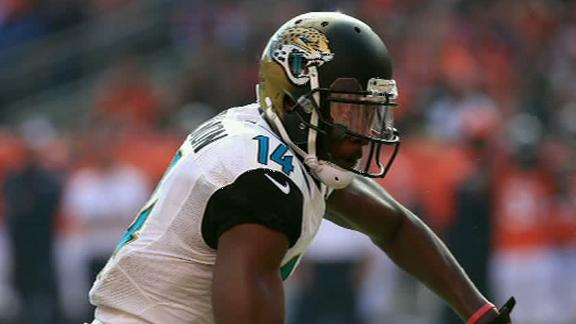 nytimes.com
ESPN.com
profootballtalk.com
yahoo.com
deadspin.com
Updated Nov 1, 2013
Justin Blackmon, the fifth overall pick in the 2012 draft, had earlier violations of the N.F.L.'s substance-abuse policy.
Share
Tweet
Chris Johnson: If we can't run, we're not going to the playoffs

profootballtalk.com

Nov 1, 2013

Tennessee running back Chris Johnson is not playing well. He knows that's a problem for the Titans. Johnson's stat lines in the last four games have gone like this: 15 carries for 21 yards, 10 carries for 17 yards, 12 carries for 33 yards and nine carri…

Share Tweet

HOUSTON -- Forget Arian Foster's status. This might be the biggest news of the week. The Texans might actually open up Reliant Stadium's retractable roof Sunday night for their game against the Indianapolis Colts, which starts at 8:30 p.m. It works. I s…

Share Tweet

Colts face a QB they're not familiar with

INDIANAPOLIS -- The game footage on Houston Texans quarterback Case Keenum is limited for the Indianapolis Colts. Limited to one regular-season game and few preseason appearances. To get more specific, Keenum's pro career stat line is: 15 of 25 for 271 …

Share Tweet

HOUSTON -- Asked about the tribute planned for his late father during Sunday night's game, Texans defensive coordinator Wade Phillips was overcome with emotion. He didn't know that was happening. "Don't get me going there," Phillips said. &quo…

Share Tweet

Kevin Walter unlikely to help anytime soon

NASHVILLE, Tenn. -- If Kevin Walter is going to help the Tennessee Titans, it's going to be near the very end of the season. Walter's been on the physically unable to perform list since before camp, following offseason back surgery. I spoke to him Thurs…

Share Tweet

profootballtalk.com ESPN.com

Nov 1, 2013

The Texans have been monitoring the progress of both their top running backs in their return from injuries over the last couple of weeks and it will be a little bit longer before we know if Arian Foster's hamstring will allow him to face the Colts on Su…

Share Tweet

Greg Toler out against Houston

INDIANAPOLIS -- Indianapolis Colts starting cornerback Greg Toler will miss Sunday's game against the Houston Texans because of groin injury. Colts coach Chuck Pagano is giving the silent treatment on who will replace Toler in the starting lineup. The o…

Share Tweet

yahoo.com

Nov 1, 2013

The last four weeks, the Chiefs have faced backup quarterbacks for the Titans (Ryan Fitzpatrick), Texans (Case Keenum) and Browns (Jason Campbell). And this week, 8-0 Kansas City will likely to face the Bills' fourth option at quarterback. Kevin Kolb's …

Share Tweet

ESPN.com profootballtalk.com yahoo.com

Nov 1, 2013

During an unexpectedly poor showing in the first seven games of the season, the Houston Texans played only one AFC South opponent and beat that team. That's the upside about the Texans' start. The downside for Houston is that during that malaise, the In…

Share Tweet

Chris Myers to appear on Today Show

HOUSTON -- With the Texans scheduled to appear on NBC's Sunday Night Football this weekend, the network's Today Show will have Texans center Chris Myers and his family on for a short segment this morning. You can catch them during the 9 a.m. hour. Myers…

Share Tweet

grantland.com

Nov 1, 2013

Line Play Nerdery of the Week Robert Quinn, DE, Rams vs. Michael Roos, OT, Titans Sunday, 1 p.m. ET If there were fans who still didn't know about Qu...

Share Tweet

'Playbook': Indianapolis Colts vs. Houston Texans

Nov 1

Can the Houston Texans stay alive by taking down the division-leading Indianapolis Colts? "NFL playbook" lays out the gameplan for both teams.

Do or die for Houston Texans?

Nov 1

Are the Houston Texans facing a must-win game on Sunday? Charley Casserly breaks down the matchup between Indianapolis and Houston and also offers his thoughts on Gary Kubiak's future.

'Playbook': Tennessee Titans vs. St. Louis Rams

Nov 1

Who has the edge when St. Louis head coach Jeff Fisher faces his former team? Our analysts praise the play of the Titans offensive line and explain why Rams quarterback Kellen Clemens' is struggling in the passing game.

'Tools for Victory': Timing, angles helping Colts linebacker

Nov 1

Despite being somewhat small for a linebacker, Jerrell Freeman of the Indianapolis Colts is making use of all his physical tools to play some great football.