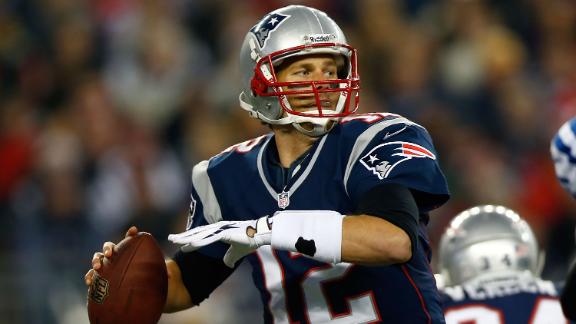 ESPN.com
yahoo.com
profootballtalk.com
Updated Nov 18, 2012
New England Patriots tight end Rob Gronkowski broke his forearm at the end of the team's 59-24 rout of the Indianapolis Colts on Sunday, a league source confirmed to ESPN NFL Insider Adam Schefter.
Share
Tweet
CNNSI.com ESPN.com profootballtalk.com

Nov 18, 2012

Tom Brady threw three touchdown passes and Andrew Luck had two interceptions returned for scores as the Patriots hammered the Colts 59-24 to snap Indy's four-game win streak.

Share Tweet

jacksonville.com yahoo.com profootballtalk.com ESPN.com

Nov 18, 2012

Follow along as we post live updates beginning Monday at 2 p.m. from Jaguars coach Mike Mularkey's news conference after the team's 43-37 overtime loss to the Texans.Live blog from Jaguars coach Mike Mularkey's Monday news conference

Share Tweet

jacksonville.com ESPN.com

Nov 18, 2012

HOUSTON - The Jaguars defense created two turnovers, C.J. Mosley had two sacks and they stopped the Houston Texans on their first seven third-down opportunities. And now the bad news: Everything else. Led by quarterback Matt Schaub and receiver Andre Jo

Share Tweet

ESPN.com

Nov 18, 2012

Peyton Manning threw for three touchdowns and Von Miller had three sacks, as the Denver Broncos defeated the San Diego Chargers 30-23 on Sunday to take a three-game lead in the AFC West.

Share Tweet

In case there was any doubt before, there's no doubt now: The Broncos are in complete control of the AFC West. Today's 30-23 win over the Chargers gives the 7-3 Broncos a three-game lead over the 4-6 Chargers in the division, and Denver has now swept

Share Tweet

CNNSI.com

Nov 18, 2012

If you like overtime, you sure loved Sunday. Three early games were decided in OT. Chris Burke reviews the madness and examines the wild wins by the Texans, Bucs and Cowboys.

Share Tweet

Patriots pulling away, up 31-17 in third

Well, if Andrew Luck really has that magic quarterback gene, we'll find out in a moment. The Patriots just went up 31-17 early in the third on a Tom Brady touchdown pass to Julian Edelman, who scored a punt return touchdown earlier. The Colts have no an

Share Tweet

Texans punt returner gets run down and tackled by the punter

Returners often get a hard time when the punter tackles them on the way to the end zone. Those plays are almost always the same. The returner has just the punter to beat, tries to put on a move, the punter guesses right and happens to get in the returne…

Share Tweet

Now that the New York Jets have actually won in a convincing fashion since they beat the Colts, 35-9, on October 14, it's time for linebacker Bart Scott to act stupid again. Scott, who threatened a reporter in the team locker room in September, tried to…

Share Tweet

They say everything's bigger in Texas.  Today, both of the NFL games being played there are. A 32-yard field goal from Cowboys kicker Dan Bailey has forced overtime against the Browns, joining the Jags-Texans extra-session contest in Houston. The Cowbo

Share Tweet

Jacksonville receiver Justin Blackmon had a very slow start to his NFL career, with just 250 yards, one touchdown and an average of less than 10 yards per game before Sunday. That's downright awful for a top-five overall pick. The asterisk on Blackmon's…

Share Tweet

deadspin.com ESPN.com

Nov 18, 2012

We have four more games left on the day and three more begin right now. OK, fine-due to some scheduling rejiggering this year, there is actually one more right now and then two more in the coming 20 minutes, but you get the point. We've actually got a p

Share Tweet

ESPN.com yahoo.com profootballtalk.com jacksonville.com

Nov 18, 2012

Jacksonville Jaguars quarterback Blaine Gabbert was injured in the first quarter against the Houston Texans on Sunday.

Share Tweet

jacksonville.com

Nov 18, 2012

HOUSTON — In addition to the four injured players who are unavailable for today's game against the Texans, the Jaguars' inactives are offensive lineman Steve Vallos and defensive linemen D'Anthony Smith and Jeris Pendleton. Ruled out on Friday by

Share Tweet

profootballtalk.com ESPN.com

Nov 18, 2012

In the same game in which Colts quarterback Andrew Luck put his head into the leg of Jaguars safety Dawan Landry, Luck was subjected to a couple of illegal shots to the head, according to his interim head coach. Bruce Arians tells ESPN's Sal Paolantonio

Share Tweet

jacksonville.com

Nov 18, 2012

Five statistical predictions for today's Jaguars-Texans game in Houston: 1. Arian Foster rushing yards: 128 In his career, Foster has averaged 72-plus yards per game against the Jaguars, including three 100-yard efforts. The Jaguars' defense has been at

Share Tweet

Sunday Blitz: Colts-Patriots Recap

Nov 18

Jim Basquil and Eric Allen break down the Patriots' 59-24 win over the Colts.

Patriots Trounce Colts

Nov 18

Tom Brady threw for 331 yards and three touchdowns to lead the Patriots over the Colts 59-24.

Colts postgame press conference

Nov 18

Colts react following game with Patriots

Indianapolis Colts vs. New England Patriots highlights

Nov 18

New England Patriots QB Tom Brady throws for over 300 yards and three touchdowns and the Patriots return two interceptions for touchdowns in a 59-24 romp of the Indianapolis Colts.