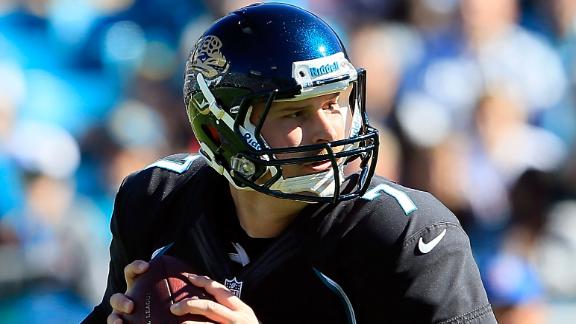 jacksonville.com
ESPN.com
profootballtalk.com
Updated Nov 25, 2012
Jaguars quarterback Chad Henne had a flashback Sunday when his first pass against the Titans was tipped and intercepted by Alterraun Verner. When he was playing for Michigan against Notre Dame in 2006, his first pass was intercepted by Chinedum Ndukwe a…
Share
Tweet
yahoo.com

Nov 25, 2012

With all the folderol about whether Ndamukong Suh did or did not kick Matt Schaub in the man-parts during the Houston Texans' overtime win over the Detroit Lions on Thanksgiving day, the move that New Orleans Saints defensive tackle Brodrick Bunkley put…

Share Tweet

MMQB: Readers react to Jags' win over Titans

Reaction from readers after the Jaguars' 24-19 victory over the Tennessee Titans on Sunday: Finally, a win at home. We can say we tasted victory in our house today. Shirley, Jacksonville Hey, a win is a win these days. I will take anything. Dale, Lake C

Share Tweet

Gene Frenette: Cecil Shorts doesn't short-change Jaguars with his big plays

As Cecil Shorts III was talking in an EverBank Field hallway Sunday following a relief-inducing, 24-19 win over the Tennessee Titans, Jaguars receivers coach Jerry Sullivan happened to walk by. He immediately stopped to pay Shorts the kind of compliment…

Share Tweet

Live blog: Jaguars coach Mike Mularkey's Monday news conference

Follow along as we post live updates beginning Monday at 2 p.m. from Jaguars coach Mike Mularkey's news conference after the team's 24-19 victory over the Titans.Jaguars coach Mike Mularkey's Monday news conference

Share Tweet

jacksonville.com ESPN.com

Nov 25, 2012

Jaguars coach Mike Mularkey, who likes to come up with motivational slogans for the players, came up with a different one last week - dig 3 feet deeper. He told the story about a man who kept digging on his property looking for gold. Failing to find any

Share Tweet

Broncos quarterback Peyton Manning didn't have his best day of the season on Sunday, but it could have been a whole lot worse. Manning took a concussion test from the team's medical staff after taking a hard hit from Chiefs defensive lineman from Tyso

Share Tweet

Watt could be facing fine, should have been flagged for Stafford hit

Late in regulation of Thursday's game between the Texans and the Lions, Houston defensive end J.J. Watt put his helmet into the chest of Detroit quarterback Matthew Stafford.  Watt's helmet slid up and popped Stafford in the chin. During Friday's e

Share Tweet

Liquid Menace Stalks Official: Your Sunday NFL GIF Roundup

deadspin.com

Nov 25, 2012

We'll be putting all our GIFs for the day here, from official Buddy Of The West Horton narrowly escaping certain death to Indianapolis cheerleaders remaining Chuckstrong. We'll update the post as the later games conclude, so stay tuned. More »

Share Tweet

profootballtalk.com yahoo.com

Nov 25, 2012

Many Colts players shaved their heads in support of coach Chuck Pagano's battle with leukemia earlier this season and now the team's cheerleaders have gotten in on the act. Colts cheerleaders had their heads shaved by the team's mascot on the sideli

Share Tweet

It wasn't the prettiest football game you'll ever see in Indianapolis on Sunday, but the Colts didn't need style points to improve their chances of making the playoffs this season. They needed a victory and they got just that. They beat the Bills 20

Share Tweet

Peyton Manning threw for 285 yards and two touchdowns, and the Denver Broncos rallied to beat the woeful Kansas City Chiefs 17-9 on Sunday for their sixth straight win.

Share Tweet

ESPN.com profootballtalk.com

Nov 25, 2012

T.Y. Hilton scored on a 75-yard punt return and caught an 8-yard TD pass Sunday, leading the Colts to a 20-13 victory over Buffalo.

Share Tweet

They gave up seven sacks and couldn't pressure Jake Locker, but the Jaguars did enough things right Sunday to break their seven-game losing streak, defeating the Tennessee Titans 24-19 at EverBank Field. The key play came with 2:40 remaining when Dwight

Share Tweet

deadspin.com

Nov 25, 2012

We're surprised this doesn't happen more often, and maybe it does-but hearing popular NFL referee Ed Hochuli do it has a special flair. Hochuli's description of the results of a video replay in today's Bills-Colts game required his use of the word "butt

Share Tweet

Broncos quarterback Peyton Manning said during the week that Willis McGahee's injury is a great opportunity for Knowshon Moreno. It turns out that Moreno will get his first opportunity on Denver's first snap. The Broncos have confirmed that Moreno is

Share Tweet

profootballtalk.com ESPN.com

Nov 25, 2012

On several occasions, Colts interim coach Bruce Arians has said that head coach Chuck Pagano could return from leukemia treatments by the final game of the regular season, on December 30 at home against the Texans. Pagano could be back sooner than that.…

Share Tweet

Source: Challenge tweak is unlikely in-season

The NFL is not expected to change the challenge flag rule that came into play in the Detroit Lions-Houston Texans Thanksgiving Day game this season but is expected to do so this offseason, according to a league official.

Share Tweet

yahoo.com

Nov 25, 2012

In the first quarter of the Houston Texans' 34-31 Thanksgiving overtime win over the Detroit Lions, Lions defensive tackle Ndamukong Suh either intentionally or inadvertently kicked Texans quarterback Matt Schaub in the groin as he was being pulled to t…

Share Tweet

RTC: Sacks still an issue for Jaguars

Reading the coverage ... Houston Texans Is the Texans' defense the one that smothered the Bears in Chicago, or the one that gave up a ton of passing yards in wins over Jacksonville and at Detroit? John McClain of the Houston Chronicle explores the quest…

Share Tweet

Bruce Arians delivers heartfelt speech

Nov 25

Bruce Arians gives an emotional locker-room speech to honor coach Chuck Pagano, who's battling leukemia, after the Indianapolis Colts defeat the Buffalo Bills. For more, go to colts.com.

Sunday Blitz: Titans-Jaguars Recap

Nov 25

Prim Siripipat and Cris Carter break down the Jaguars' 24-19 win over the Titans.

Henne, Jaguars End Slide

Nov 25

In his first start in more than 13 months, Chad Henne threw for 261 yards and two touchdowns to help the Jaguars past the Titans.

Hilton Scores On Punt Return, TD Catch To Spark Colts

Nov 25

T.Y. Hilton scored on a 75-yard punt return and an 8-yard pass from Andrew Luck. Reggie Wayne had eight catches and broke the NFL record for consecutive games with multiple receptions.