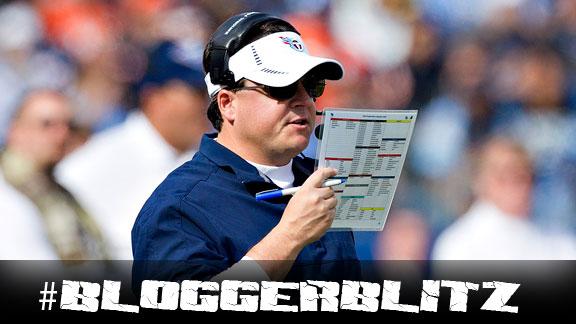 ESPN.com
CNNSI.com
profootballtalk.com
Updated Nov 26, 2012
Titans coach Mike Munchak has fired offensive coordinator Chris Palmer and replaced the veteran with quarterbacks coach Dowell Loggains.
Share
Tweet
jacksonville.com

Nov 26, 2012

No surprises so no excuses. That was the message from Jaguars coach Mike Mularkey on Monday after his pass protection was taken apart by Tennessee to the tune of seven sacks. "We have rules that hold up against everything," Mularkey said. "There's

Share Tweet

deadspin.com

Nov 26, 2012

According to Neal Jones of KCTV-5, Dwayne Bowe also got in on the action and posed for some pictures with Manning following Kansas City's 17-9 loss to the Broncos. And he actually made some sense. When cameras caught the two Chiefs stars milling around …

Share Tweet

CNNSI.com

Nov 26, 2012

FOXBOROUGH, Mass. (AP) -- The New England Patriots lost their second defensive end in nine days on Monday when Jermaine Cunningham was suspended for four games without pay for violating the NFL policy on performance-enhancing substances.

Share Tweet

CNNSI.com profootballtalk.com ESPN.com yahoo.com

Nov 26, 2012

DETROIT (AP) -- Ndamukong Suh might lose some money for his low blow against Houston Texans quarterback Matt Schaub.

Share Tweet

Texans LB Reed has a 'significant' groin injury

The Houston Texans are hurting heading into the stretch run.

Share Tweet

What I think they are thinking at the headquarters of the Houston Texans this evening ... Maybe first-round rookie Whitney Mercilus, who will be stepping in to play for the injured Brooks Reed at outside linebacker, will give our pass rush the spark bey…

Share Tweet

Outsiders don't like Colts in playoffs

Football Outsiders sees the Colts in the playoffs but not lasting long . That's not a tough conclusion to draw. The gap between the very best teams in the AFC and the teams that are in line for the fifth and sixth slots is significant. You need only loo

Share Tweet

What I think the Jaguars are thinking

What I think they are thinking at the headquarters of the Jaguars this afternoon… So that's what winning feels like. It's been so long, we kind of forgot. Mike Mularkey told us a story last week about a guy digging for gold who gave up and saw the n

Share Tweet

What I think the Titans are thinking

What I think the Tennessee Titans are thinking at team headquarters this afternoon... Mike Munchak used the word mediocrity after that poor showing in Jacksonville. Mediocre is what we are -- at best. Mediocre is more like 8-8, and we'd have to go 4-1 t

Share Tweet

PFT Live: Lions talk with Dave Birkett, Browns talk with Tony Grossi

profootballtalk.com

Nov 26, 2012

Thanksgiving created a little break for PFT Live, but it's back with a packed show this Monday. Mike Florio will talk to Dave Birkett of the Detroit Free Press about the Lions in the wake of their Thanksgiving loss to the Texans. The latest bit of footw

Share Tweet

jacksonville.com

Nov 26, 2012

Reviewing the four keys to Sunday's Titans-Jaguars game:  FIRST DOWN Ignore the run — really Entering the game: Tennessee ranked 28th against the run, but the Jaguars haven't reached 100 yards rushing in the last seven games. Why stick with it?

Share Tweet

RTC: Colts were right to dismiss 'rebuilding'

Reading the coverage ... NFL rules have "grown into a convoluted mess, with no sense of what is reasonable or even needed. It's as though the NFL is trying to keep everyone -- the players, the fans, the coaches, even the officials -- in a constant state

Share Tweet

Some interesting notes on the Colts from ESPN Stats & Information coming out of their win over the Bills. T.Y. Hilton: When throwing into the end zone, Hilton is the man for Andrew Luck. He's thrown three touchdowns to Hilton on such throws this season,

Share Tweet

Peyton took every snap despite concussion test

Peyton Manning, slammed to the ground as he threw a touchdown pass near the end of the first half in the Broncos' win Sunday, never missed a snap after being put through concussion testing.

Share Tweet

We've given a good share of blame for the Jaguars' non-threatening offense on the play calling and the scheme. But Chad Henne's success tells us Blaine Gabbert certainly deserves his share of the blame, too. Per ESPN Stats & Information, Henne tied a ca

Share Tweet

profootballtalk.com

Nov 26, 2012

The Bills fell to 4-7 on Sunday in Indianapolis thanks largely to an offense that never mustered much of a threat to the Colts. It's not a new story in Buffalo. The Bills have scored zero or one offensive touchdown in four of their last seven games and

Share Tweet

Slideshow: Your AFC South fan photos

We are getting better at this, I think. Your game days include stadium shots and lucky jerseys and impressive menus. The more you share, the more we can do with a slide show. Thanks for being part of this one.

Share Tweet

yahoo.com

Nov 26, 2012

Denver Broncos quarterback Peyton Manning leads our Sunday night Rx report after undergoing a concussion test and x-rays after taking a shot to the head in Sunday's 17-9 win over the Kansas City Chiefs. Manning passed the test and the 11-time Pro Bowler…

Share Tweet

PTI Big Finish November 26th

Nov 26

PTI runs down Monday's top stories.

Is Ndamukong Suh A Dirty Player?

Nov 26

Merril Hoge and Ron Jaworski discuss the latest allegations of dirty play by Ndamukong Suh.

Colts' cheerleader supports fight against cancer, shaves head

Nov 26

Megan, one of two Indianapolis Colts cheerleaders to shave their heads at Sunday's game, joins "NFL AM" to discuss the experience, the presence of head coach Chuck Pagano and the fight against cancer.

GameDay: Buffalo Bills vs. Indianapolis Colts highlights

Nov 26

Indianapolis Colts QB Andrew Luck throws for nearly 250 yards and a touchdown, while Colts WR T.Y. Hilton has a very impressive day in a 20-13 win over the Buffalo Bills.