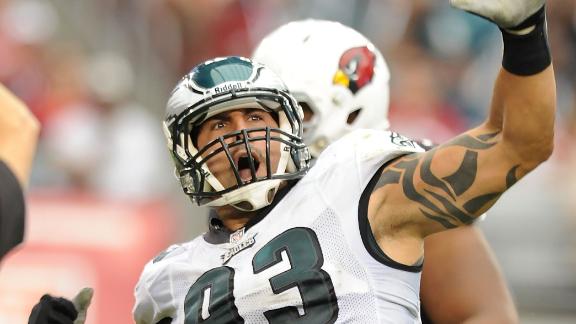 profootballtalk.com
ESPN.com
Updated Nov 28, 2012
The Jaguars, with the No. 2 spot on the waiver priority list, had dibs on defensive end Jason Babin over every team but the Chiefs. But having dibs is one thing.  Using them is another.  As it turns out, the Jags used their dibs over only two other team
Share
Tweet
Report: Chandler Jones likely to miss Sunday's game

The Pats may have to try to continue their winning streak without one of their first-round draft picks. Tom Curran of CSNNE.com reports that defensive end Chandler Jones likely will miss a second straight game after suffering a sprained ankle in Week 11…

Share Tweet

Chiefs running back Jamaal Charles took some criticism this week for asking Peyton Manning for an autograph after the Broncos beat the Chiefs on Sunday. Manning thinks that criticism is misguided. Manning told reporters today that he routinely signs ite…

Share Tweet

profootballtalk.com ESPN.com

Nov 28, 2012

The Colts are holding out hope Chuck Pagano can return to the sidelines this year. And when or if he does, they want him calling all the shots. "If he comes back," interim coach Bruce Arians said, via Mike Chappell of the Indianapolis Star, "he'll

Share Tweet

yahoo.com profootballtalk.com ESPN.com

Nov 28, 2012

The National Football League has disciplined Detroit Lions defensive tackle Ndamukong Suh, as Dave Birkett of the Detroit Free Press reports the league issued a $30,000 fine for his kick to the groin of Houston Texans quarterback Matt Schaub during the …

Share Tweet

Collins expects Loggains to be creative

Simpler routes and more of a push downfield are two things I wrote that we can expect from a Titans offense run by Dowell Loggains. Former Tennessee quarterback Kerry Collins told John Glennon of The Tennessean he expects a great deal more creativity, t…

Share Tweet

profootballtalk.com CNNSI.com

Nov 28, 2012

If you tuned in to PFT Live on Wednesday, you heard from Colts rookie wide receiver T.Y. Hilton talk about his big day against the Bills in Week 12. Believe it or not, things get even better than talking to Florio. Hilton has been named the AFC special …

Share Tweet

Dwight Freeney has two sacks in his first year as an outside linebacker in the Colts' new 3-4 hybrid and his final year of his contract with Indianapolis. But that doesn't mean a team like Detroit looks at Freeney any differently that it would have in r

Share Tweet

Outside the Lines features Colts

Wednesday's edition of "Outside the Lines" will cover the Colts revival. It airs at 3 p.m. ET, 2 p,m, CT. Or, if you prefer to look at it another way, an hour from now. Here's the tease for the show: The Indianapolis Colts are back as a playoff conten

Share Tweet

Updated Pro Bowl voting numbers are in. Fan votes count one-third with player votes and coach votes that come later also counting a third. My biggest issues here: Titans safety Jordan Babineaux and Texans guard Antoine Caldwell have been demoted and sti…

Share Tweet

Has Barwin cost himself a lot of money?

The Texans have said over and over this season that while Connor Barwin's sack production is down from last year, the outside linebacker is playing well. On Thanksgiving, he jumped from his weakside linebacker spot to the strong side when Brooks Reed we

Share Tweet

Seth Olsen returns to practice for Colts

As the Colts make a push toward an unlikely postseason  berth, they're getting closer to getting one of their Week One starters back. The team has announced that Seth Olsen has returned to practice from the injured reserve list. Olsen started the first

Share Tweet

RTC: Schaub hot since last game in Tenn.

Reading the coverage … An interesting read on strategy in the (still) new construct of overtime, from Brian Burke of Advanced NFL Stats. Houston Texans Since an Oct. 23 win in Nashville last year, the Texans are 11-1 in games started by Matt Schaub, who

Share Tweet

Jets and Colts: Jeers and Cheerleaders

nytimes.com

Nov 28, 2012

During the N.F.L.'s Week 12, the Jets' biggest cheerleader quit, and two Colts cheerleaders shaved their heads for a cause.

Share Tweet

NFL32OT: Who Will Be Playoff-Bound?

Nov 28

Episode 226: Suzy Kolber and Mark Schlereth discuss the playoff race in the NFC. Brian Dawkins breaks down the Jaguars recent claim of Jason Babin. The NFL32 crew discuss the issues that plague the Eagles defense.

Jaguars Claim Jason Babin

Nov 28

Jason Babin, who was released by the Eagles, was claimed by the Jacksonville Jaguars.

Countdown Daily AccuScore: HOU-TEN

Nov 28

Prim Siripipat goes inside the numbers for the Texans-Titans

Inside the Huddle: Offense, Offense, Offense

Nov 28

John Clayton goes deep in his analysis of four teams' efforts to improve their offenses. John breaks down the brighter offenses of the Bengals, Falcons, Titans and 49ers.