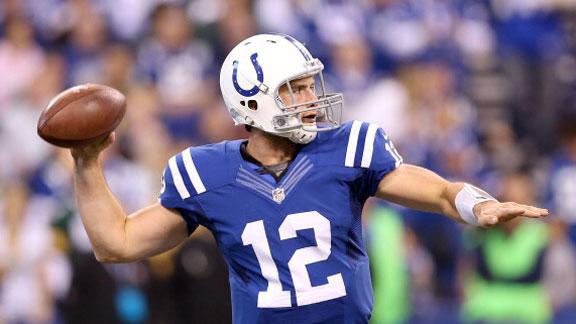 profootballtalk.com
ESPN.com
Updated Oct 7, 2012
Packers running back Cedric Benson left Sunday's loss to the Colts early with a foot injury, but he doesn't believe it's serious. Benson was wearing a protective boot on his left foot after the game and said he will have more tests on it on Monday,
Share
Tweet
nydailynews.com

Oct 7, 2012

What can the Jets possibly do before the game against the undefeated Texans that can help fans take their minds off what looks like a season that is about to go into an irreversible tailspin?

Share Tweet

Minnesota Vikings Beat Writer Wanted Mike Munchak To Sound The Rusty Trombone

Matt Hasselbeck had kind of a rough day against the Vikings and probably deserved to get yanked, but I think we can all agree that Vikings beat writer Tom Pelissero was probably referring to the "sad trombone" or maybe the old vaudeville gimmi…

Share Tweet

Thoughts on the Jaguars' 41-3 loss to Chicago at EverBank Field: What it means: The Jaguars actually looked good for a half as they were part of a defensive, 3-3 struggle. It didn't take long after that, however, for the opportunistic Bears to bury the

Share Tweet

ESPN.com profootballtalk.com

Oct 7, 2012

Tom Brady won his latest showdown with Peyton Manning with the help of a career-high 151 yards rushing from Stevan Ridley, and the New England Patriots beat the Denver Broncos 31-21 on Sunday.

Share Tweet

The Colts Discount Double Checked And B.J. Raji-Shuffled All Over The Packers: Your Sunday NFL GIF Roundup

Here's where we're putting the GIFs of the week, from Donald Brown triumphantly trolling the Packers to Brandon Lloyd dancing around like no one's looking. Only the Chargers and Saints have yet to play, so let's see what the week had to offer. More »

Share Tweet

ESPN.com profootballtalk.com

Oct 7, 2012

Thoughts on the Titans' 30-7 loss to the Minnesota Vikings at Mall of America Field: What it means: The 1-4 Titans are a mess, and they were inferior in every way against a team they should be on pace with as they rebuild. They couldn't move the ball ag

Share Tweet

An Illinois man, quite possibly a Bears fan who traveled to Jacksonville to see the Bears play the Jaguars, was killed early Sunday as a result of a stabbing at a local restaurant within a block of the Bears' team hotel. William Pettry, 42, died after b

Share Tweet

CNNSI.com ESPN.com yahoo.com profootballtalk.com

Oct 7, 2012

The Colts sure made Chuck Pagano proud Sunday. With its head coach in the hospital, Indianapolis overcame an 18-point deficit in the second half to stun Green Bay for a 30-27 victory.

Share Tweet

Familiar Foxoborugh Feeling

CNNSI.com

Oct 7, 2012

Peyton Manning bested Tom Brady on Sunday, but not in the win column. The Pats jumped out to a big lead and dominated on the ground to pull off a 31-21 victory against the Broncos.

Share Tweet

Bears steamroll Jags in second half to improve to 4-1

When you see a score like 41-3 at the end of a game, it's hard to convince yourself that there was ever a moment when it seemed possible that the losing team would win the game. That was not the case in Sunday's Bears-Jaguars game. It was 3-3 after on

Share Tweet

It's all about the defense in Jacksonville

If you're a fan of lavish offensive football, this week's matchup between the Bears and Jaguars is not for you. If you're a fan of good defense and strong punting, however, this should be where your clicker comes to rest. There hasn't been much in

Share Tweet

As the Vikings try to move their record to 4-1, they'll have to do it without their second first-round pick from the 2012 draft. Safety Harrison Smith has been ejected for shoving an official who was pushing Smith away from a Titans player following an

Share Tweet

yahoo.com

Oct 7, 2012

The hit Packers linebacker Nick Perry put on Andrew Luck might be the hardest hit a NFL quarterback takes this season. The most impressive thing happened after the play, when the Colts rookie quarterback bounced right back up, and then went on to have a…

Share Tweet

CNNSI.com

Oct 7, 2012

In possibly the last chapter of their storied rivalry, Tom Brady is sticking it to Peyton Manning and the Broncos in Foxborough. Follow the action as Denver tries to mount a late comeback.

Share Tweet

Pssst! It's Tom Brady And Peyton Manning: Your NFL Late Games Viewing Guide

And just like that, we are closer to week six. You probably grew some gray hairs and yelled at some neighborhood kids. The inexorable march of time persists. Enjoy what you can. More »

Share Tweet

Down 21-3 at the half, the Indianapolis Colts have made things very interesting. Late in the third quarter, the Colts have pulled to within two points, 21-19. Eschewing (I still love that word) an opportunity to cut the margin to one, the Colts went for…

Share Tweet

Kenny Britt a surprise activation for Titans

Despite not practicing much for two weeks, Titans wide receiver Kenny Britt will be active today. Britt's been bothered by an ankle problem, but apparently did enough in pregame to convince coaches he's well enough to go today against the Vikings. Mid

Share Tweet

ESPN.com

Oct 7, 2012

Even the best teams tend to have cracks. Arrive at the wrong matchup against an opponent equipped to exploit it, and a top team can lose even if it plays well. The 4-0 Houston Texans are not invincible as they prepare for "Monday Night Football&quo…

Share Tweet

On Sunday morning, NFL Network's Mike Lombardi suggested at the tail end of First on the Field that the Jets were more than 12,000 tails short as of Friday when it comes to selling tickets to Monday night's game against the Texans. A Jets spokesman te

Share Tweet

ESPN.com

Oct 7, 2012

Terrell Suggs is rehabbing from April surgery for a partially torn Achilles tendon, and sources say he hopes to return in time for the Baltimore Ravens' Oct. 21 game against the Houston Texans.

Share Tweet

Wade Phillips is doing a great job as the defensive coordinator of the Texans. He was a big part of the reason the Texans made the playoffs for the first time ever last year, and he's a big part of the reason the Texans are 4-0 this year. So does that m

Share Tweet

Sunday Blitz: Titans-Vikings Recap

Oct 7

Jim Basquil and Eric Allen break down the Vikings' 30-7 win over the Titans.

Sunday Blitz: Bears-Jaguars Recap

Oct 7

Jim Basquil and Eric Allen break down the Bears' 41-3 win over the Jaguars

J.J. Watt Ready For Tebow

Oct 7

Texans DE J.J. Watt sits down with Jon Gruden prior to facing the Jets on Monday Night.

J.J. Watt The Pizza Delivery Boy

Oct 7

Jon Gruden talks to J.J. Watt about delivering pizza and changing positions from TE to DE while at college.