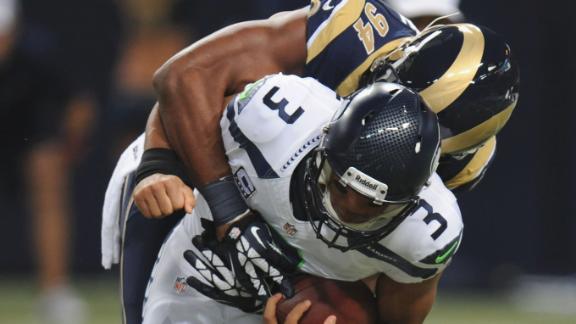 ESPN.com profootballtalk.com

Oct 30, 2013

INDIANAPOLIS – Indianapolis Colts tight end Weslye Saunders knows his opportunities will run out at some point if he doesn't get his act together. That's why he feels fortunate that the Colts are giving him another shot after he served his eight-game su…

Share Tweet

Greene has to add to Titans' run game

NASHVILLE, Tenn. -- Anytime I've mentioned Shonn Greene as a potential boost for the Tennessee Titans, New York Jets fans who have noticed it have latched on. The Titans are expecting a boost from Greene? It's true. The run game Titans coaches pledged w…

Share Tweet

Jaguars' first-half stock watch

JACKSONVILLE, Fla. -- With the Jaguars on their bye week, it's the perfect time to evaluate the first half of the season stock-market style: RISING Offensive line: The unit really struggled in the beginning of the season adjusting to the zone blocking s…

Share Tweet

A few of Houston Texans defensive coordinator Wade Phillips' players attended his father's memorial service Tuesday night at Lakewood Church. For J.J. Watt, celebrating Bum Phillips' life was an invigorating experience. "For a memorial, this might …

Share Tweet

Colts hoping to add to Houston's misery

INDIANAPOLIS -- The Indianapolis Colts entered the season as an underdog in the AFC South. They were one of three teams supposed to be looking up at the Houston Texans, who won the last two division titles and were labeled as Super Bowl contenders in th…

Share Tweet

ESPN.com profootballtalk.com

Oct 30, 2013

The Tennessee Titans will be wearing a patch on their jerseys the rest of the season honoring their late owner Bud Adams starting Sunday against the St. Louis Rams.

Share Tweet

profootballtalk.com ESPN.com

Oct 30, 2013

The Texans signed three running backs earlier this week just in case, but they're hoping at least one of the regulars is able to go this weekend. According to Brian Smith of the Houston Chronicle, Ben Tate (ribs) practiced, and said earlier this week he…

Share Tweet

Sources: Some Jaguars Players Got Beat Up In London After Sunday's Game

deadspin.com

Oct 30, 2013

We don't have any names, but we do have two stories from two different sources, probably about the same group of players. In either case, the story ends with the players losing a fight and going to the hospital. The fight involves either women and hotel…

Share Tweet

Titans put previously benched Rob Turner on IR

profootballtalk.com

Oct 30, 2013

Rob Turner had already lost his starting job with the Titans, now he's lost for the season. According to John Glennon of the Tennesseean, Turner was placed on injured reserve Wednesday with a shoulder injury, and they signed veteran offensive lineman Pa…

Share Tweet

NASHVILLE, Tenn. -- In the aftermath of Bud Adams' death last week the big question was how ownership of the Tennessee Titans would be structured. The Titans Monday pretty much confirmed the shape of the three-way split: Adams' daughters, Susie Adams Sm…

Share Tweet

Loyal WRs like Johnson haven't had it easy

HOUSTON -- Andre Johnson often talks about what he's been through with this franchise. He played for some bad Houston Texans teams. He stayed with the organization, rather than looking elsewhere, and was compensated well for his loyalty. But losing isn'…

Share Tweet

A weekly examination of the Tennessee Titans' quarterback play: Rewind: Jake Locker continues to rehabilitate the right knee and right hip he sprained on Sept. 29 against the Jets. He returned for the team's final game before the bye, but wasn't complet…

Share Tweet

profootballtalk.com

Oct 30, 2013

It's another reunion week in the NFL. After Peyton Manning went back to Indy in Week Seven and Mike Shanahan returned to Denver in Week Eight, long-time Oilers/Titans coach Jeff Fisher welcomes his former team to St. Louis on Sunday. Not surprisingly, F…

Share Tweet

So long Houston Texans quarterback Matt Schaub?

Oct 30

Will Matt Schaub start another game for the Houston Texans? John McClain explains why it would take a big meltdown by Case Keenum for Schaub to see the field again in 2013.

Indianapolis Colts trying to replace wide receiver Reggie Wayne

Oct 30

Who will step in as the third receiver with Reggie Wayne out for the year? Stephen Holder of the Indianapolis Star explains why Wayne's injury could be a big blow to the Colts offense.

Tennessee Titans head coach Mike Munchak expects bigger role for running back Shonn Greene

Oct 30

Tennessee Titans head coach Mike Munchak speaks about his running back situation, saying that Chris Johnson and Shonn Greene will both get double-digit carries on Sunday.