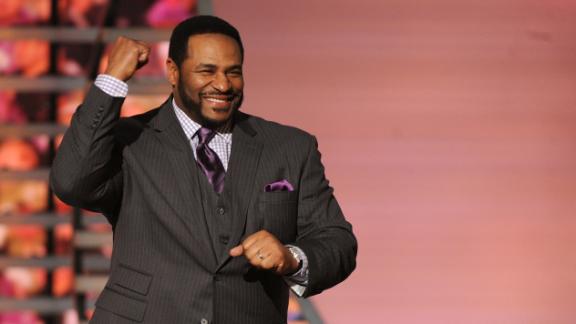 ESPN.com
Updated 10 hours ago
Former San Diego Chargers linebacker Junior Seau and Kansas City Chiefs guard Will Shields, both 12-time Pro Bowl selections in their NFL careers, were elected into the Pro Football Hall of Fame's Class of 2015.
Upvote
Share
Tweet
nytimes.com yahoo.com ESPN.com

9 hours ago

The late Junior Seau, who was the heart and soul of the San Diego Chargers' defense, and 12-time Pro Bowl guard Will Shields were elected to the Pro Football Hall of Fame's Class of 2015 on Saturday.

Upvote Share Tweet

ESPN.com

10 hours ago

ALAMEDA, Calif. -- After five years of disappointment, former Raiders wide receiver Tim Brown's long wait is finally over. He's headed to Canton to take his place in the Hall of Fame. Brown, the 23rd Raiders player elected to the Hall of Fame, is the fi…

Upvote Share Tweet

nytimes.com

16 hours ago

A year ago, Pete Carroll stood at a podium in a New York City hotel, less than 12 hours after his Seattle Seahawks beat the Denver Broncos in the Super Bowl. He spoke about what would happen next.

Upvote Share Tweet

yahoo.com profootballtalk.com

Jan 30 (yesterday)

PHOENIX — Denver Broncos wide receiver Demaryius Thomas has had time to let his balky ankle heal and let his ego soothe after losing to the Indianapolis Colts in the divisional round of the playoffs as he did some promotional work this week at the site …

Upvote Share Tweet

Chris Harris optimistic on Manning's return, has faith in Osweiler

During his appearance on Friday's PFT Live, Broncos cornerback Chris Harris expressed optimism Peyton Manning would return in 2015, noting the lousy taste the divisional-round loss to former team Indianapolis had to leave with the future Hall of Fame qu…

Upvote Share Tweet

ESPN.com

Jan 30 (yesterday)

San Diego Mayor Kevin Faulconer announced names of civic leaders and financial experts tasked with finding a location and creating a finance plan to build a new stadium for the Chargers.

Upvote Share Tweet

San Diego mayor creates stadium task force, including Jim Steeg

While Roger Goodell was talking about the potential for the Rams to move to Los Angeles, another possible suitor was talking about plans to stay put. Via David Garrick of U-T San Diego, mayor Kevin Faulconer announced a nine-member task force to create …

Upvote Share Tweet

ESPN.com yahoo.com profootballtalk.com

Jan 30 (yesterday)

PHOENIX – Denver Broncos quarterback Peyton Manning has been out of sight, at least in terms of public appearances. But the team's coaching change, with John Fox out and Gary Kubiak in, has not been out of Manning's mind. Manning is aware of the public …

Upvote Share Tweet

Every team in the NFL except the Saints and Raiders passed on Russell Wilson at least once in the 2012 NFL Draft before the Seahawks selected him in the third round. If Bret Bielema had been able to convince the Dolphins that Wilson was worth taking ear…

Upvote Share Tweet

ESPN.com

Jan 30 (yesterday)

Junior Seau will always be admired for the passion and enthusiasm with which he played the game. But Rodney Harrison remembers his former teammate for the way he brought energy to the practice field on a daily basis. "As a rookie, I looked at Junio…

Upvote Share Tweet

Tom Brady and Patriots aim to avoid repeat performance from Seahawks' Legion of Boom

nydailynews.com

Jan 30 (2 days ago)

Tom Brady has watched the tape over and over of the Seahawks humiliating his pal Peyton Manning and the Broncos in the Super Bowl.

Upvote Share Tweet

Patriots' Chaplain Building Character

Jan 29

ESPN Magazine senior writer Seth Wickersham discusses Patriots team chaplain Jack Easterby's role with the team.

Broncos Hire Wade Phillips

Jan 28

ESPN Broncos reporter Jeff Legwold discusses Denver's decision to hire Wade Phillips as their defensive coordinator and what the team can look to improve on the defensive side of the ball.

Falcons' Coaching Staff Taking Shape

Jan 26

Vaughn McClure discusses Atlanta's decision to hire Raheem Morris and Richard Smith to its defensive coaching staff, and how they would be able to work with Dan Quinn if the Seattle defensive coordinator is hired to coach the Falcons.

Raiders Re-Sign Safety Woodson

Jan 26

Field Yates discusses Charles Woodson's decision to re-sign with the Oakland Raiders and why it's surprising that the safety didn't pursue a deal with a team closer to making a Super Bowl run.