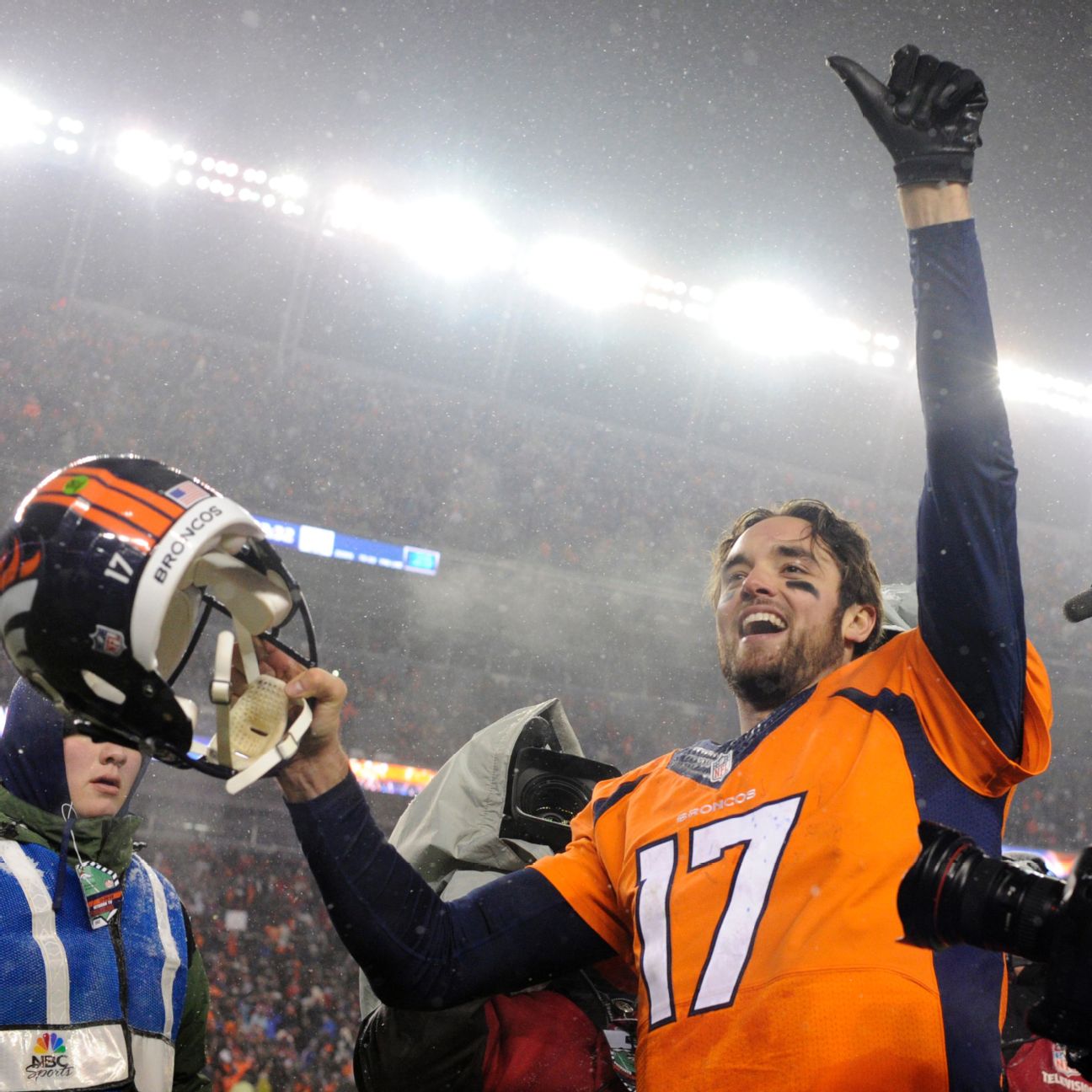 profootballtalk.com
ESPN.com
yahoo.com
Updated 2 hours ago
After Sunday night's unlikely win over the previously 10-0 Patriots, Broncos coach Gary Kubiak didn't say that Peyton Manning will return to the lineup only when he's "100 percent," or words to that effect. Kubiak probably didn't need to. According to E…
Share
Tweet
Mike Mularkey says NFL admitted blown call against the Titans

profootballtalk.com

56 minutes ago

In a season full of blown calls affecting high-profile games, there hasn't been much public outrage about the blown call at the end of Sunday's Raiders-Titans game, perhaps because that was a low-profile game. But there was a blown call: According to Ti…

Share Tweet

nytimes.com

1 hour ago

The Chiefs were quickly running out of offensive linemen as one by one they went down with injuries, and for the briefest of moments, Andy Reid might have thought he'd need to suit up himself.

Share Tweet

nytimes.com profootballtalk.com

1 hour ago

Denver Broncos safety T.J. Ward, one of the most-flagged and heavily fined players in the NFL this season, recently ripped the officials, suggesting the way to fix the league's spotty officiating is to give the men in stripes full-time jobs.

Share Tweet

An early look at Raiders vs. Chiefs

insidebayarea.com

3 hours ago

Khalil Mack celebrated prematurely last season vs. Chiefs. An early look at Sunday's AFC West game between the Kansas City Chiefs (6-5) and the Raiders (5-6) at O.co Coliseum: Offense Raiders/Chiefs Total offense 362.8, 11th/351.3, 16th Rush offense 96.…

Share Tweet

Chiefs stepping up as a group without Jamaal Charles

profootballtalk.com

4 hours ago

"Next man up" is an easy thing for coaches to say, when inevitable injuries or bad news starts to pile up. But the players who actually have to implement that slogan are still human beings, and sometimes it takes weeks for it to become a reality. So the…

Share Tweet

Robert Flores Says No One's Mad About Travis Kelce's Touchdown Dance Because He's White

deadspin.com

4 hours ago

During today's highlight of Travis Kelce's touchdown dance from Sunday's game against the Bills, SportsCenter's Robert Flores openly wondered why no one was up in arms over the Chiefs' tight end hitting the Quan. After all, Cam Newton caught hell for re…

Share Tweet

The Bills came into Sunday's game with injury issues on their defensive line and it appears they only got worse during their 30-22 loss to the Chiefs. Ian Rapoport of NFL Media reports that defensive end Alex Carrington tore his quad tendon and will hav…

Share Tweet

Jack Del Rio told alma mater no thanks when they called

Chip Kelly apparently wasn't the only NFL head coach who was approached in some fashion about the Southern Cal opening. According to Tim Kawakami of the San Jose Mercury News, the Trojans called Raiders coach Jack Del Rio about the opening, but he told …

Share Tweet

Broncos suddenly have a contracts problem for 2016

Good news, Broncos! Quarterback Brock Osweiler looks like he can play the position at a high level! Bad news, Broncos! Copy and paste the above here! In the fourth year of his rookie contract, Osweiler is now only five regular-season games away from bec…

Share Tweet

The Denver Broncos had the perfect response for New England Patriots quarterback Tom Brady. In case you missed it, Brady posted a doctored image of himself riding a bronco prior to Sunday's game. This isn't the first time Brady — or his social media int…

Share Tweet

Panthers, last undefeated team, haven't lost in a year

profootballtalk.com

11 hours ago

Last night, the Panthers became the only undefeated team in the NFL when the Patriots lost to the Broncos. Today, they get to celebrate their anniversary. As pointed out by Bill Voth of Black and Blue Review, it was one year ago today, Nov.30, 2014, whe…

Share Tweet

Patriots DE Chandler Jones is on to Philadelphia

profootballtalk.com

11 hours ago

Maybe because the Patriots hadn't lost prior to last night against the Broncos, they don't know how to act. Or maybe, Chandler Jones is just taking his coach's words to heart. Via Jimmy Toscano of CSNNE.com, the Patriots defensive end would only talk ab…

Share Tweet

Broncos put themselves back in the Super Bowl conversation

Broncos put themselves back in the Super Bowl conversation

Share Tweet

Rain, cold prove no obstacles for Jeremy Maclin, Chiefs' passing game

Rain, cold prove no obstacles for Jeremy Maclin, Chiefs' passing game

Share Tweet

Denzel Perryman, Manti Te'o create dynamic duo at LB for Chargers

Share Tweet

Amari Cooper bounces back in Raiders' streak-snapping win

Share Tweet

nytimes.com yahoo.com

15 hours ago

There was Rob Gronkowski, the NFL's best tight end and Tom Brady's only real receiving threat remaining, getting carted to the locker room, shortly after he writhed on the snow-covered turf, his right leg in pain.

Share Tweet

profootballtalk.com deadspin.com

17 hours ago

Although the quarterback will get plenty of the credit for Sunday night's thrilling win by the Broncos over the Patriots, running back C.J. Anderson was the difference maker, with 113 yards rushing and a pair of touchdowns — including the 48-yard winner…

Share Tweet

nytimes.com

17 hours ago

The top performers and key injuries in the league this week.

Share Tweet

profootballtalk.com

17 hours ago

This Tom Brady-playing-without-his-best-targets thing is going to be put to its biggest test yet. Patriots tight end Rob Gronkowski was carted off late in their 30-24 overtime loss to the Broncos, after taking a hard shot to his right knee. He was immed…

Share Tweet

Stugotz's Weekly Game Notes

Nov 30

Jon "Stugotz" Weiner shares his weekly game notes of observations he had over the weekend, including if he believes Les Miles should leave LSU.

Broncos run game night and day with Manning and Osweiler

Nov 30

Dan Le Batard explains the night and day difference between the Broncos run game when Peyton Manning is in shotgun and Brock Osweiler is under center.

Skip blasts officiating in Pats vs. Broncos game

Nov 30

First Take's Skip Bayless says officiating heavily influenced the Broncos' victory over the Patriots on Sunday night. Stephen A. Smith adds that the outcome was more of a reflection on how the NFL is instructing its referees to call games.

Offense highlights Chargers-Jaguars game

Nov 29

Williams' went to QB Philip Rivers, who threw for 300 yards and four TDs while DiRocco's went to TE Julius Thomas, whoh had a season-high nine catches.