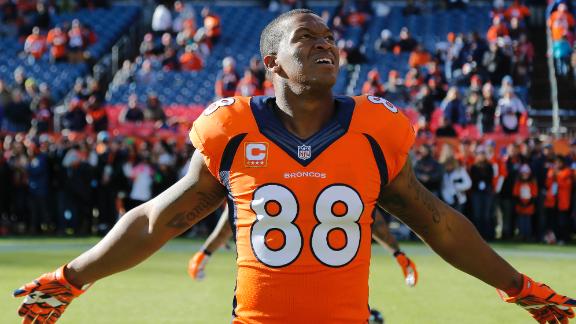 ESPN.com
profootballtalk.com
Updated 14 hours ago
ENGLEWOOD, Colo. – Denver Broncos wide receiver Demaryius Thomas did not miss a game over the last month of the regular season and played in the playoff loss to the Indianapolis Colts. But he said Monday it took "about a month'' after the season was ove…
Share
Tweet
Chiefs visit with Brandon Tate

profootballtalk.com

29 minutes ago

The Chiefs didn't get any touchdown catches from their wide receivers in 2014, which left the position as an obvious area to look for help this offseason. Kansas City signed Jeremy Maclin away from the Chiefs and re-signed Jason Avant to continue the ve…

Share Tweet

Broncos Receiver Bypasses Workouts

nytimes.com

7 hours ago

Receiver Demaryius Thomas said he would skip Denver's off-season workouts until the sides agreed on a long-term contract.

Share Tweet

profootballtalk.com

17 hours ago

The Chiefs are in need of some help at center with Rodney Hudson making the move to Oakland as a free agent and they're meeting with a candidate on Monday. Jim Thomas of the St. Louis Post-Dispatch reports that Tim Barnes is visiting with the team after…

Share Tweet

profootballtalk.com

17 hours ago

Quarterback Matt Schaub has been out of work since being released by the Raiders and may find work with one of the teams he played with before heading to Oakland. Adam Schefter of ESPN reports that the Falcons are among the teams interested in signing t…

Share Tweet

Chiefs are third in NFL in QB spending

ESPN.com

20 hours ago

We'll start here a position-by-position look at how the Kansas City Chiefs are utilizing their salary-cap space with the quarterbacks. ESPN Stats and Information showed the Chiefs to have about $2.9 million in available cap space, which is 30th among th…

Share Tweet

Draft status doesn't matter, Anderson tops Ball on Broncos' depth chart

profootballtalk.com

Mar 29 (yesterday)

In 2013, the Broncos used a second-round draft pick on Montee Ball, and signed C.J. Anderson as an undrafted free agent. Two years later, there's little doubt which of them is the better running back — and it's not the one everyone thought heading into …

Share Tweet

Donald Stephenson gets a clean slate in Kansas City

profootballtalk.com

Mar 29 (2 days ago)

Last year, Donald Stephenson was expected to start at right tackle for the Chiefs. A four-game suspension for violating the league's PED policy derailed that plan. Entering 2015, G.M. John Dorsey says Stephenson gets a fresh shot at becoming the startin…

Share Tweet

Chiefs see Andy Reid and Alex Smith as a Super Bowl combination

profootballtalk.com

Mar 28 (3 days ago)

The Chiefs are confident that they have the two most important pieces in place to win a Super Bowl. Chiefs owner Clark Hunt said that in head coach Andy Reid and quarterback Alex Smith, Kansas City has exactly what it needs to get a title. "We've got a …

Share Tweet

ESPN.com

Mar 27 (4 days ago)

The food safety manager who went public last fall with allegations of unsafe food handling and pictures of bugs, mouse feces and moldy food at Kansas City's Arrowhead and Kauffman stadiums has been fired. Jon Costa shared with "Outside the Lines&qu…

Share Tweet

Chiefs owner: We're going to get Justin Houston signed

profootballtalk.com

Mar 27 (4 days ago)

Chiefs outside linebacker Justin Houston would love to leave Kansas City in free agency, but the franchise tag makes that a long shot. Which might be why Chiefs owner Clark Hunt is confident that in the end, Houston will stay where he is. "He knows, and…

Share Tweet

profootballtalk.com ESPN.com

Mar 26 (4 days ago)

In the Bay Area, the City of Oakland and the County of Alameda have come together in an effort to keep the Raiders in town. In the southern end of the state, the city and county of San Diego likewise are joining forces to try to retain the Chargers. Via…

Share Tweet

Chargers need Rivers-OL as West's best

signonsandiego.com

Mar 26 (5 days ago)

The Chargers offensive line fared better in free agency than that of two AFC West rivals.

Share Tweet

ESPN.com profootballtalk.com

Mar 26 (5 days ago)

ENGLEWOOD, Colo. – Gary Kubiak has said the Denver Broncos' new playbook on offense is ready to go and waiting for its formal installation when the Broncos begin their offseason work April 13 at their suburban Denver complex. And Kubiak has said he expe…

Share Tweet

profootballtalk.com

Mar 26 (5 days ago)

The Bengals obviously have no qualms with bringing back known commodities. The team announced they had re-signed defensive tackle Pat Sims, who spent the last two years with the Raiders. The veteran spent his previous five seasons with the Bengals, and …

Share Tweet

Here's how much cap room the Chiefs need for NFL draft

ESPN.com

Mar 26 (5 days ago)

Been receiving many questions about the cap space the Kansas City Chiefs would need to conduct their draft. Overthecap.com has a nice piece on exactly what it would take in terms of cap room for each NFL team to make its picks, including the Chiefs and …

Share Tweet

Chargers seem destined to leave San Diego

profootballtalk.com

Mar 26 (5 days ago)

Apart from the bright-line rules that were (and weren't) adopted at the now-concluded annual league meetings, one thing became clear via the chatter among those in attendance: The Chargers are determined to leave San Diego for Los Angeles. They haven't …

Share Tweet

profootballtalk.com

Mar 25 (5 days ago)

After a free agent visit to the Seattle Seahawks, defensive end C.J. Wilson has elected to remain in Silver and Black. Wilson tweeted Wednesday night that he has signed a new contract with the Oakland Raiders. "Want to thank God, my fam, n all of those …

Share Tweet

profootballtalk.com

Mar 25 (6 days ago)

The NFL has revised three compensatory selections after a "database error" led to a need to correct a few of the picks that were awarded to teams earlier this week. The NFL Management Council revised three compensatory selections belonging to the Caroli…

Share Tweet

For those with ESPN Insider access, NFL draft analyst Mel Kiper Jr. has an interesting story linking some of the draft's top prospects to certain NFL teams based on how good a fit that player might be for a particular coach/system. For Oregon quarterbac…

Share Tweet

Andy Reid saw the Oakland Raiders at their best in 2014. Even though Reid's Kansas City Chiefs easily dispatched Oakland in the two teams' final meeting of 2014, Reid is clearly moving forward in his thinking that the Raiders will be more like the team …

Share Tweet

Andy Reid looking for a bigger, better Travis Kelce

Tight end Travis Kelce had a nice and perhaps unexpected debut season for the Kansas City Chiefs last year. He led the Chiefs in catches (67) and receiving yards (862) and for the most part was the one receiver the Chiefs could count on in an otherwise …

Share Tweet

Thomas To Skip Broncos, Manning Workouts

Mar 30

ESPN NFL analyst Tim Hasselbeck reacts to the news that Broncos WR Demaryius Thomas will not attend Denver's offseason workout program and will not participate in workouts at Duke University with QB Peyton Manning.

Inside The Huddle: Jeremy Maclin, Chief

Mar 26

The sky is the limit for Jeremy Maclin in the Chiefs' West Coast offense.

Plan Is For Rivers To Retire A Charger

Mar 24

Sal Paolantonio, John Clayton and Ed Werder discuss the Chargers future of QB Philip Rivers, who says he has no plans to sign a contract extension.

C.J. Anderson Buys His Grandmother A New Car

Mar 22

Denver Broncos running back C.J. Anderson used some of his playing-time bonus and surprised his grandmother with a new car.