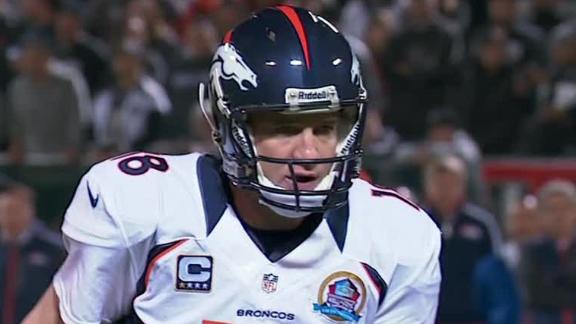 ESPN.com
profootballtalk.com
insidebayarea.com
CNNSI.com
Updated Dec 6, 2012
Peyton Manning threw his 30th touchdown pass of the season on the game's opening drive and the Denver Broncos rolled to their eighth straight victory, beating the Oakland Raiders 26-13 on Thursday night.
Share
Tweet
deadspin.com ESPN.com

Dec 6, 2012

Broncos, 26, Raiders 13: Raiders fans really do deserve better than this team, and I say that not as someone who lives among many of them but solely as an interested football observer. The Broncos didn't clearly put this game away early on, but whatever…

Share Tweet

Broncos at Raiders: Gameday Coverage

denverbroncos.com

Dec 6, 2012

BRONCOS AT RAIDERS: BRONCOS KNOCK OFF RAIDERS, 26-13: Denver improved its record to 10-3 and 5-0 in the AFC West with Thursday night's 26-13 win over the Oakland Raiders. Below are the blogs from the Broncos' victory. Stay tuned to DenverBroncos.com f

Share Tweet

CNNSI.com

Dec 6, 2012

The Broncos were clicking and that spelled bad news for the Raiders. Peyton Manning completed his 5,000th pass as Denver recorded its eighth straight victory, 26-13 over Oakland.

Share Tweet

ESPN.com profootballtalk.com CNNSI.com

Dec 6, 2012

Peyton Hillis lashed back at former teammate Joe Thomas on Thursday, comparing the Browns' offensive tackle to a "crazy ex-girlfriend" after he made disparaging comments about the Kansas City Chiefs running back.

Share Tweet

NFL Commissioner Roger Goodell said Thursday the league is willing to contribute funding to help build a stadium in Oakland to keep the Raiders in town.

Share Tweet

profootballtalk.com ESPN.com

Dec 6, 2012

The Broncos will have wide receiver Brandon Stokley on Thursday night against the Raiders. But they won't have guard Chris Kuper. Stokley was listed as questionable with hip and wrist injuries, but after pregame warmups he was declared good to go. Kuper

Share Tweet

In response to the report from Kevin Acee of U-T San Diego that Chargers coach Norv Turner and G.M. A.J. Smith will get the boot, the man who would do the booting says the boot has not yet been broken out. The Chargers have issued a statement from owner…

Share Tweet

yahoo.com

Dec 6, 2012

The Denver Broncos will be without their leading tackler on Thursday night as linebacker Wesley Woodyard did not accompany the team on their trip to Bay Area to take on the Oakland Raiders. Thrust into a starting role due to multiple suspensions of D.J.…

Share Tweet

yahoo.com ESPN.com profootballtalk.com

Dec 6, 2012

The San Diego Chargers will fire both head coach Norv Turner and general manager A.J. Smith at the end of the 2012 regular season, reports Kevin Acee of the San Diego Union-Tribune. Smith has been with the club since the 2002 season. During that time, t…

Share Tweet

CNNSI.com ESPN.com profootballtalk.com

Dec 6, 2012

PITTSBURGH (AP) Pittsburgh Steelers quarterback Ben Roethlisberger will start on Sunday against the San Diego Chargers.

Share Tweet

deadspin.com

Dec 6, 2012

We're still getting new and revised details about the timeline of events leading up to Jovan Belcher's murder-suicide. Below is everything we know so far, based on a number of media reports, police statements, and other sources. More »

Share Tweet

Service held for woman slain by Chiefs LB

A relative of the slain girlfriend of Kansas City Chiefs linebacker Jovan Belcher says she was a loyal friend who brought joy to others with her smiles and laughter.

Share Tweet

Oakland-bound: I am headed to Oakland to cover the Denver Bronco…

I am headed to Oakland to cover the Denver Broncos-Oakland Raiders game. Please check back for pre, in and post-game coverage.

Share Tweet

yahoo.com

Dec 6, 2012

NFL commissioner Roger Goodell is on the cover of this week's TIME Magazine, and Goodell has many interesting things to say in a wide-ranging story written by Sean Gregory. First and foremost, Goodell discussed the thought process that went into the dec…

Share Tweet

ESPN.com profootballtalk.com

Dec 6, 2012

U-T San Diego reports Vincent Brown likely won't play until next year. He broke his ankle in the preseason. Brown finished last season strong and he was great in training camp. The San Diego offense has missed him. There is hope for the future though wi

Share Tweet

PFT's Week 14 picks

With four weeks to go, the lead is back to three. And we disagree on three games. In other words, MDS a/k/a the master of Raiders exacta, could catch me by 4:30 p.m. ET on Sunday. Last week, I went 11-5.  MDS was 10-6.  For the season, I'm now at 123-

Share Tweet

One guy to watch: One player from each AFC West team to watch in We…

One player from each AFC West team to watch in Week 14: Eric Decker, Denver, receiver: Decker has 56 catches this season, but just eight in the past three games. Peyton Manning went several series without looking for Decker in Week 13. Demaryius Thomas …

Share Tweet

Usama Young back at practice for Browns

Cleveland Browns safety Usama Young was back at practice Wednesday after missing last Sunday's game against the Oakland Raiders with a concussion. Young suffered the concussion two weeks ago against the Pittsburgh Steelers and wasn't cleared in time t

Share Tweet

Denver Broncos quarterback Peyton Manning 1-on-1

Dec 6

After the 26-13 victory over the Oakland Raiders, Denver Broncos quarterback Peyton Manning talks to Alex Flanagan after the game about connecting offensively, the AFC West rivalry, and his running back Knowshon Moreno.

Peyton Manning talks about his 2012 comeback

Dec 6

Kurt Warner goes one-on-one with Denver Broncos QB Peyton Manning about his transition from the Indianapolis Colts, his comeback season and more.

Denver Broncos quarterback Peyton Manning's second act

Dec 6

No one really knew what to expect when Peyton Manning's career took a 180 degree turn into a whole new franchise. What will be the final result of the future Hall of Famer's second act?

How will Darren McFadden's return affect the Oakland Raiders?

Dec 6

Alex Flanagan is inside the Oakland Raiders' locker room on how the Raiders are going to utilize the healthy Raiders running back Darren McFadden whose back from injury, along with Peyton Manning's impact on the Broncos.