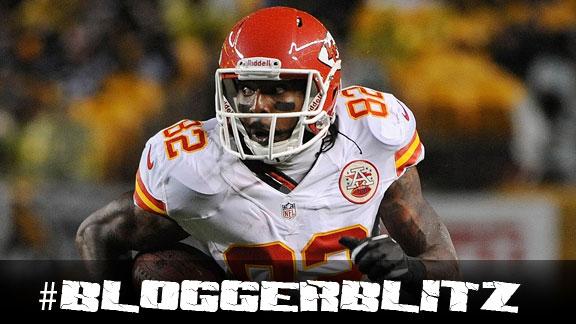 Blogger Blitz: Chiefs to keep free agents?
ESPN.com
Updated Feb 12, 2013
The Kansas City Chiefs have big decisions to make in free agency beginning with receiver Dwayne Bowe and left tackle Branden Albert. I expect them to make an attempt to keep both as they begin a new regime. New coach Andy Reid and new general manager Jo…
Share
Tweet
USA Today reports that free-agent defensive tackle Chris Canty has completed his visit to the Chiefs and will now contemplate his options between Kansas City and the Tennessee Titans. Canty was cut by the New York Giants last week. Canty, 30, is an eigh…

Share Tweet

Rookie QBs get the memo

It appears the 2013 rookie quarterback class has become a buyer's market. Thus, none of the incoming rookies believe they are in a position of strength as the draft evaluation process begins in earnest. There have been reports in the past two days that

Share Tweet

There have been reports that Minnesota may look to trade receiver Percy Harvin. He is sure to garner interest because he is an explosive player. But there are also contract and character concerns that could make teams hesitant to trade for Harvin. Let's

Share Tweet

profootballtalk.com

Feb 12, 2013

During Monday's edition of Pro Football Talk on NBC Sports Network, we pointed out that the new contract signed by Eagles quarterback Mike Vick could provide the template for a contract that could be offered to Raiders quarterback Carson Palmer. It also

Share Tweet

Here are some developments that occurred in the AFC West on Monday while I was away: I found it mildly intriguing that the Chiefs signed receiver Mardy Gilyard. A good college player, Gilyard hasn't done much in the NFL. But he was with Andy Reid in Phi

Share Tweet

profootballtalk.com

Feb 12, 2013

The decision by the Raiders to take 11,000 seats out of commission led one San Diego writer to wonder if the Chargers would consider the same thing to reduce their seating capacity and cut down on blackouts. Tom Krasovic of the San Diego Union-Tribune r…

Share Tweet

Blogger Blitz: Chiefs Free Agency Message

Feb 12

AFC West blogger Bill Williamson thinks that Chiefs management may use free agents Dwayne Bowe and Branden Albert to send a message to the rest of the team

Sports Columnists

Don Banks: Philadelphia Eagles 2013 Offseason Preview

Feb 12

SI.com is laying out offseason road maps for all 32 teams as they start their journey for the Lombardi Trophy -- two teams per day, from the teams that need the most work to contend in 2013 to the ones that are in pretty good shape. See them all.