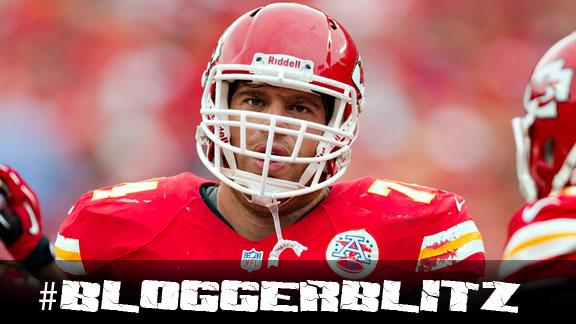 ESPN.com
profootballtalk.com
Updated Oct 9, 2012
Eric Winston said he has gotten support for his rant on Sunday and doesn't regret saying what he did. Sunday, Winston ripped some fans who he said cheered when embattled Kansas City starting quarterback Matt Cassel went down with a head injury. Winston,
Share
Tweet
Fans in Kansas City shown in a disparaging light

After fans cheer for an injury to Chiefs quarterback Matt Cassel, the quality of Kansas City's sports scene has been called into question.

Share Tweet

After their first, second, and third games, the Chargers signed offensive lineman Reggie Wells.  Before their second, third, and fourth games, the Chargers cut offensive lineman Reggie Wells. But they didn't sign him again before their fifth game, and

Share Tweet

Total QBR: Peyton Manning is No. 2

A look at the AFC West Total QBR leaders through Week 5: 1. Peyton Manning, Denver Total QBR: 80.5 NFL rank: 2 Comment: Manning's play is not the reason why the Broncos are 2-3. 2. Carson Palmer, Oakland Total QBR: 63.1 NFL rank: 14 Comment: Palmer is h

Share Tweet

nytimes.com

Oct 9, 2012

The Saints' Drew Brees became the first quarterback to throw at least one touchdown pass in 48 straight games, breaking the record of Johnny Unitas.

Share Tweet

Raiders expect Aaron Curry back at practice next week

Raiders linebacker Aaron Curry went on the PUP list at the start of training camp, which means that he hasn't taken part in one practice yet this season. The Raiders expect that to change next week. That's when Curry and other players who spent time o

Share Tweet

A Very Good honor: The Professional Football Researchers Association…

The Professional Football Researchers Association has inducted another class in the Hall of Very Good. Among this year's class are two players who spent a major chunk of their careers in the AFC West -- former Raiders cornerback Lester Hayes and former

Share Tweet

You've heard the chatter by the sports pundits and on the talk shows. Heck, you may have even heard it here. So are the knee-jerk reactions about your team based in reality? Our NFL bloggers weigh in.

Share Tweet

If Patriots coach Bill Belichick was upset by wide receiver Wes Welker's comment that it was nice to stick it in the coach's face after catching 13 balls in the win over the Broncos, he's not sharing it with the public. Belichick directed questions

Share Tweet

Norv Turner has no problem with calls in Sunday night loss

A trio of tough calls helped turn a potential win for the Chargers on Sunday night into a loss.  After the game, however, San Diego coach Norv Turner wasn't inclined to complain about the officials. As to the roughing the passer call on linebacker Melv

Share Tweet

Patriots streamline play calling, speed up offense

The Patriots' fast-paced offense gave the Broncos fits on Sunday. And simplifying the play calling was a big part of it. New England used one-word play calls for much of the game against Denver, taking what is ordinarily a mouthful that includes the for

Share Tweet

Have N.F.L. Questions? Judy Battista Has Answers

nytimes.com

Oct 9, 2012

Judy Battista, the N.F.L. reporter for The Times, will answer questions from readers.

Share Tweet

Philip Rivers has seemingly lost his late-game mojo

There was once a time when Philip Rivers was the guy you wanted on your side, trailing late. But that seems like a long time ago. Kevin Acee of U-T San Diego points out that the Chargers have seemingly lost their knack for comebacks, unable to replicate…

Share Tweet

Broncos' Tony Carter apologizes for tweet about theater shooting

Broncos cornerback Tony Carter made an incredibly tasteless attempt at a joke on Monday night, referencing the July shooting in a Denver-area theater that left 12 dead and 58 injured. On Tuesday morning he apologized. Carter wrote on Twitter Monday nigh…

Share Tweet

FALLING The division as a whole: It was a bad weekend for the AFC West. All three teams that played lost. Oakland had the best week ... well, because it was on a bye. At some point, some team in this division is going to need to step up and show it can …

Share Tweet

denverpost.com

Oct 9, 2012

Eye on ...The San Diego Chargers, 6:30 p.m. MDT on Monday at Qualcomm Stadium, TV, ESPN, For the record: Chargers 3-2, first place AFC West; Broncos 2-3, second place AFC West.

Share Tweet

Blogger Blitz: AFC West News And Notes

Oct 9

AFC West blogger Bill Williamson talks about Eric Winston's rant in Kansas City, the attitude of Chiefs fans and previews the Chargers-Broncos matchup

NFL32OT: Cowboys Look For New Start

Oct 9

Episode 203: Brian Dawkins breaks down how the Cowboys can improve. The NFL32 crew discuss which running back can turn things around Chris Johnson or Darren McFadden.

The NFL Season: Brady vs. Manning

Oct 9

Together they have rewritten the game's history. And in many ways, the story of one cannot be told without the other.