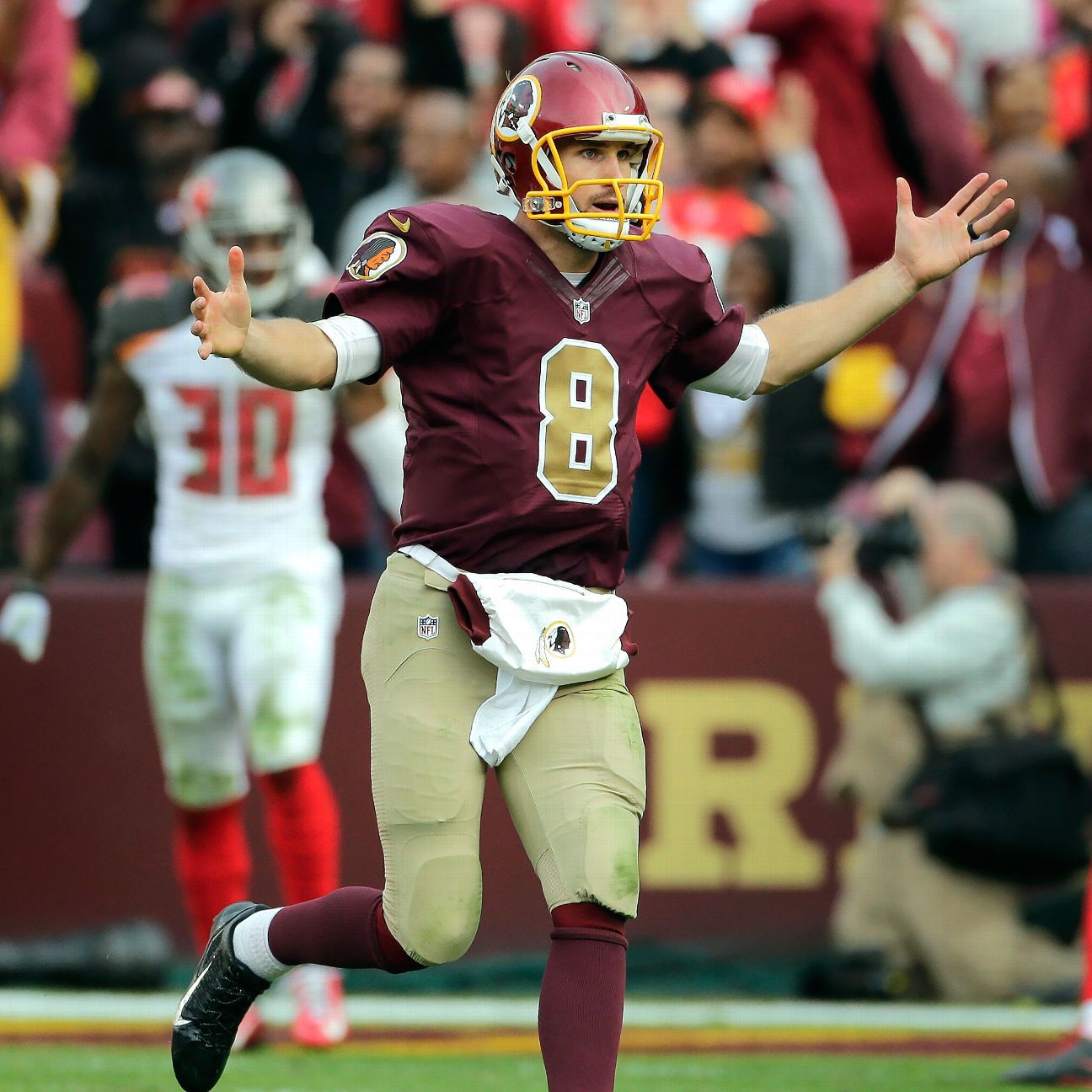 ESPN.com
Updated 15 hours ago
Yes, Redskins QB Kirk Cousins likes that: T-shirts raise money for charity
Share
Tweet
profootballtalk.com

7 hours ago

Jerry Jones has said that Cowboys quarterback Tony Romo won't play again this year due to a re-broken collarbone. But the team's actions have yet to match the words of the franchise's owner and General Manager. Specifically, the Cowboys have not yet pla…

Share Tweet

profootballtalk.com

8 hours ago

While addressing rumors linking him to a departure from the Eagles, Chip Kelly said Monday that he was "totally committed" to remaining the coach in Philadelphia. Kelly also said that he didn't feel a need to directly address the chatter with the team's…

Share Tweet

profootballtalk.com

10 hours ago

Patriots fans are getting upset. Or, as the case may be, more upset. In confirming the PFT report that referee Pete Morelli's crew has been removed from Sunday night's game between the Colts and Steelers, the Associated Press also reports that Morelli a…

Share Tweet

Giants sign Adam Gettis, place Geoff Schwartz on IR

profootballtalk.com

11 hours ago

With injuries riddling their offensive line, the Giants have added a healthy player from the Raiders practice squad. The Giants announced Tuesday that they have signed Adam Gettis and placed Geoff Schwartz on injured reserve. Schwartz fractured his leg …

Share Tweet

ESPN.com

16 hours ago

No determination made yet on Greg Hardy's future in Dallas

Share Tweet

ESPN.com

16 hours ago

Redskins coach Jay Gruden proving himself with players

Share Tweet

profootballtalk.com

17 hours ago

We can debate later whether it's a good thing, but it appears Eagles quarterback Sam Bradford is closer to being back. According to Les Bowen of the Philadelphia Daily News, Bradford's apparently been cleared from the left AC joint sprain that's kept hi…

Share Tweet

Cromartie on Beckham: Still so much room for him to grow

profootballtalk.com

18 hours ago

Earlier this year, Jets cornerback Antonio Cromartie called Giants wide receiver Odell Beckham a "one-year wonder" because he felt that he had not seen enough of Beckham to know that he could produce on an every-week basis. Cromartie made those comments…

Share Tweet

Cowboys' Kellen Moore once again a snap away from playing

ESPN.com

20 hours ago

Cowboys' Kellen Moore once again a snap away from playing

Share Tweet

ESPN.com

22 hours ago

It's December -- where are all the Giants' offensive playmakers?

Share Tweet

Cowboys leave door open for Romo return

Dec 1

ESPN Cowboys reporter Todd Archer discusses why Dallas Isn't placing Tony Romo on IR yet and whether he'd back on the field in the event they do make the playoffs.

Redskins' best path to playoffs is winning NFC East

Dec 1

ESPN Redskins reporter John Keim says a favorable schedule down the stretch could help Washington win the division.

Are Jets and Giants rivals?

Dec 1

ESPN Giants reporter Dan Graziano and ESPN Jets reporter Rich Cimini discuss whether the Week 13 matchup between the Jets and Giants is considered a rivalry by owners and players.

Questions about Malcolm Jenkins, Sam Bradford haunt Eagles

Dec 1

ESPN's Sal Paolantonio and Eagles reporter Phil Sheridan discuss safety Malcolm Jenkins raising questions about the coaching staff and the possible return of quarterback Sam Bradford.