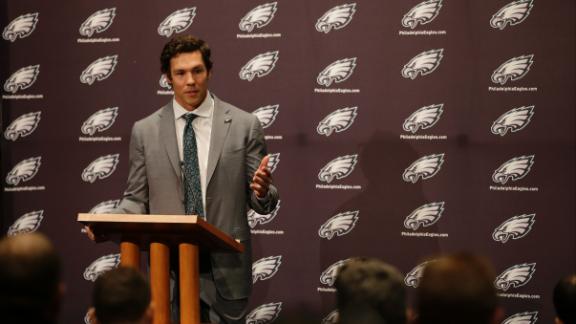 ESPN.com
profootballtalk.com
Updated 4 hours ago
Josh Heupel, a trusted voice from Sam Bradford's past, helped the Eagles quarterback resist quitting football last year after he suffered a second devastating injury to his left knee in a span of nine months.
Share
Tweet
profootballtalk.com

3 hours ago

As they work to restock their receiving corps, the Eagles are looking to a team that helped refill their backfield. According to Ian Rapoport of the NFL Network, the Eagles are bringing in former Cowboys wideout Miles Austin for a visit this week. Of co…

Share Tweet

profootballtalk.com ESPN.com

Mar 29 (yesterday)

Oregon quarterback Marcus Mariota is setting up visits and workouts with the teams at the top of the draft, including a stop in Virginia next month. Mariota will be at the Redskins' headquarters in April, a little more than a month after General Manager…

Share Tweet

Pete Carroll says Chip Kelly knows what he's doing

profootballtalk.com

Mar 29 (yesterday)

A rash of unpredictable offseason moves has caused many Eagles fans to question the acumen and/or sanity of coach Chip Kelly. Seahawks coach Pete Carroll believes they shouldn't worry. Instead, Carroll thinks they should be the opposite of worried. "I t…

Share Tweet

Cowboys won't spend a lot to bring back Rolando McClain

profootballtalk.com

Mar 28 (2 days ago)

Free agent linebacker Rolando McClain remains unsigned, and from all indications, if he's going to return to Dallas it will be for a low-cost, low-risk contract. The Dallas Morning News reports that the Cowboys and McClain have "a drastically different"…

Share Tweet

Jones thinks a team or two is headed to L.A.

Collectively, the NFL's owners have yet to decide whether a franchise will relocate to Los Angeles. Individually, more and more of them have expressed a belief that it's going to happen. Cowboys owner Jerry Jones recently has joined the growing chorus o…

Share Tweet

profootballtalk.com ESPN.com

Mar 27 (3 days ago)

Every year around this time, people wonder if the Cowboys are going to draft a quarterback to groom for the future. And every year, it keeps not happening. But at least this time, owner Jerry Jones is acknowledging that the time to pick one to learn fro…

Share Tweet

The Bears have added some depth in the secondary. Alan Ball, a veteran cornerback who has been making the free agent rounds, signed with the Bears today. Ball, who played his college football at Illinois, was a seventh-round pick of the Cowboys in 2007.…

Share Tweet

Giants have high hopes for a "dominant" offense

The Giants had a mediocre offense last season, the first year with Ben McAdoo as the coordinator. This year, they expect much bigger things. That's the word from Giants running back Rashad Jennings, who said quarterback Eli Manning is going to take a bi…

Share Tweet

yahoo.com

Mar 27 (3 days ago)

It has been widely assumed, as it should be, that Michael Sam was not the only gay player in the NFL when he was with the St. Louis Rams and the Dallas Cowboys last year. Sam confirmed that, saying several NFL players contacted him after he was drafted …

Share Tweet

Jason Garrett: Catch rule robbed the NFL of a classic finish

Cowboys coach Jason Garrett believes that a better-written NFL rule would have given Dez Bryant a catch at the end of the playoff game in Green Bay — and would have given the NFL an all-time playoff classic. Garrett pointed out that the Cowboys would ha…

Share Tweet

When LeSean McCoy, Jeremy Maclin, Trent Cole and Todd Herremans made plans to attend a fundraiser last night, they were Eagles. Since then, they became former Eagles, part of a flurry of offseason activity that sent them all packing, along with quarterb…

Share Tweet

Jerry Jones believes Darren McFadden can be a difference maker

The Cowboys let running back DeMarco Murray, a third-round pick in 2011, walk away via free agency. They replaced him with running back Darren McFadden, the fourth overall selection in 2008. Murray led the NFL in rushing last season, with a franchise-re…

Share Tweet

dallasnews.com

Mar 26 (4 days ago)

Chip Kelly: Eagles didn't add DeMarco Murray to weaken Cowboys

Share Tweet

ESPN.com profootballtalk.com

Mar 26 (4 days ago)

Tuesday's scheduled hearing to determine whether the NFL is entitled to evidence from the July 15 domestic violence trial of Dallas Cowboys defensive end Greg Hardy has been put on hold in an attempt to settle the matter out of court.

Share Tweet

The Vikings signed a big man who helped the Giants win a championship. OK, so it was the Wroclaw Giants of the Polish American Football League, but this guy is already an early favorite here at PFT. According to Chris Tomasson of the St. Paul Pioneer-Pr…

Share Tweet

Rams coach Jeff Fisher has said that his team only agreed to trade Sam Bradford because Nick Foles was the player the Eagles' offered, and that the Rams thought Foles could be their franchise quarterback. That meshes with what Chip Kelly revealed at thi…

Share Tweet

ESPN.com

Mar 26 (4 days ago)

PHOENIX -- Washington Redskins coach Jay Gruden recognizes it's not just about Robert Griffin III. Everyone on their roster must improve. Every other quarterback must take steps in a positive direction. When a franchise wins a combined seven games in tw…

Share Tweet

Even though Giants wide receiver Victor Cruz is making progress in his recovery from last year's torn patellar tendon, his timeline for a return is uncertain. Via Bart Hubbuch of the New York Post, Giants coach Tom Coughlin expressed some cautious optim…

Share Tweet

yahoo.com

Mar 26 (4 days ago)

The NFL coaches' breakfasts that are part of the recently wrapped-up owners meetings can be quite the bore without strong, almost amphetamine-grade coffee, as the 32 geniuses of the clipboards dance their way past questions about free agency, the draft …

Share Tweet

Not Signing Murray Best Chance To Get Better

Mar 27

Jeff Saturday, Sarah Spain and Jorge Sedano discuss Cowboys owner Jerry Jones' comments that not signing RB DeMarco Murray was the best chance for the team to get better.

Redskins' Offseason Agenda

Mar 25

Dan Graziano and John Keim discuss what they learned about the Redskins' offseason plans during the NFL owners meetings.

Rivera Addresses Hardy Signing With Dallas

Mar 25

Dan Graziano, Mike Reiss and David Newton discuss Ron Rivera's comments on Greg Hardy no longer being with the Panthers and the investigation the Cowboys did before signing the defensive end.

Goodell's Main Points

Mar 25

Ed Werder, Sal Paolantonio, Bill Polian and Adam Schefter discuss Roger Goodell's news conference in which he addressed the tumultuous 2014 season, including the Greg Hardy timeline and the fact that there is no timeline on the Ted Wells report.