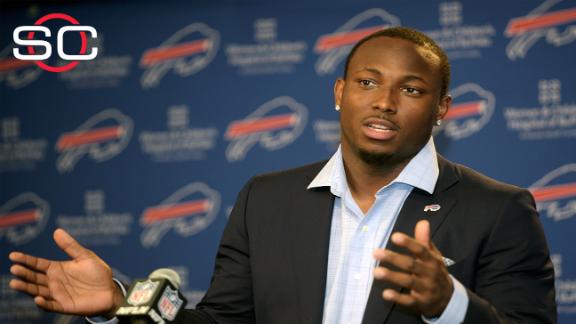 ESPN.com
profootballtalk.com
Updated 7 hours ago
LeSean McCoy's comments are a sign that Chip Kelly is caught in a trap
Share
Tweet
profootballtalk.com

4 hours ago

The Eagles have joined the Bears and Buccaneers as teams that have started signing members of their 2015 draft class less than a week after the draft got underway. The team announced Wednesday that they have signed second-round defensive back Eric Rowe,…

Share Tweet

Stephen Jones: Veteran running back not a priority right now

profootballtalk.com

4 hours ago

Veteran running back Chris Johnson told a TMZ cameraman that he'd be a good fit with the Cowboys and invited the team to "holler at me," but it appears the Cowboys plan to do their hollering in different directions at the moment. The Cowboys passed on t…

Share Tweet

Todd Herremans: Kelly is "equally racist to all races" so he's "not racist"

profootballtalk.com

5 hours ago

Before the Ted Wells report on Deflategate was released on Wednesday, it looked like Bills running back LeSean McCoy's assertion that Eagles coach Chip Kelly got rid of "all the good black players" the "fastest" since becoming the coach of the Eagles. I…

Share Tweet

What Giants should expect from Owamagbe Odighizuwa

ESPN.com

10 hours ago

What Giants should expect from Owamagbe Odighizuwa

Share Tweet

Five days ago, the Cowboys drafted defensive end Randy Gregory. Much longer than five days from now, the Cowboys will be part of Gregory. Gregory's forearm carries a large tattoo in the shape of the star the Cowboys wear on their helmets. "This journey …

Share Tweet

Chris Johnson wants to be a Cowboy

Some people don't want to be a Cowboy. Others do. Veteran running back Chris Johnson does. Via the Dallas Morning News, Johnson recently made his pitch to be signed by the Cowboys in a sidewalk interview with TMZ. "I'd fit good in Dallas," Johnson said.…

Share Tweet

We're starting to get more of an idea about the teams that are potential landing spots for La'El Collins as an undrafted free agent and the group reportedly includes the Giants. Jordan Raanan of NJ.com reports that the Giants are "in the mix" for the pr…

Share Tweet

profootballtalk.com

13 hours ago

Donte Rumph isn't giving up on his dream, even if it means being thrown out of an NFL facility. The former Kentucky defensive tackle, who is getting a tryout with the Giants this weekend, has taken an unusual path as he pursues his football career. Rump…

Share Tweet

Eagles first-rounder Nelson Agholor says he'll "work like a peasant"

profootballtalk.com

14 hours ago

First-round pick Nelson Agholor wasn't an Eagle long before he met Troy Robinson, a janitor at the Eagles training center. In fact, coach Chip Kelly had Robinson pose for photos with him, as a tribute to the background that got him to this place, at thi…

Share Tweet

profootballtalk.com

15 hours ago

When you hear Jerry Jones talk about the Cowboys family, and their great support system, maybe he means having his former players prop up his questionable decisions. Just as Hall of Famer Charles Haley has defended the acquisitions of both their dubious…

Share Tweet

Chip Kelly: If we're ever in position to draft a top QB, I'll be fired

profootballtalk.com

16 hours ago

Eagles coach Chip Kelly tried to trade up to draft quarterback Marcus Mariota, but it didn't work out. And he doubts he'll ever get to draft a top quarterback. Kelly said he'd love to be able to draft a quarterback first and second overall, but he think…

Share Tweet

PFT Live: Landon Collins, Kevin Colbert

Safety Landon Collins was projected to be a first-round pick by many people heading into the draft, but he wound up lasting until the Giants traded up to take him at the start of the second round. Collins will join Mike Florio on Tuesday's PFT Live to t…

Share Tweet

Cowboys give undrafted George Farmer a $55,000 guarantee

Former USC wide receiver George Farmer went undrafted last week, but he made out OK anyway. Farmer is signing with the Cowboys and will get $55,000 guaranteed, according to Field Yates of ESPN. That's a very rare, and very hefty, guarantee for an undraf…

Share Tweet

Cowboys linebacker Rolando McClain was convicted on misdemeanor charges of resisting arrest and disorderly conduct in Decatur, Alabama last year, but appealed to have another trial in state court. That trial was set for a May 18 start, but it won't take…

Share Tweet

ESPN.com

May 5 (yesterday)

NFL Nation TV delves into 'Thumbs Down' NFL draft grades

Share Tweet

Mychal Kendricks joins Eagles workouts

Linebacker Mychal Kendricks opted not to take part in the first phase of the Eagles' offseason workout program and found his way into the swirl of trade rumors that enveloped the team leading up to the draft. The Eagles never wound up making the big jum…

Share Tweet

Redskins GM Scot McCloughan pleased with scouting staff

ESPN.com

May 4 (2 days ago)

Redskins GM Scot McCloughan pleased with scouting staff

Share Tweet

Few people expected defensive lineman Leonard Williams to be on the board for the fifth pick of the first round last Thursday night and those that did likely thought thought that the Redskins would be happy to add him to their defense. Washington went a…

Share Tweet

Peter King's Credulity Is A Character Flaw

deadspin.com

May 4 (2 days ago)

So Peter King, the NFL's ambassador to Sports Illustrated, published something stupid and offensive in this morning's edition of his weekly Monday Morning Quarterback column: his own writing. Within that, though, a particular passage, explaining the Dal…

Share Tweet

Cowboys owner Jerry Jones said in January that cornerback Morris Claiborne had done enough to justify picking up his fifth-year option. But the Cowboys apparently did enough in the draft to make Jones change his mind. According to Todd Archer of ESPNDal…

Share Tweet

With the 2015 NFL Draft in the books, it's the time for teams with new General Managers to clear out the old scouting staff so they can bring in their own guys. But while the Eagles didn't technically bring in a new G.M., they're shuffling out some of t…

Share Tweet

Cowboys defensive end Greg Hardy said farewell to Twitter last night, apparently at the behest of the team after making a decidedly unfunny reference to the 9/11 attacks. But the farewell wasn't really a farewell. After posting a "Goodbye 4ever" tweet t…

Share Tweet

ESPN.com

May 4 (2 days ago)

Leftover thoughts: Redskins' draft features toughness

Share Tweet

The Cowboys keep signing or picking talented-but-troubled pass-rushers, using Charles Haley as justification. So it stands to reason that Haley himself would endorse the moves. As he did when the Cowboys signed free agent Greg Hardy, the Hall of Fame de…

Share Tweet

ESPN.com

May 4 (3 days ago)

Mel Kiper, Todd McShay high on Scot McCloughan's first Redskins draft

Share Tweet

Garrett on Hardy: Distinguish yourself with play, not what you say

When someone on Twitter referred to Panthers receivers Kelvin Benjamin and Devin Funchess as the Twin Towers, Cowboys defensive end and former Panther Greg Hardy angered some people when he responded by saying "didn't the twin towers get blown up lol." …

Share Tweet

The Cowboys took cornerback Byron Jones with their first round pick last Thursday, a move that came after several weeks of speculation about whether the team would try to get veteran corner Brandon Carr to take a pay cut from his scheduled $8 million sa…

Share Tweet

Chip Kelly's plan for Eagles

May 6

ESPN NFL Insider Ashley Fox discusses coach Chip Kelly's roster overhaul and the culture in Philadelphia's locker room.

Cowboys' plans at running back

May 6

Adam Caplan discusses Dallas' plans for the position after the team lost DeMarco Murray in free agency and did not select a running back in the NFL draft.

LeSean McCoy blasts Chip Kelly

May 6

Stephen A. Smith and Skip Bayless react to former Eagles RB LeSean McCoy's comments that there is a reason why Philadelphia coach Chip Kelly got rid of all the good black players.

LeSean McCoy not happy with Eagles exit

May 6

ESPN Bills reporter Mike Rodak discusses his interview with RB LeSean McCoy, who had harsh comments about Eagles coach Chip Kelly's relationship with black players.