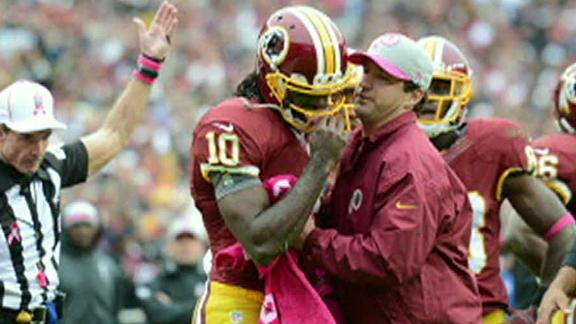 ESPN.com
CNNSI.com
profootballtalk.com
Updated Oct 10, 2012
There was a major sigh of relief at Redskins Park Wednesday when Washington rookie quarterback Robert Griffin III practiced and showed no effects from a mild concussion.
Share
Tweet
profootballtalk.com nytimes.com

Oct 10, 2012

Normally, you'd have to peel Brandon Jacobs off the ceiling for a game like this week's 49ers-Giants matchup. But because he hasn't done much to contribute to the effort, the current 49ers and former Giants running back was subdued when asked about

Share Tweet

My sense of the way news works in 2012 tells me this is going to be a thing, so we might as well address it now. There was apparently a photo posted to the Twitter account of Philadelphia Eagles quarterback Michael Vick that showed him at home with his …

Share Tweet

deadspin.com

Oct 10, 2012

The 2-2 Cowboys are playing the Ravens Sunday, and today Tony Romo had a standard conference call with Baltimore reporters. After some questions about Romo's consistency and such, his phone was somehow disconnected. Did Romo intentionally hang up on the…

Share Tweet

Join our ESPN.com NFL experts as they break down down the NFC match up between the New York Giants and the San Francisco 49ers. Contribute your thoughts and questions beginning at 4:30 p.m. ET. See you there.

Share Tweet

This week's NFL "Hot Read" by Greg Garber addresses the issue of which NFL stadiums are the toughest on visiting teams. And the place at the very top of the list is the Baltimore Ravens' M&T Bank Stadium, which is where the Dallas Cowboys …

Share Tweet

All those people that Tom Coughlin believes are picking against the Giants this weekend may feel more secure about their decision after a look at the team's practice report from Wednesday. Seven Giants missed the session, including tight end Martellus B

Share Tweet

If Eagles quarterback Mike Vick owns a dog again, he's not saying so.  Which means he owns a dog again. "I'm here to strictly talk about football," Vick said Wednesday, via Jeff McLane of the Philadelphia Inquirer, when asked the "yes" or "

Share Tweet

ESPN.com profootballtalk.com

Oct 10, 2012

Giants coach Tom Coughlin believes that not many are giving the defending world champions a chance to win an NFC Championship Game rematch in San Francisco on Sunday.

Share Tweet

Matt Williamson's weekly Rookie Watch column this week features two Washington Redskins players in the top five. At the No. 2 spot, of course, is quarterback Robert Griffin III. But sneaking up from No. 7 to No. 5 this week is running back Alfred Morris…

Share Tweet

Steelers kicker Shaun Suisham kicked the game-winning field goal on Sunday against the Eagles, and as a result he's been named the AFC's special teams player of the week. Suisham went 3-for-3 on field goals, connecting once from 20 yards and twice fro

Share Tweet

Not a lot of changes this week to the All-Division Team, which now includes nine Giants, nine Eagles, six Redskins and three Cowboys. The most significant are at quarterback, where the Redskins' concussed rookie lost his spot to the guy I think is playi…

Share Tweet

All-Division Team comes out today. Gotta get to work on that, so no time for idle chit-chat here. Just get to the links. Philadelphia Eagles Interesting perspective here from former Eagles running back Brian Westbrook, who thinks part of the problem wit…

Share Tweet

Eagles shuffle the bottom of the LB depth chart again

Adrien Moten's chance to impress on special teams lasted exactly one week, after replacing starter Brian Rolle. The Eagles have swapped out linebackers for the second week in a row, cutting Moten and signing Jason Williams, according to the Philadelphia

Share Tweet

Absurdly premature 2012 playoff picture: Week 5

yahoo.com

Oct 10, 2012

Top AFC seeds: Houston Texans, Baltimore Ravens Other AFC division champs: New England Patriots, Denver Broncos AFC wild cards: Pittsburgh Steelers, San Diego Chargers Top NFC seeds: Atlanta Falcons, San Francisco 49ers Other NFC division champs: Minnes…

Share Tweet

Is the Baltimore Ravens' defense in trouble?

Oct 10

Should the Baltimore Ravens be concerned that the Dallas Cowboys believe this week's game will give them a chance to get their offense going? Jeff Darlington has the latest on this week's matchup.

Giants Vs. 49ers Preview

Oct 10

NFL Live looks ahead to the matchup between the Giants and 49ers.

Time for a little rematch between the San Francisco Giants and New York Giants

Oct 10

The San Francisco 49ers and New York Giants square off this weekend for the first time since the 2011 NFC Championship Game. What are both teams saying about this week's matchup? Find out.

Who is built best for January?

Oct 10

The San Francisco 49ers, Chicago Bears, Atlanta Falcons and New York Giants all have solid squads, but which team is best built for January? Michael Lombardi and Darren Sharper offer their take.