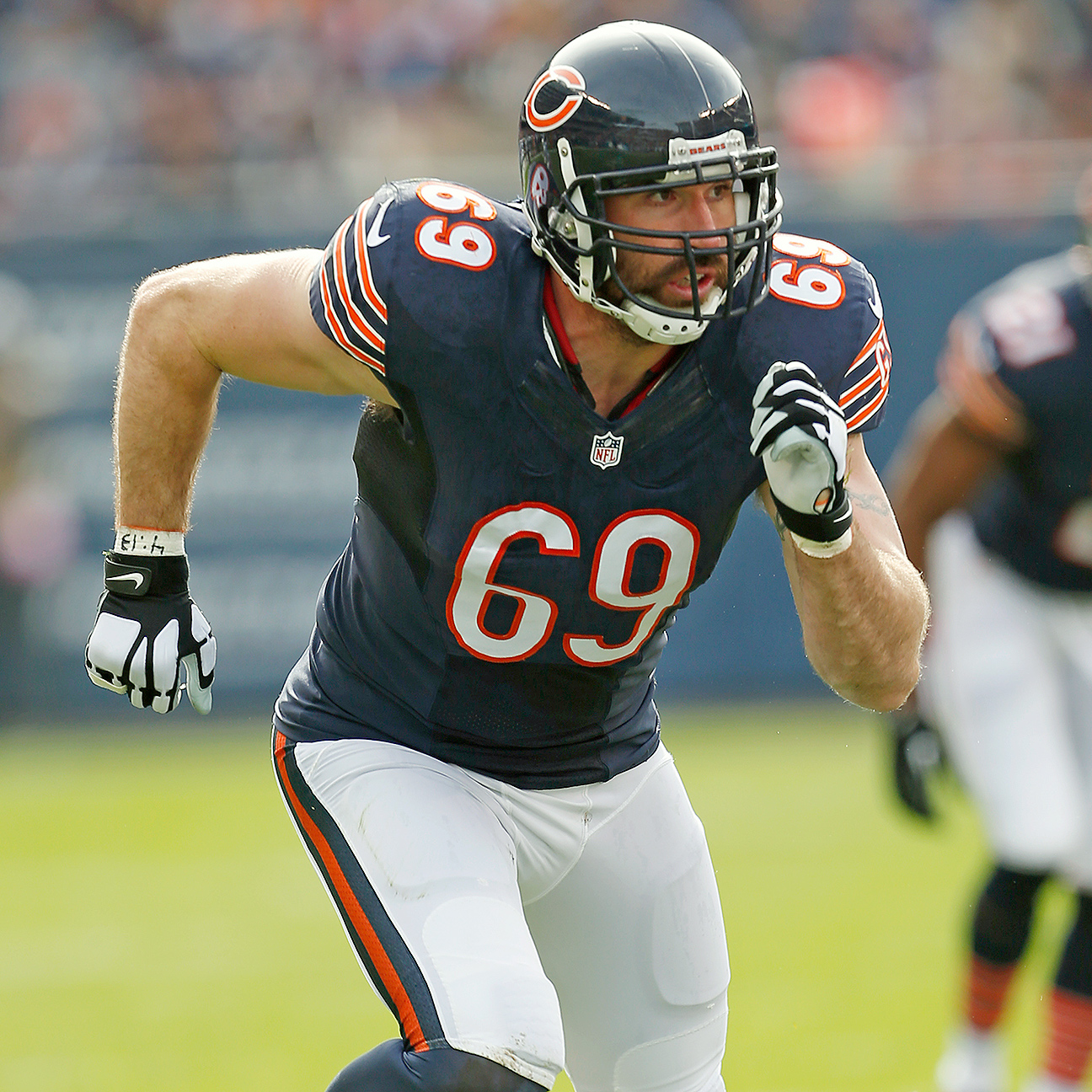 ESPN.com
Updated 8 hours ago
Zimmer: Danielle Hunter 'a lot less raw than we thought'
Share
Tweet
ESPN.com

10 hours ago

Bears' Fox mostly mum on impressions of Cutler

Share Tweet

Packers won't put Aaron Rodgers on a training camp pitch count

profootballtalk.com

10 hours ago

Aaron Rodgers has dealt with some injuries, and he is the MVP. But that doesn't mean the Packers are going to put their quarterback on any kind of pitch count in training camp. "Aaron is going to have to get exactly he needs," Packers coach Mike McCarth…

Share Tweet

nytimes.com profootballtalk.com

11 hours ago

Adrian Peterson burst through the line of scrimmage and veered toward the sideline as he headed up the field.

Share Tweet

profootballtalk.com

13 hours ago

A shin injury suffered in offseason workouts has landed Bears first-round pick Kevin White on the physically unable to perform list as training camp gets underway. General Manager Ryan Pace said Wednesday that the team wants to take it easy with White g…

Share Tweet

Mike McCarthy on off-field issues: "The tolerance level isn't very high"

profootballtalk.com

15 hours ago

The Packers made their share of off-field headlines this offseason, and coach Mike McCarthy has had his patience tried. So far, the three players involved in run-ins with the law, suspensions or both remain on the roster, but McCarthy said Wednesday the…

Share Tweet

Mike Brown takes blame for Bengals not honoring past players

profootballtalk.com

21 hours ago

Packers fans filled Lambeau Field earlier this month to celebrate Brett Favre's entry into the team's Hall of Fame and they'll fill it again on Thanksgiving to celebrate Favre's career again. Plenty of other stadiums will play host to similar moments th…

Share Tweet

profootballtalk.com

Jul 29 (yesterday)

The Buffalo Bills released guard Chris Williams after he failed a physical with the team on Tuesday. The former 2008 first-round pick of the Chicago Bears played in three games for the Bills last season after signing a four-year deal with the team last …

Share Tweet

Why Your Team Sucks 2015: Chicago Bears

deadspin.com

Jul 28 (yesterday)

Some people are fans of the Chicago Bears. But many, many more people are NOT fans of the Chicago Bears. This 2015 Deadspin NFL team preview is for those in the latter group.Read more...

Share Tweet

Mike Wallace: I have to be a better person, player and leader

Mike Wallace's two years with the Dolphins were a disappointment in terms of on-field production, the team's place in the standings and the way Wallace fit in with the rest of the team. Wallace is now with the Vikings after an offseason trade and the wi…

Share Tweet

in 2015, Vikings safety Harrison Smith enters the fourth year of his contract. If the 29th pick in 2012 had been selected four spots lower, it would be the final year of his contract. Thanks to the fifth-year option, it's not. "I'm obviously not a fan o…

Share Tweet

Bears sign former L.A. Kiss wide receiver A.J. Cruz

Detroit might be rock city, but it's another NFC North team that is extending the Kiss tour. According to Brad Biggs of the Chicago Tribune, the Bears have filled out their roster by signing wide receiver A.J. Cruz. That might not have ordinarily been w…

Share Tweet

ESPN.com

Jul 28 (yesterday)

NFL Nation TV wonders if Junior Galette is unemployable

Share Tweet

Cordarrelle Patterson still struggling with consistency

Vikings wide receiver Cordarrelle Patterson didn't take the step forward that the team wanted to see last season, leading Patterson to say this offseason that 2015 is going to be a make or break year for him. If he wants it to wind up in the make column…

Share Tweet

ESPN.com

Jul 28 (yesterday)

Zimmer: Corners should be able to press before training camp

Share Tweet

Vikings looking to extend training camp deal with Minnesota State-Mankato

profootballtalk.com

Jul 27 (2 days ago)

While the Minnesota Vikings are getting ready to move into a brand new regular season home in downtown Minneapolis, the team is looking to extend its preseason arrangements in Mankato. According to Matt Vensel of the Minneapolis Star Tribune, the Viking…

Share Tweet

There was plenty of huffing and puffing in the offseason from people close to Vikings running back Adrian Peterson. Ultimately, however, Peterson realized no one was going to be blowing down any houses. "The reality, and just to be straightforward with …

Share Tweet

The offseason is full of media-generated rankings of teams, players and more designed to fill the time until there's actual football to occupy our time. ESPN has done a couple of rankings of the league's quarterbacks and Vikings quarterback Teddy Bridge…

Share Tweet

Roger Goodell checks out virtual reality system, Vikings too

Maybe STRIVR Labs made a virtual reality appeals simulator, and when Roger Goodell went to check it out, that's causing his delay in announcing his Tom Brady decision. Either way, the NFL commissioner has checked out the rapidly expanding technology, ac…

Share Tweet

Darius Slay: Not much difference between Detroit's D and Seattle's

profootballtalk.com

Jul 26 (3 days ago)

The Seahawks are widely regarded as having the best defense in the NFL over the last few years, but Lions cornerback Darius Slay says the defense in Detroit is as good as the defense in Seattle. "We've got the same kind of talent they got," Slay told th…

Share Tweet

profootballtalk.com

Jul 26 (4 days ago)

The Vikings took care of a fairly important piece of business last week, restructuring running back Adrian Peterson's contract. They've now locked up the guy who picks up the seventh point after Peterson gets "loooooose!" The Vikings have announced a fo…

Share Tweet

ESPN.com profootballtalk.com

Jul 26 (4 days ago)

Vikings put Casey Matthews on IR, Josh Robinson on PUP

Share Tweet

Eleven starters returning for Packers' high-powered offense

Jul 29

Herm Edwards and Mark Brunell explain why the Packers are destined for success with 11 returning starters on offense.

Rodgers facing full training camp workload

Jul 29

ESPN Packers reporter Rob Demovsky discusses why Packers coach Mike McCarthy doesn't intend to take it easy on veteran quarterback Aaron Rodgers during training camp.

Suspensions to Letroy Guion, others, cast cloud over Packers' cam...

Jul 27

ESPN Packers reporter Rob Demovsky discusses the dynamic at camp with suspensions looming.

Health of Stephen Tulloch, DeAndre Levy key to Detroit's plans

Jul 27

ESPN Lions reporter Michael Rothstein discusses the health of the linebackers heading into camp.