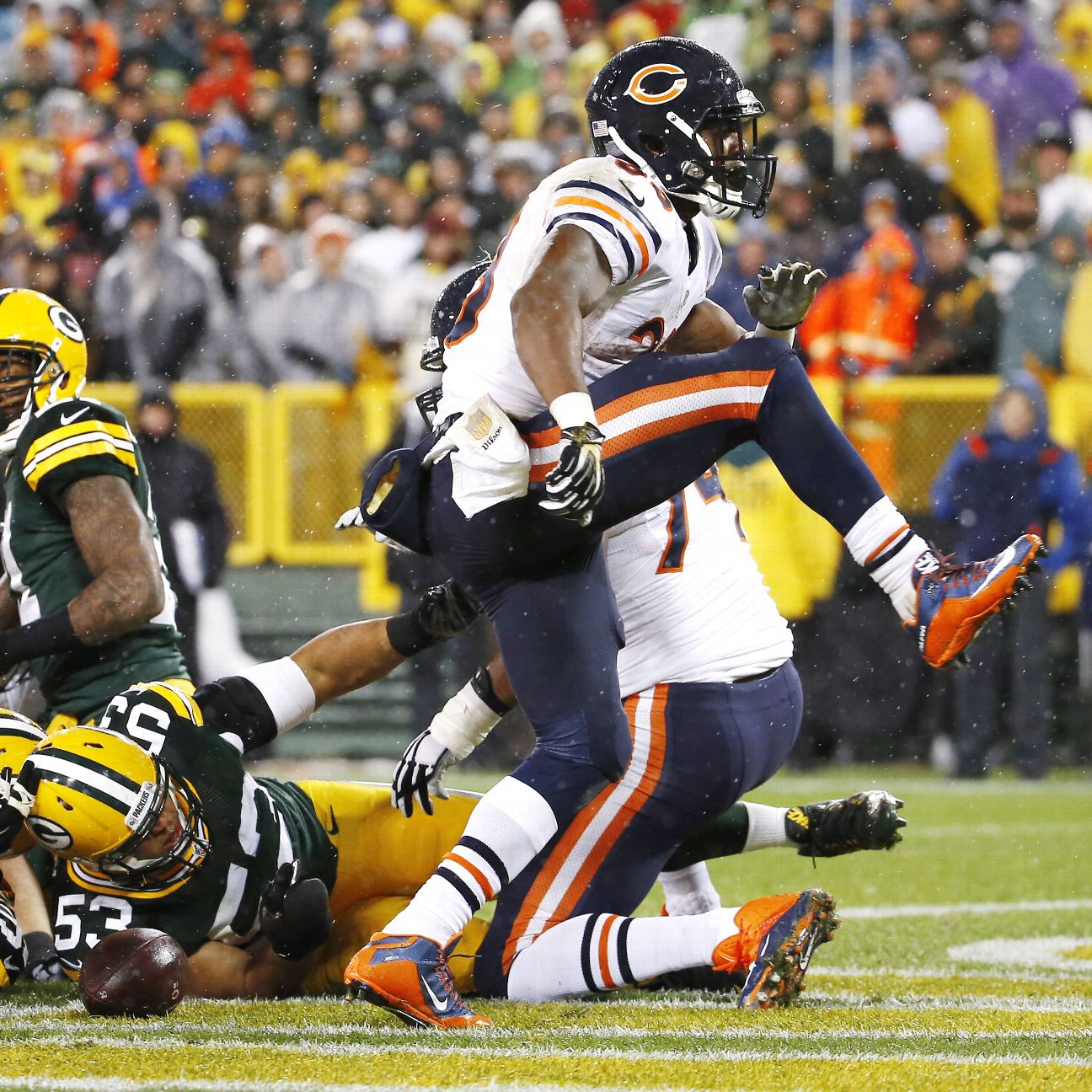 ESPN.com
Updated 13 hours ago
Matt Forte, Jeremy Langford split time in Bears' backfield
Share
Tweet
Jim Caldwell: Lions are thinking about next week, not the playoffs

profootballtalk.com

1 hour ago

A few weeks ago, Lions coach Jim Caldwell was facing questions about whether he'd be fired during the season. Now he's facing questions about whether his team can make the playoffs. Caldwell doesn't want to answer either question. Just as Caldwell didn'…

Share Tweet

profootballtalk.com

8 hours ago

The Falcons did the expected on Friday afternoon and ruled running back Devonta Freeman out for Sunday's game against the Vikings. Freeman has been out of practice all week with a concussion, making it no surprise that Tevin Coleman will get the start a…

Share Tweet

ESPN.com

9 hours ago

Packers coach Mike McCarthy: 'Just win the route or win the play called'

Share Tweet

Alshon Jeffrey creates a new Thanksgiving tradition, hopefully

profootballtalk.com

11 hours ago

The fourth Thursday in November carries with it plenty of traditions. This year, Bears receiver Alshon Jeffery perhaps started a new one. Early in the second half of Chicago's win at Lambeau Field, Jeffery lined up offside. Grossly offside. So far offsi…

Share Tweet

profootballtalk.com ESPN.com nytimes.com

13 hours ago

To say Packers quarterback Aaron Rodgers hasn't looked like his old self recently would be accurate, but with one major caveat: The decline in Rodgers's production has come mostly on passes to wide receiver Davante Adams. Over the last three weeks, when…

Share Tweet

profootballtalk.com ESPN.com nytimes.com

13 hours ago

Bart Starr, Brett Favre and Aaron Rodgers were all at Lambeau Field on Thursday night, but the only quarterback who got to celebrate a win at the end of the game was Jay Cutler. The Bears quarterback had come up empty in four previous starts at Lambeau …

Share Tweet

Matt Stafford can't get enough of Jim Bob Cooter's offense

profootballtalk.com

13 hours ago

Matt Stafford did more than throw five touchdown passes Thursday. He also appeared to be having fun, which was in short supply as the Lions endured a 1-7 start and the firing of offensive coordinator Joe Lombardi (among others). But now, having won thre…

Share Tweet

Video surfaces of jubilant Bears' locker room after win in Green Bay

ESPN.com

14 hours ago

Video surfaces of jubilant Bears' locker room after win in Green Bay

Share Tweet

profootballtalk.com

15 hours ago

Eagles coach Chip Kelly knows he's not getting the job done. A disappointed Kelly said after the Eagles' loss to the Lions on Thanksgiving that he recognizes he isn't coaching well. "Didn't coach well today. Didn't do anything well today. Very disappoin…

Share Tweet

ESPN.com

17 hours ago

Packers 'not going to go anywhere' unless offensive problems get solved

Share Tweet

ESPN.com

17 hours ago

Jim Bob Cooter's offensive influence has been massive for Matthew Stafford

Share Tweet

nytimes.com

19 hours ago

After nearly a decade as Thanksgiving pushovers, the Detroit Lions have started playing their best in their holiday showcase.

Share Tweet

yahoo.com

21 hours ago

On this most holiest of football nights, the gods of football looked down upon Lambeau Field and decreed, LET THERE BE MUD. The Green Bay Packers welcomed in the Chicago Bears for the latest in their long-running rivalry, but the game, which the Bears w…

Share Tweet

Caldwell on Lions' improved O-line

Nov 27

Lions coach Jim Caldwell explains why the offensive line has improved and how that has helped the run game and Matthew Stafford's play.

Timing issues plaguing Packers

Nov 27

Mark Brunell discusses the issues with Green Bay's passing attack and why Aaron Rodgers needs to set expectations for his receivers and get on the same page with WR Davante Adams.

Skip relishes Rodgers losing to Bears

Nov 27

First Take's Skip Bayless explains how Packers QB Aaron Rodgers looked bad against the Bears, which contributed to their loss on Thanksgiving night. Stephen A. Smith, however, explains it was the rest of the offense that didn't show up.

Virk: Good to see Favre back in Green Bay

Nov 27

ESPN's Adnan Virk, Mike Golic Jr. and Max Bretos share their thoughts on the Packers tribute to their former QB Brett Favre, and the moment he shared on the field with legend Bart Starr.