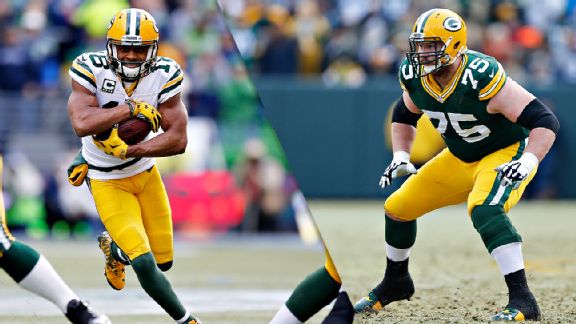 NFC North roundtable: Top free-agent move
ESPN.com
Updated 11 hours ago
Ndamukong Suh is gone. Randall Cobb is back. Those were the headline grabbers early in free agency as far as the NFC North is concerned. Now that the buzz over the initial wave of free agency has died down, it's a good time to assess where things stand …
Share
Tweet
Detroit Lions linebacker DeAndre Levy posted pictures of his wing walking in Washington earlier this month -- but the team seems to have no problem with Levy's dangerous offseason activities.

Share Tweet

Cardinals sign Chandler Harnish

profootballtalk.com

5 hours ago

The Arizona Cardinals have added an extra arm to their roster with Carson Palmer still recovering from an ACL tear. The Cardinals signed former Minnesota Vikings and Indianapolis Colts quarterback Chandler Harnish to a one-year deal on Tuesday. Harnish …

Share Tweet

Packers' unsigned free-agent list down to 4

ESPN.com

6 hours ago

GREEN BAY, Wis. -- The Green Bay Packers' heavy lifting in free agency is over. Now that defensive tackles Letroy Guion and B.J. Raji have officially re-signed, moves that were agreed to on Monday and announced by the team on Tuesday, the Packers have o…

Share Tweet

profootballtalk.com

6 hours ago

The Bears secured a contender for a reserve role in their backfield Tuesday, signing tailback Jacquizz Rodgers, the club said. Rodgers, 25, has played the last four seasons with Atlanta, rushing 305 times for 1,116 yards and five touchdowns and catching…

Share Tweet

Lions talk up Theo Riddick as replacement for Reggie Bush

profootballtalk.com

10 hours ago

With Reggie Bush now in San Francisco, the Lions are seeking a complement to starting running back Joique Bell. It might just be a running back who's already on the roster. Theo Riddick, who has played for the Lions the last two years, seems to be in li…

Share Tweet

Golden Tate: Losing Suh doesn't add to pressure on the offense

profootballtalk.com

13 hours ago

The Lions Offense struggled at times in 2014, but the team was able to advance to the postseason thanks to one of the best defenses in the league. That unit won't have Ndamukong Suh back in the middle of the defensive line in 2015, something that wide r…

Share Tweet

yahoo.com profootballtalk.com

14 hours ago

A loyal Twitter follower asked me a few days prior to free agency a question about his beloved Green Bay Packers, something along the lines of: "Are my Packers finally going to do something in free agency?" (I for some reason can't find the original twe…

Share Tweet

Dorial Green-Beckham, Marcus Peters to visit Vikings

profootballtalk.com

20 hours ago

The Minnesota Vikings are set to take a closer look at a pair of draft prospects with a record of troubling off-field issues. According to Darren Wolfson of KSTP-TV, Missouri/Oklahoma receiver Dorial Green-Beckham and Washington cornerback Marcus Peters…

Share Tweet

ESPN.com profootballtalk.com

Mar 30 (yesterday)

GREEN BAY, Wis. – Scratch defensive line off the list of immediate needs for the Green Bay Packers. General manager Ted Thompson should be able to do that now defensive tackles Letroy Guion and B.J. Raji are coming back to the Packers on one-year deals …

Share Tweet

ESPN.com

Mar 30 (yesterday)

The Detroit Lions, in part due to minimal movement during free agency, still have big holes to fill on their offensive and defensive lines. While other mock drafts -- as covered here -- have focused on the offensive line at No. 23 for the Lions, colleag…

Share Tweet

Bears learned from Brian Urlacher's departure

ESPN.com

Mar 30 (yesterday)

It's obvious the Chicago Bears learned from their brief rift with former linebacker Brian Urlacher and plan to try to avoid a similar situation in dealing with aging free agents Lance Briggs and Charles Tillman. Urlacher became a free agent in March 201…

Share Tweet

Wrestlemania in Santa Clara serves as dry run for Super Bowl

profootballtalk.com

Mar 30 (yesterday)

So which event generated the highest attendance numbers in the first year of the new 49ers stadium? The regular-season opener in prime time against the Bears? The Thanksgiving night game against the Seahawks? Actually, the high-water mark came Sunday ni…

Share Tweet

Fox on Cutler: Unless something good happens, it's hard to have confidence

profootballtalk.com

Mar 30 (yesterday)

Bears coach John Fox said last week that Jay Cutler would be in an open competition for the starting quarterback job in 2015, something that could result in Cutler making $15 million to hold a clipboard while Jimmy Clausen or David Fales leads the Bears…

Share Tweet

Packers to remain "smart" about how they use Eddie Lacy

profootballtalk.com

Mar 29 (2 days ago)

The Packers wanted Eddie Lacy to show he could be an effective three-down running back in 2014 and Lacy was successful in that effort. Lacy averaged over 10 yards a catch on 42 receptions and did a solid job as a pass blocker in his second NFL season, l…

Share Tweet

Jared Allen wants to prove he belongs: "I'm good still. Really"

profootballtalk.com

Mar 28 (3 days ago)

The Bears are still figuring out how best to use Jared Allen, since they're kind of contractually stuck with him. But after a disappointing first year in Chicago, Allen vows to show everyone this year that he still has plenty left in the tank, and he st…

Share Tweet

profootballtalk.com

Mar 28 (3 days ago)

With a big hole to fill at inside linebacker, the 49ers identified Mason Foster and Lance Briggs as two potential targets in free agency this week. Foster signed with the Bears instead, but Briggs is heading to San Francisco for a visit. Briggs told Vau…

Share Tweet

Packers may use pistol formation on a regular basis

profootballtalk.com

Mar 28 (4 days ago)

Last year, a late-season calf injury to Packers quarterback Aaron Rodgers forced coach Mike McCarthy to rely at times on the pistol formation, given the limitations on Rodgers' mobility. McCarthy plans to use it more in 2015. "I like the pistol," McCart…

Share Tweet

profootballtalk.com ESPN.com

Mar 28 (4 days ago)

We noted early this month that the Vikings wanted to keep Chad Greenway, but didn't want to pay him the $7 million he was owed on his contract. Problem solved. Greenway has taken a pay cut that will give Minnesota more than $3.2 million in salary cap re…

Share Tweet

Cowboys interested in Peterson

Mar 31

ESPN NFL reporter Ed Werder discusses the future of Minnesota Vikings running back Adrian Peterson.

Leading The Pack?

Mar 27

Skip Bayless and Stephen A. Smith react to ESPN Insider Mike Sando's grade for Green Bay's free-agency signings this season.

Zimmer Expects Peterson To Stay With Vikings

Mar 25

Sal Paolantonio and Kevin Sefeirt discuss the latest on Adrian Peterson and some of the new rule changes in the NFL.

What Is Peterson's Future With Vikings?

Mar 25

Ed Werder and Bill Polian discuss the future of Adrian Peterson with the Vikings.