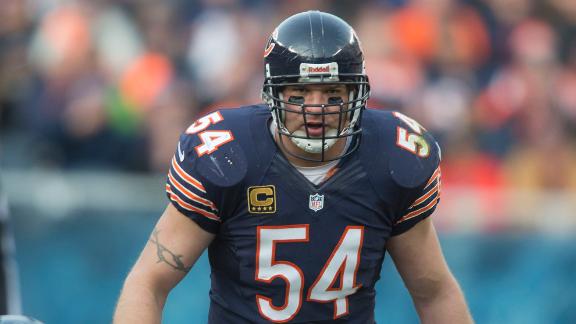 ESPN.com
CNNSI.com
yahoo.com
profootballtalk.com
Updated Dec 4, 2012
Brian Urlacher acknowledged he could miss the rest of the regular season because of a hamstring injury, meaning the linebacker might have played his last game with the Chicago Bears.
Share
Tweet
With running back Cedric Benson already lost for the season, the Green Bay Packers may be taking another hit to their backfield depth. According to Jason Wilde of ESPNMilwaukee.com, James Starks suffered a knee injury in the Packers win over the Minneso…

Share Tweet

Lions coach Jim Schwartz told us Monday that wide receiver Titus Young wouldn't be playing for the Lions again this season. They made that official on Tuesday, but not in the manner you might assume. Young has been placed on injured reserve, according t

Share Tweet

We've known that Vikings wide receiver Percy Harvin has been battling a sprained ankle for a while, but a report on Tuesday indicates it is a bit more serious than originally reported. Tom Pelissero of 1500ESPN.com reports that Harvin suffered a complet

Share Tweet

It is confirmed, per Richard Deitsch. ESPN's newest star, the lady who worked her way from being a ESPN Zone hostess to college football sideline reporter, is getting hitched to the Vikings' second-year quarterback. Will Ponder's quarterbacking over the…

Share Tweet

ESPN.com profootballtalk.com

Dec 4, 2012

A Mobile municipal judge has dismissed a misdemeanor marijuana charge against Detroit Lions defensive tackle Nick Fairley.

Share Tweet

Lions call up Kris Durham from practice squad

When he announced that wide receiver Ryan Broyles would miss the rest of the season with a torn ACL and that wide receiver Titus Young was no longer "in the mix" for playing time, Lions coach Jim Schwartz said that the team would have to make a roster

Share Tweet

How My Career Ended: I Threw The Most Famous Block In NFL History But Couldn't Open A Hole In My Contract

Tell Me When It's Over is an interview series in which we ask former athletes about the moment they knew their playing days were over (among other things). Today: five-time All-Pro guard Jerry Kramer, the man who delivered the key block in one of the NF…

Share Tweet

CNNSI.com

Dec 4, 2012

Every loss matters at this point, even for those safely in the playoff field. For two teams, Week 13 defeats could prove especially costly as the postseason nears, Don Banks writes.

Share Tweet

Kicking off the NFC playoff standings*

You knew it was going to come to this, didn't you? You knew the minute Golden Tate shoved Sam Shields out of the way. You knew as soon as the ball settled into M.D. Jennings' hands, only to disappear in a web of arms. You knew the minute that one replac…

Share Tweet

profootballtalk.com ESPN.com

Dec 4, 2012

Lions defensive tackle Ndamukong Suh will not be fined for a hit on Colts offensive lineman Winston Justice that caused a concussion on Sunday. The NFL has reviewed the play and determined that Suh delivered a legal block to Justice after a Detroit inte…

Share Tweet

You've heard the chatter by the sports pundits and on the talk shows. Heck, you might even have heard it here. So, are the knee-jerk reactions about your team based in reality? Our NFL bloggers weigh in.

Share Tweet

The fog has lifted, and that means I'll be at SportsNation at precisely 2 p.m. ET to conduct the best 30-minute NFC North chat you've ever experienced on Dec 4. There are any number of relevant topics to discuss. Just don't ask me who is going to win th…

Share Tweet

They Caught The Vikings Fan Who Wore A Purple Sombrero And Knocked Out A 50-Year-Old Man Outside Lambeau

This is Mark Swanson, from Lakeland, Minn. He was involved in the big brawl outside Lambeau Field after the Packers beat the Vikings, but if you were there you probably don't recognize him from his mug shot. That's because, according to police, he was w…

Share Tweet

Playoff standings: Vikings drop to No. 10

As we noted Monday night on Twitter, the Washington Redskins' victory over the New York Giants wasn't a great thing if you're hanging on to the Minnesota Vikings' fleeting playoff hopes. As ESPN.com's playoff standings indicate, the result buried the Vi…

Share Tweet

Lions think Calvin Johnson could top 2,000 receiving yards

Lions receiver Calvin Johnson has 1,428 receiving yards this season, putting him on pace to break Jerry Rice's single-season record of 1,848 yards, set in 1995. But the Lions are eyeing an even bigger number. Detroit offensive coordinator Scott Linehan

Share Tweet

BBAO: Let's catch up, shall we?

We're Black and Blue All Over: So, yeah. Monday. That was interesting. A bizarre descent of December fog basically shut down my favorite NFC North airport in Appleton, Wis., so at about 11:45 a.m. local time I realized that if I was going to get back to…

Share Tweet

Charles Woodson nearing return for Packers

Green Bay Packers defensive back Charles Woodson has missed the last five games due to a broken collarbone suffered against the St. Louis Rams in October. Now Woodson is closing in on his return to the field. According to Tyler Dunne of the Milwaukee Jo…

Share Tweet

NFL32OT: The Race Begins

Dec 4

Episode 230: The NFL32 crew discuss whether the Giants can hold on and win the NFC East. Tim Hasselbeck breaks down who will win in the NFC North. The NFL32 crew discuss the best team in the AFC.

Bears face 'must win' Sunday in Minnesota

Dec 4

The ESPN Chicago crew looks back at what went wrong for the Bears against the Seattle Seahawks and discusses the importance of Sunday's game in Minnesota.

Report: Brian Urlacher Out Three Weeks

Dec 4

Jeff Dickerson with the latest on Brian Urlacher's injury.

NFL Live OT: Bears Lose Urlacher

Dec 4

Tim Hasselbeck and Damien Woody discuss the report that Brian Urlacher could miss the rest of the regular season.