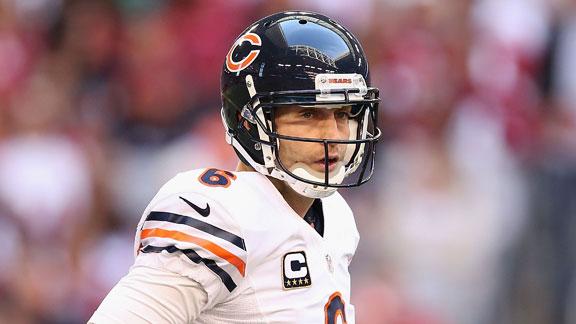 ESPN.com
profootballtalk.com
Updated Jan 2, 2013
The Chicago Bears will interview New Orleans Saints offensive coordinator Pete Carmichael Jr. for their vacant coaching position, according to multiple reports.
Share
Tweet
Lions general manager Martin Mayhew told reporters Wednesday he has no reason to believe he and coach Jim Schwartz aren't safe, and that they have plenty of work to do. Mayhew said he talked with owner William Clay Ford and his son, team vice chariman B

Share Tweet

profootballtalk.com ESPN.com

Jan 2, 2013

The Vikings released their first injury report for the week on Wednesday and starting quarterback Christian Ponder popped up as limited with an elbow injury. Ponder bruised his right elbow when he was hit by Packers safety Morgan Burnett during last Sun…

Share Tweet

deadspin.com ESPN.com profootballtalk.com

Jan 2, 2013

Adrian Peterson is, last we checked, the best thing going in football. No one can tackle him or outrun him or chase him down. Alas, Adrian Peterson plays on a team full of men who are not the best things going in football. Christian Ponder averages only…

Share Tweet

PFT on NBC Sports Network catches up with James Jones

Packers wide receiver James Jones had a very productive 2012 season, scoring 14 touchdowns for the NFC North champs. Jones will stop by Pro Football Talk on NBC Sports Network on Wednesday afternoon to talk about his regular season as well as a look-ahe…

Share Tweet

Got My Mojo Working: No one is hotter than the Seahawks heading into t…

CNNSI.com

Jan 2, 2013

No one is hotter than the Seahawks heading into the playoffs. Where does everyone else stand? Kerry J. Byrne breaks down each team's momentum before the postseason begins.

Share Tweet

Vikings-Packers III: Injury report

There are only a handful of true injury questions as we approach Saturday night's wild-card playoff at Lambeau Field. Let's take a quick look at the first official injury report of the week: Green Bay Packers: Receiver Jordy Nelson (knee) participated i…

Share Tweet

Inside Slant: Still talking Bears QB strength!

Many of you lit me up for Monday's suggestion that the presence of quarterback Jay Cutler will make the Chicago Bears an attractive franchise for head-coaching candidates. You pointed out Cutler's flaws, many of which are accurate, but in my mind you ig…

Share Tweet

Finley, Nelson return to practice for Packers

The Packers got two of quarterback Aaron Rodgers' targets back at practice on Wednesday as wide receiver Jordy Nelson and tight end Jermichael Finley each returned to the field after skipping Tuesday's session. Both players are listed as limited parti

Share Tweet

ESPN.com profootballtalk.com

Jan 2, 2013

We can now update our earlier post on the Chicago Bears' request to interview Green Bay Packers offensive coordinator Tom Clements for their head coaching position. Clements confirmed to a pair of reporters in Green By that the Packers have granted him …

Share Tweet

NFC North 2012 Quarterback Report

The final numbers for NFC North quarterbacks are in. And after a long offseason of debating whether we had two or three top-10 quarterbacks, only one had that type of season based on traditional statistics or advanced metrics. The rest were objectively …

Share Tweet

ESPN.com profootballtalk.com

Jan 2, 2013

In the hours after the Chicago Bears fired coach Lovie Smith, it was fair to expect anger and even empty threats from a group of players who had grown close to him over the years. Middle linebacker Brian Urlacher, for one, freely acknowledged that &quot…

Share Tweet

The Vikings will be playing outdoors on Saturday night when they face the Packers at Lambeau Field. Since it is January, it's a fair bet that there will be a significant chill to the air. Minnesota's got plenty of its own chill this time of year, but

Share Tweet

We're Black and Blue All Over: Although the Minnesota Vikings' and Green Bay Packers' weekly routines have moved up one day because of a Saturday night kickoff, their formal injury reports remain on the usual NFL schedule. As a result, Packers coach Mik…

Share Tweet

NFL32OT: Will Cowboys Make Big Changes?

Jan 2

Episode 241: Suzy Kolber and Chris Mortensen discuss the adjustments the Cowboys could make in the offseason. Steve Young breaks down what went wrong with Jets and Tim Tebow. The NFL32 crew discuss the Vikings-Packers matchup.

'Sound FX': Minnesota Vikings RB Adrian Peterson

Jan 2

Get an exclusive look and listen to the Week 17 matchup between the Minnesota Vikings and Green Bay Packers, as Vikings running back Adrian Peterson reached the 2,000 yard mark.

Minnesota Vikings linebacker Chad Greenway on Baltimore Ravens linebacker Ray Lewis: 'He's unbelievable'

Jan 2

Minnesota Vikings linebacker Chad Greenway joins "Around The League" and weighs in on Baltimore Ravens linebacker Ray Lewis announcing his retirement and the Vikings' playoff matchup with the Green Bay Packers.

Green Bay Packers' Greg Jennings: 'We have to bring our A game'

Jan 2

Green Bay Packers wide receiver Greg Jennings joins "Around the League" to discuss Ray Lewis' decision to retire after the season and the upcoming wild-card rematch with the Minnesota Vikings.