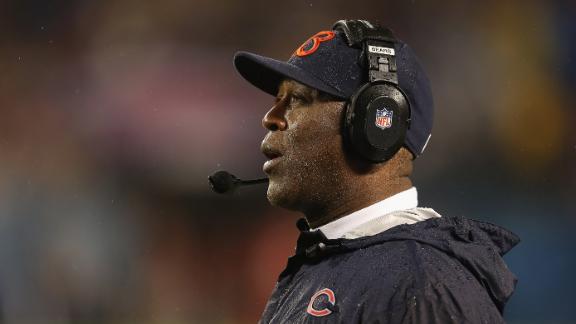 Updated Jan 3
Share
Tweet
Seven coaching vacancies currently exist.  (That number could soon be six.)  The guy whose termination created one of them - former Bears coach Lovie Smith - reportedly has drawn interest for only two of them. The demand should be higher. Smith led
Sources:
profootballtalk.com
ESPN.com
Updated Jan 3

Share Tweet

He has been a loyal and long-term employee of the Packers.  And he soon could be getting his shot. Packers director of operations John Dorsey is in demand, in at least two locations.  Per a league source, the G.M. position in Kansas City will be his if

Updated Jan 3

Share Tweet

INDIANAPOLIS (AP) -- The Indianapolis Colts want offensive coordinator Bruce Arians to stick around a little longer.

Sources:

CNNSI.com profootballtalk.com

Updated Jan 3

Share Tweet

The Raiders and Lions pick third, and fifth, respectively in this year's draft. But they'll get the first up-close look at some of the top prospects at the Senior Bowl. While the "honor" of coaching in Mobile, Ala., usually falls to the teams at t

Jordy Nelson has no doubts he'll play on Saturday

Updated Jan 3

Share Tweet

Packers coach Mike McCarthy said Wednesday that the team's medical staff still had some doubts that wide receiver Jordy Nelson's knee would be well enough to allow him to play on Saturday night against the Vikings. Nelson progressed to a full practice

Bears' list so far: No defensive backgrounds

Updated Jan 3

Share Tweet

The Chicago Bears have sought permission to interview seven known candidates this week for their vacant head-coaching position, according to reports. Five are offensive coordinators, two are special-teams coordinators and not one has a primary backgroun…

Your Coach Sucks At Managing The Clock. Does It Really Matter?

Updated Jan 3

Share Tweet

Drew Magary's Thursday Afternoon NFL Dick Joke Jamboroo runs every Thursday during the NFL season. More »

Source:

deadspin.com

Updated Jan 3

Share Tweet

While the Vikings are freezing themselves in preparations for Saturday night's playoff game at Green Bay, one of their biggest names is in sunny Florida. But Vikings coach Leslie Frazier said he had no objections to injured wide receiver Percy Harvin do

Updated Jan 3

Share Tweet

The Minnesota Vikings and Green Bay Packers have essentially wrapped up their practice weeks in advance of Saturday night's wild-card playoff at Lambeau Field. There is a relatively short list of significant injuries in play this week, and by far the mo…

Updated Jan 3

Share Tweet

After Vikings running back Adrian Peterson came up nine yards short in his effort to set the single-season rushing record, he had a message for the current holder of the record, Eric Dickerson. "I'm coming for you," Peterson said to Dickerson, via P

Sources:

profootballtalk.com ESPN.com

Presuming a defensive overhaul for Lions

Updated Jan 3

Share Tweet

We noted earlier that Detroit Lions general manager Martin Mayhew admitted he was wrong to count on tailback Jahvid Best to play this season. But that was just one of several acknowledgments and candid comments Mayhew made during an interview session wi…

Blair Walsh wins NFC special teams player of month

Updated Jan 3

Share Tweet

Vikings kicker Blair Walsh keeps not missing, so he keeps winning awards. The rookie was named NFC special teams player of the month for December. He was actually 11-of-12 on field goals for the month, but hit all five attempts from 50 yards or longer. …

Something's Gotta Give

Updated Jan 3

Share Tweet

Rookie QBs reviving non-playoff teams aren't the only thing the Redskins and Seahawks have in common, but who continues deeper into January? Peter King has the answer.

Source:

CNNSI.com

Packers-Vikings III: Limiting alcohol (?!)

Updated Jan 3

Share Tweet

Because I'm sure all of you make a daily habit of watching "Wonder Pets," as I do, I'm going to acknowledge I just said out loud: "This … is … serious." Is there any other way to react to the news that the Green Bay Packers have moved up last call at

Updated Jan 3

Share Tweet

On the second play of the third quarter last Sunday at the Metrodome, the Green Bay Packers completed a 30-yard pass play between quarterback Aaron Rodgers and receiver Greg Jennings. On the fourth play, Jennings ripped off a 45-yard reception and the P…

Updated Jan 3

Share Tweet

Eli Manning and Michael Vick have done a lot to puncture the notion that Lambeau Field gives the Packers a home-field advantage that's impossible to overcome in recent years and now a member of the Packers is saying that he'd just as soon play on the

Updated Jan 3

Share Tweet

We're Black and Blue All Over: You can go ahead and put running back near the top of the Detroit Lions' offseason shopping list. Again. Lions general manager Martin Mayhew gave a candid interview Wednesday night to local reporters, admitting that "…

NFL32OT: A Tough Task Ahead

Jan 3

Episode 242: Chris Mortensen discusses which rookie quarterback will have a tougher task this postseason. Merril Hoge makes his pick for MVP. The NFL32 crew discuss Adrian Peterson's desire to play on special teams.

How they got here: Green Bay Packers

Jan 3

The Green Bay Packers are heading into the 2012 playoffs with momentum and energy. Relive the memorable moments they experienced on their road to the postseason.

Cold Hard Facts

Jan 3

Mark Schlereth shares which teams he believes are poised to win on Wild-Card Weekend.

2012: Best of Aaron Rodgers

Jan 3

Reigning MVP Aaron Rodgers solidified his place among the league's elite by passing for 4,295 yards and 39 touchdowns as the Green Bay Packers were crowned NFC North champions for the second consecutive year.