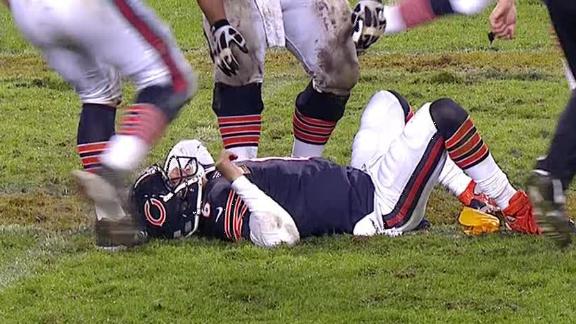 ESPN.com
deadspin.com
profootballtalk.com
Updated Nov 11, 2012
Arian Foster finished with 102 yards rushing and a touchdown catch, and the Texans intercepted Jay Cutler twice before knocking him out of the game with a concussion on their way to a 13-6 victory over the Bears on Sunday night.
Share
Tweet
CNNSI.com ESPN.com profootballtalk.com

Nov 11, 2012

Arian Foster caught a touchdown pass and the Texans won a 13-6 defensive struggle in heavy rain and wind vs. the Bears, who lost quarterback Jay Cutler at halftime to a concussion.

Share Tweet

profootballtalk.com

Nov 11, 2012

It took them a moment, but the Texans figured out that when the conditions are bad, and it's hard to throw the ball, maybe you should do something different. Brilliant, I know. With Arian Foster carrying the load, the Texans have plodded out to a 10-3 l

Share Tweet

CNNSI.com

Nov 11, 2012

The Giants know how to get themselves out of their November slumps, and they'll have to do it again this year, says Don Banks, who goes around the league in his Snap Judgments.

Share Tweet

profootballtalk.com yahoo.com

Nov 11, 2012

The Texans will head into their matchup with the 7-1 Bears on Sunday night without one of Matt Schaub's favorite targets. Tight end Owen Daniels will not play as a result of the hip injury that bothered him all week. Daniels missed practice on Wednesday

Share Tweet

Lions-Vikings: Full of surprises

MINNEAPOLIS -- When you spend enough time around the NFL, you realize there is an inverse proportion between what you think you know and what you actually know. I'd like a show of hands from those people who genuinely were convinced, without emotion or …

Share Tweet

After opening up the season with a 4-1 record, the Minnesota Vikings had lost three of their last four games entering Sunday's game against the NFC North rival Detroit Lions. Playing without an injured Percy Harvin, the team's most versatile offensive w…

Share Tweet

Bill Belichick Cares Not For Your Lousy Officiating: Your Sunday NFL GIF Roundup

deadspin.com

Nov 11, 2012

We'll be putting all our GIFs for the day here, from Bill Belichick emphatically challenging the officials to A.J. Green exploiting New York's defensive holes. We'll update the post as the later games conclude, so stay tuned. More »

Share Tweet

Lions: 'It's gut-check time here'

MINNEAPOLIS -- Jim Schwartz straddled the line between reality and expectations Sunday afternoon. Based on his clipped answers to most questions, it was clear the Detroit Lions' coach was pretty ticked after watching his team trail throughout a 34-24 lo…

Share Tweet

Join our ESPN.com NFL experts for the game of the week as the Houston Texans take on the Chicago Bears. Contribute your thoughts and questions beginning at 8:30 p.m. ET. See you there. Countdown Live: Texans-Bears

Share Tweet

Adrian Peterson raced 61 yards for the game-sealing touchdown midway through the fourth quarter, padding his NFL rushing lead with 171 yards on 27 carries for the Minnesota Vikings in a 34-24 victory over the Detroit Lions on Sunday.

Share Tweet

profootballtalk.com ESPN.com

Nov 11, 2012

We can pretty much forget about Detroit making a return to the playoffs, as the Vikings outplayed the Lions for four quarters on Sunday and put together an impressive 34-24 win. The Lions got off to one of their usual slow starts, and this time they wer…

Share Tweet

Detroit Lions defensive end Cliff Avril left the game against Minnesota in the third quarter with a head injury.

Share Tweet

MINNEAPOLIS -- A few thoughts on Sunday's events at the Metrodome: What it means: The Minnesota Vikings snapped a two-game losing streak with an improbably productive offensive effort while leading receiver Percy Harvin was sidelined. The Vikings are 6-…

Share Tweet

ESPN.com profootballtalk.com

Nov 11, 2012

MINNEAPOLIS -- As we discussed Friday, I'll be working Sunday from the Metrodome, where the Detroit Lions and Minnesota Vikings will kick off at 1 p.m. ET. That means I won't be at Soldier Field for the Chicago Bears' showdown with the Houston Texans, a…

Share Tweet

GameDay: Texans vs. Bears highlights

Nov 11

The Houston Texans defense forces four turnovers, while RB Arian Foster rushes for over 100 yards and catches a touchdown pass in a 13-6 victory over the Chicago Bears.

Houston Texans, Chicago Bears combine for six first half turnovers

Nov 11

Six first half turnovers sets the tone for a sloppy Sunday night game in Chicago as the Houston Texans outlast the Chicago Bears, 13-6 to move to 8-1.

Chicago Bears wide receiver Brandon Marshall 45-yard catch

Nov 11

Chicago Bears wide receiver Brandon Marshall hauls in a 45-yard pass from backup quarterback Jason Campbell in the third quarter.

Chicago Bears quarterback Jay Cutler injured on illegal hit

Nov 11

Chicago Bears quarterback Jay Cutler suffers a concussion in the first half against the Houston Texans after being hit by linebacker Tim Dobbins.