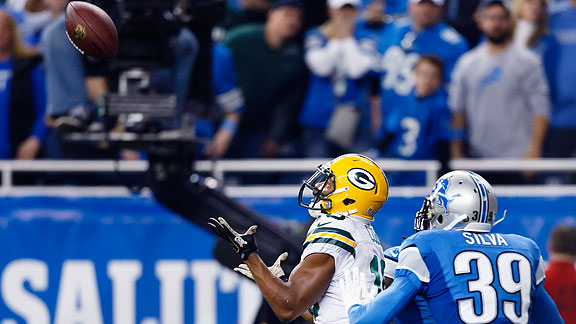 ESPN.com
Updated Nov 18, 2012
DETROIT -- Remember what Aaron Rodgers told us this summer? As he sat in the locker room after a late-July practice, Rodgers said the Green Bay Packers would be a better team in 2012 than they were in 2011 -- when they finished the regular season 15-1. …
Share
Tweet
yahoo.com

Nov 18, 2012

With 1:13 left in the fourth quarter of the Detroit Lions' 24-20 loss to the Detroit Lions, frustration finally seemed to boil over for a 4-6 team that expected better things this season. The 2011 Lions finished 10-6, grabbed the franchise's first playo…

Share Tweet

nytimes.com

Nov 18, 2012

A look at Monday night's game between the Bears and the 49ers.

Share Tweet

DETROIT -- The Detroit Lions sure had the look of a disintegrating team Sunday at Ford Field. Understandable but unfortunate frustration emerged in the latter stages of a 24-20 loss to the Green Bay Packers, one that left them with a 4-6 record, includi…

Share Tweet

Cam Newton Gives A Small Child A Football And An Epileptic Fit: Your Sunday NFL GIF Roundup

deadspin.com

Nov 18, 2012

We'll be putting all our GIFs for the day here, from the happiest person you'll ever see on the receiving end of a ball from Cam Newton, to the Cowboys onside kicking in the third quarter, and failing. We'll update the post as the later games conclude, …

Share Tweet

yahoo.com ESPN.com profootballtalk.com

Nov 18, 2012

Mason Crosby has a good NFL track record. The Packers kicker hit at least 75 percent of his field-goal attempts in each of his first five seasons. Last season he hit at an 85.7 percent clip, a career best. There was no reason to believe he'd become one …

Share Tweet

profootballtalk.com ESPN.com

Nov 18, 2012

It wasn't easy for the Packers on Sunday in Detroit. But they'll take it. Green Bay struggled with penalties and missed field goals and trailed most of the game against the Lions, but in the end an Aaron Rodgers hit Randall Cobb on a 22-yard touchdown

Share Tweet

DETROIT -- The Green Bay Packers have intercepted Detroit Lions quarterback Matthew Stafford twice and defensed a half-dozen other passes, depending on how tough of a grader you are. But a risky and ultimately failed attempt at a third interception just…

Share Tweet

DETROIT -- As we await kickoff here at Ford Field, I just want to pass along some great news: Former Chicago Bears coach and current ESPN analyst Mike Ditka has been released from the hospital. Ditka suffered a minor stroke Friday and is not appearing i…

Share Tweet

Packers-Lions: Approaching kickoff

DETROIT -- Greetings from Ford Field, which welcomed me so kindly I felt competed to document it on our new NFC North Instagram account (kevinseifert_espn), also viewable on Twitter. We've got the list of inactive players for Sunday's game between the D…

Share Tweet

Brandon Marshall, sociologist, on his QBs

profootballtalk.com

Nov 18, 2012

It's obvious that Jason Campbell is not the same as Jay Cutler. But Bears wide receiver Brandon Marshall challenged people to look beyond the easy stereotypes when describing them. "Jason's black and Jay's white," Marshall began, via John Mullin

Share Tweet

Sunday Breakdown: Week 11

Nov 18

Jim Basquil and Eric Allen take a look at two key plays from week 11 of the NFL

Finley On Packers' Road Win

Nov 18

Jermichael Finley talks with Bob Holtzman about the Packers' ability to win on the road without key starters.

Sunday Blitz: Packers-Lions Recap

Nov 18

Cary Chow and Cris Carter break down the Packers' 24-20 win over the Lions

Packers postgame press conference

Nov 18

Packers react following game with Lions

Sports Columnists

Don Banks: Luck, Colts get an up-close lesson about what it takes to be el…

Nov 18

FOXBORO, Mass. -- By late Sunday night there was still no word yet on whether Andrew Luck's mother (or perhaps his father in this case) told him there'd be days like this. But no matter. By the time this one was over, it was well understood that a messa…

Don Banks: NFC East again a mess you can't take your eyes off of; more Sna…

Nov 18

FOXBORO, Mass. -- Musings, observations and the occasional insight from a wild, overtime-drenched Week 11 in the NFL...