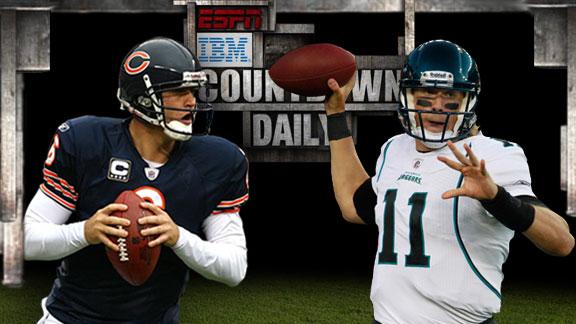 McCarthy says call to ref was 'right thing'

Green Bay Packers coach Mike McCarthy said Friday that he called the replacement referee who made the call on a final play that cost the Packers a game against the Seattle Seahawks to offer his support.

Share Tweet

Simplifying things paying dividends for Vikings D

Sometimes when you have an edge in talent, you just have to let those players play. That's why a pair of Vikings defensive linemen went to coaches, asking them to simplify things after a Week Two loss at Indianapolis. Defensive tackle Kevin Williams and

Share Tweet

Chad Greenway fined $21,000 for hit on Calvin Johnson

Vikings linebacker Chad Greenway delivered a brutal helmet-to-helmet hit to Lions receiver Calvin Johnson on Sunday, and he's paying for it. Greenway has been fined $21,000, the NFL confirmed. After the game Greenway acknowledged that he was in the wron

Share Tweet

Aaron Rodgers: Discount Double Check!

I try to post entertaining marketing initiatives from NFC North players where appropriate, and the run of State Farm advertisements from Green Bay Packers quarterback Aaron Rodgers always fits that mission. Here is his latest from the Discount Double Ch…

Share Tweet

NFC North Friday injury report

Getting inside an uneventful Friday injury report: Chicago Bears: Tight end Evan Rodriguez (knee) has been ruled out for the second consecutive week. Receiver Earl Bennett (hand) is questionable, but all other players will be available for Sunday's game…

Share Tweet

Five nuggets of knowledge about Week 5: Star tailback matchup? There was a time when a game featuring Adrian Peterson and Chris Johnson would have spurred a week's worth of storylines about who deserved the title of the NFL's best running back. At the m…

Share Tweet

Lions special teams coach wants to go back to shadows

Danny Crossman's kids keep looking for him on television. He'd prefer they not see him as much. The Lions special teams coach knows him doing interviews or showing up on the broadcast is bad news, considering the way his group's played. "Love anon

Share Tweet

NFC North Week 5 programming note

We've got three NFC North teams in action Sunday while the Detroit Lions take their bye. The Chicago Bears will visit Jacksonville, where a flotilla of ESPNChicago.com reporters will provide full coverage. The Green Bay Packers, a team we've seen three …

Share Tweet

The Jaguars haven't officially announced wide receiver Laurent Robinson's status for Sunday's game against the Bears, but they sent a pretty good signal that he won't be on the field after suffering his second concussion in as many weeks. The team

Share Tweet

Donald Driver: As long as we're winning, I'm OK with my role

Packers receiver Donald Driver has been progressively getting phased out of the offense over the last few years, and this year he's hardly a part of the offense at all: He has just two catches through four games. But Driver is OK with that. "I'm fin

Share Tweet

EDEN PRAIRIE, Minn. -- There have been at least two occasions this season when I've felt compelled to pause the DVR, grab my NFC North master roster and confirm what position No. 22 plays for the Minnesota Vikings. Rest assured. Harrison Smith is in fac…

Share Tweet

We're Black and Blue All Over: Many of you probably noticed Chicago Bears fans taking over Cowboys Stadium last Monday night, at one point chanting "Let's go Bears" so loud that linebacker Brian Urlacher could be seen saying, "Wow." …

Share Tweet

'Playbook': Chicago Bears vs. Jaguars Jaguars

Oct 5

The "Playbook" crew explains whether the Jacksonville Jaguars will be able to move the football against a tough Chicago Bears defense in Week 5.

'Playbook': Green Bay Packers vs. Indianapolis Colts

Oct 5

How will the Green Bay Packers' pass rushers do against the Indianapolis Colts' offensive line? Watch "Playbook" to find out.