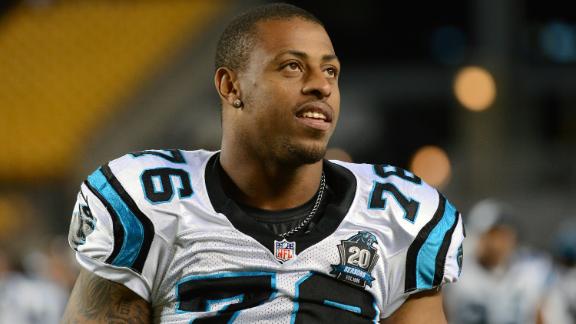 nytimes.com
ESPN.com
Updated 9 hours ago
Panthers defensive end and soon-to-be free agent Greg Hardy will meet with NFL officials in New York on Wednesday to discuss his domestic violence case, a person familiar with the situation said Tuesday.
Upvote
Share
Tweet
Suit opposes moves by Saints, Pelicans owner

ESPN.com

3 hours ago

The asset swap New Orleans Saints and Pelicans owner Tom Benson is attempting to regain control of his business interests from recently estranged heirs is being challenged in a lawsuit in Texas.

Upvote Share Tweet

Reports: Ted Ginn visiting Titans, 49ers

profootballtalk.com

4 hours ago

Free agent receiver Ted Ginn has two more visits lined up. According to Jim Wyatt of the Tennessean, Ginn visited the Tennessee Titans on Tuesday. Ginn will then head west for a meeting with the San Francisco 49ers on Wednesday, per Adam Schefter of ESP…

Upvote Share Tweet

profootballtalk.com

9 hours ago

The Titans are taking a flyer on a pass rush prospect. Tennessee has been awarded ex-Falcons defensive end/outside linebacker Jonathan Massaquoi on waivers, the team said Tuesday. A fourth-year pro from Troy, Massaquoi recorded 70 tackles and six sacks …

Upvote Share Tweet

ESPN.com profootballtalk.com

10 hours ago

CHARLOTTE, N.C. – Carolina Panthers quarterback Cam Newton, who had a close call in December when he was involved in an automobile accident, had another one Saturday night. Newton was on stage in the Charlotte nightclub Label seconds before gun shots we…

Upvote Share Tweet

Tom Johnson looking for 3 or 4 years after 6.5 sacks for Vikings

profootballtalk.com

11 hours ago

In defensive tackle Tom Johnson's first three NFL seasons, he picked up five sacks while playing a rotational role on the Saints defensive line. Johnson signed with the Vikings last offseason and Minnesota was rewarded with a more productive effort in t…

Upvote Share Tweet

nytimes.com ESPN.com profootballtalk.com

11 hours ago

Jameis Winston met with the Tampa Bay Buccaneers, hoping to make a good impression on the team considering taking the Heisman Trophy-winning quarterback with the first pick in the NFL draft.

Upvote Share Tweet

ESPN.com profootballtalk.com

14 hours ago

CHARLOTTE, N.C. -- One of the more interesting stops during the open locker room period for the Carolina Panthers is near the far end, where No. 91 Colin Cole has resided the past two seasons. Cole has a way of putting things into perspective like few o…

Upvote Share Tweet

Report: Falcons sign LB Nate Stupar to one-year deal

profootballtalk.com

16 hours ago

The Falcons have signed one of their core special teams players to a new contact. Atlanta has inked linebacker Nate Stupar to a contract extension, the club said Tuesday. The 26-year-old Stupar played in 15 games for Atlanta a season ago, notching nine …

Upvote Share Tweet

Tight end Niles Paul will be on Falcons' radar

ESPN.com

16 hours ago

Pass-rusher Brian Orakpo isn't the only Washington Redskins player the Atlanta Falcons will look into once the free-agent negotiating period begins Saturday. It's a safe bet the Falcons will express interest in tight end Niles Paul, if Paul is not re-si…

Upvote Share Tweet

Todd McShay talks receiver options for Falcons

ESPN.com

19 hours ago

Last week's release of Harry Douglas left the Atlanta Falcons with a void to fill at receiver, if they weren't planning to fill it already. Douglas' departure, coupled with the aging of Roddy White (33), means the Falcons have to invest in the position …

Upvote Share Tweet

ESPN.com profootballtalk.com

21 hours ago

TAMPA, Fla. -- There were reports Monday that said the Buccaneers were trying to trade left tackle Anthony Collins. I wish them luck on that one. I can't see anybody giving up anything for Collins after he was one of the biggest free-agent flops in the …

Upvote Share Tweet

Jairus Byrd expected to be 100 percent in a few weeks

profootballtalk.com

21 hours ago

It's almost time for free agency to get underway, which means we're closing in on the one-year anniversary of safety Jairus Byrd's arrival in New Orleans. Byrd signed a six-year, $54 million deal with the Saints early in free agency, a move that the tea…

Upvote Share Tweet

The Saints have been in contact with tailback Mark Ingram as free agency nears and would reportedly like to work out a deal. During an interview at the Pelicans-Mavericks game Monday night in Dallas, Saints head coach Sean Payton indicated the club want…

Upvote Share Tweet

Washington, despite having a new G.M., would like to extend its relationship with pass-rusher Brian Orakpo. Unlike last year, however, Scot McCloughan will have competition when it comes to keeping Orakpo around. Per a league source, at least four teams…

Upvote Share Tweet

After one disappointing season in Pittsburgh, Lance Moore is out. Moore, a veteran wide receiver who signed with the Steelers last year, has been released. He caught just 14 passes for 198 yards and two touchdowns last season. The 31-year-old Moore had …

Upvote Share Tweet

Panthers' draft prospect Kevin Johnson: 'I'm the best cornerback'

WINSTON-SALEM, N.C. -- Wake Forest's Kevin Johnson doesn't think he's simply one of the top three to five cornerbacks entered in the NFL draft. "I think I'm the best cornerback," Johnson said on Monday during his pro day at Wake Forest. If the…

Upvote Share Tweet

Any team that wants to use the franchise tag has until Monday afternoon's deadline to do so and we'll take a look at where everything stands during Monday's edition of PFT Live. Chiefs linebacker Justin Houston has received the tag and the Lions won't b…

Upvote Share Tweet

The Atlanta Falcons won't use the franchise tag on any of their players this season, but they could feel the affect of the tag being used around the league. With the obvious need to sign a pass-rusher or two, the Falcons could see some of the top availa…

Upvote Share Tweet

Which way the wind blows for Bucs at No. 1

Our weekly look at clues that might reveal whether the Buccaneers are leaning toward selecting Jameis Winston or Marcus Mariota -- or neither -- with the No. 1 pick in the draft: The rumors started to really fly on Friday. All along, there's been specul…

Upvote Share Tweet

Winston Visiting Buccaneers

Mar 3

Adam Schefter has the latest on QB Jameis Winston, who is in Tampa for an all-day meeting with the Buccaneers.

Josh McCown Signs With Browns

Feb 27

Adam Caplan breaks down the Browns' decision to sign quarterback Josh McCown and what it means for Brian Hoyer and Johnny Manziel.

Falcons Release RB Steven Jackson

Feb 26

ESPN NFC reporter Nick Wagoner breaks down the Falcons' decision to release running back Steven Jackson.

Market For Greg Hardy

Feb 26

Mark Schlereth, Jeff Saturday and Herm Edwards discuss the market for Panthers DE Greg Hardy, who is seeking immediate reinstatement to the NFL.