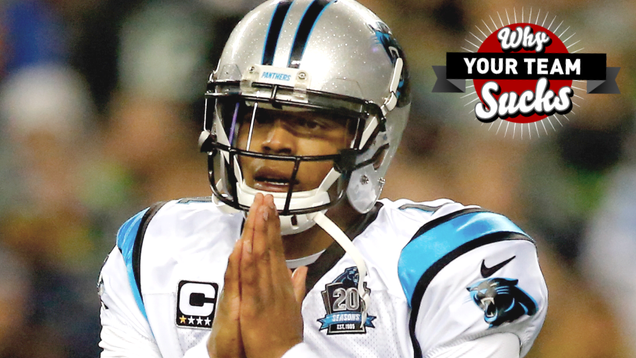 Why Your Team Sucks 2015: Carolina Panthers
deadspin.com
Updated 1 hour ago
Some people are fans of the Carolina Panthers. But many, many more people are NOT fans of the Carolina Panthers. This 2015 Deadspin NFL team preview is for those in the latter group. Read all the previews so far here.Read more...
Share
Tweet
Not much precedent for notable August QB trades

profootballtalk.com

14 minutes ago

With the top two picks in the 2015 NFL Draft, Jameis Winston and Marcus Mariota, immediately installed as starters for their respective teams, it's easy to assume that there's been outside interest in young quarterbacks already on those rosters, Mike Gl…

Share Tweet

Saints spending one-fifth of their cap space on players not on the team

profootballtalk.com

36 minutes ago

Every NFL team has some dead money on its salary cap, money that is allocated to a certain player who's no longer on the team. But no team is allocating cap space like the Saints. In New Orleans, 20 percent of the cap is dead money, according to Spotrac…

Share Tweet

profootballtalk.com

3 hours ago

The Texans will be without their starting left tackle for their third preseason game of the year. Coach Bill O'Brien said Friday that Duane Brown has a hand injury that will keep him out of Sunday's matchup with the Saints. O'Brien said, via Tania Gangu…

Share Tweet

Mike Evans: I could play on hamstring, but no reason to risk it

profootballtalk.com

6 hours ago

The Buccaneers shut wide receiver Mike Evans down for the rest of the preseason this week because of the hamstring injury he suffered in last week's game, but Evans isn't showing much concern that the injury will impact him once the regular season gets …

Share Tweet

Kuechly says Moss is "always talking about" a return to the NFL

profootballtalk.com

8 hours ago

At a time when it's not clear how serious former NFL receiver Randy Moss is about a return to football, Panthers linebacker Luke Kuechly says Randy has developed a habit of talking about a comeback. "He was at Cam [Newton]'s kickball tournament this sum…

Share Tweet

Leslie Frazier is totally cool with his boss taking over his job

profootballtalk.com

9 hours ago

Lovie Smith hasn't said much about his himself, but Buccaneers defensive coordinator Leslie Frazier said he was fine with his head coach taking over defensive play-calling duties. Smith made the change this offseason, cutting the coordinator out of the …

Share Tweet

ESPN.com profootballtalk.com

19 hours ago

Experience, knowledge of scheme give Rex Grossman edge for backup role

Share Tweet

Panthers' preseason star Brandon Wegher still a long shot

ESPN.com

23 hours ago

Panthers' preseason star Brandon Wegher still a long shot

Share Tweet

Rich McKay reinstated as head of NFL competition committee

NFL Commissioner Roger Goodell met with Falcons president Rich McKay on Wednesday and has reinstated McKay as the head of the league's competition committee, effective immediately. McKay was suspended from the competition committee as part of the team's…

Share Tweet

Falcons coach Dan Quinn says rookie Tevin Coleman set for debut

Share Tweet

If you think Panthers' Cam Newton has struggled, check out Tom Brady's stats

Share Tweet

Ron Rivera: We won't use more read-option with Benjamin out

The Panthers lost wide receiver Kelvin Benjamin to a torn ACL, which leaves them with a receiving corps that's short on players they know they can count on beyond tight end Greg Olsen. One way to combat that shortage would be to put the ball in quarterb…

Share Tweet

Arthur Blank to hire a CEO to run businesses, including Falcons

Arthur Blank has always been a hands-on owner, from his days pushing then-quarterback Michael Vick's wheelchair around. But the soon-t0-turn 73-year-old told the Atlanta Journal-Constitution he was ready to take a step back from his day-to-day responsib…

Share Tweet

Russell Shepard making most of opportunity for Bucs

Russell Shepard making most of opportunity for Bucs

Share Tweet

League reminds teams of rule against artificial crowd noise

As the low hum of #DeflateGate continues to permeate the NFL, the league office has issued a reminder to all teams that relates to another of the 2015 offseason controversies: The Falcons' use of artificial crowd noise in 2013 and 2014. The connection b…

Share Tweet

In each of his two career preseason games, Buccaneers quarterback Jameis Winston has scored a touchdown by diving head first into the end zone. He also has resisted sliding when not running for the goal line. The Buccaneers want him to be more careful w…

Share Tweet

Connor Barth's unemployment didn't even last all of Wednesday. The Bucs are bringing back the veteran kicker to compete with Patrick Murray over the next week. Barth kicked for the Bucs from 2009-12, was hurt in 2013 and was cut in the preseason last ye…

Share Tweet

yahoo.com profootballtalk.com

Aug 26 (yesterday)

When the New Orleans Saints cut pass rusher Junior Galette due to off-field issues, the Washington Redskins took the gamble and signed him to get after the quarterback, no matter the bad public relations. Now Washington won't even get that benefit from …

Share Tweet

The right elbow soreness that's been plaguing Browns quarterback Johnny Manziel this summer will likely leave him on the sideline when the team plays the Buccaneers on Saturday. That was the word from coach Mike Pettine on Wednesday afternoon. Manziel h…

Share Tweet

Jonathan Martin hadn't said anything about his departure from the Panthers and the NFL, and little about his days with the Dolphins since he was in the middle of the Richie Incognito bullying scandal. But the former Dolphins and 49ers tackle wrote a hea…

Share Tweet

The Texans won't play linebacker Jadeveon Clowney against the Saints this week as they continue to manage his return from microfracture surgery, but the team has seen enough progress to feel good about his chances of being in the lineup when the regular…

Share Tweet

Bucs running back Doug Martin is asking — and asking nicely — people to forget his "Muscle Hamster" nickname. When someone who works on the official NFL Twitter account attached a Martin highlight from Monday night's preseason game vs. the Bengals and w…

Share Tweet

Panthers' coordinator Mike Shula not worried about slow starts or Cam Newton

ESPN.com

Aug 26 (2 days ago)

Panthers' coordinator Mike Shula not worried about slow starts or Cam Newton

Share Tweet

New Orleans continues to reinvent itself

Aug 28

Wright Thompson joins SportsCenter to discuss his ESPN The Magazine piece on the 10th anniversary of Hurricane Katrina.

Leaving after Katrina was 'blessing' for Cyril Lemon

Aug 27

The life his family built in Texas after evacuating New Orleans allowed Cyril Lemon to return 10 years after Hurricane Katrina, as an undrafted rookie guard for the Saints.

Falcons rookie RB Coleman set to make debut

Aug 27

Falcons coach Dan Quinn says rookie RB Tevin Coleman, who strained his hamstring the first week of camp, should be available to play against the Miami Dolphins Saturday.

Martin's possibilities for 2015

Aug 27

ESPN's John Clayton breaks down Buccaneers RB Doug Martin's chances of succeeding in 2015.