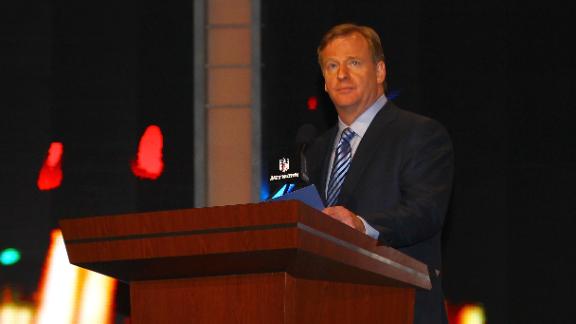 profootballtalk.com
ESPN.com
Updated Dec 13, 2012
On Thursday afternoon, Saints interim head coach Joe Vitt said that the leak of former Saints defensive coordinator Gregg Williams' testimony to the media amounted to a "scud," presumably launched by the league office.  Vitt predicted that another
Share
Tweet
If anyone in Southern California wants to see an underrated matchup between the Panthers and the Chargers on Sunday, which will feature the return of former Chargers defensive coordinator Ron Rivera and the debut of Cam Newton, plenty of good seats rema…

Share Tweet

On Wednesday night, ESPN's Ed Werder reported that Commissioner Roger Goodell said he has been talking to suspended Saints coach Sean Payton about a possible reinstatement before the Super Bowl.  The league now says that no such communications have occ

Share Tweet

Vitt braces for "scuds," presumably from Park Avenue

Saints interim coach Joe Vitt met with the media on Thursday, facing for the first time publicly the allegation that former Saints defensive coordinator Gregg Williams, the architect of the bounty program, wanted to stop using it - but that he didn't

Share Tweet

When Falcons wide receiver Roddy White missed practice on Wednesday with a knee injury, coach Mike Smith indicated that it was minor and that White was expected back at practice on Thursday and expected to play on Sunday. Thursday's practice has come an

Share Tweet

NFC South afternoon update

Lots of odds and ends have been popping up around the division this afternoon. Let's take a quick run through them: ATLANTA FALCONS It's starting to sound as if receiver Roddy White's knee injury might be a little more serious than initially thought.

Share Tweet

Saints face another bumpy offseason

The bounty scandal may be a thing of the past, but that doesn't mean the New Orleans Saints are in for a quiet offseason. Coach Sean Payton has to get reinstated from his season-long suspension and presumably signed to a new contract extension. His prev

Share Tweet

Smith, Hargrove accept Tagliabue's decision, withdraw motion to vacate

For three of the players whose suspension were overturned by former Commissioner Paul Tagliabue, the bounty case is finally over. As to Browns linebacker Scott Fujita, who was fully exonerated by Tagliabue, there's nothing for Fujita to challenge in cou

Share Tweet

Commissioner Roger Goodell said Wednesday that the league would spend the next few months considering playoff expansion. But is the idea even worth exploring? Would further expansion of the playoff field be good for the game or the fans? Our NFL experts…

Share Tweet

  There's a lot of talk out there about who should be the NFL's Offensive Rookie of the Year. Andrew Luck? Robert Griffin III? Russell Wilson? Doug Martin? You could go on for days with that one. But there's another, less-talked-about question out th

Share Tweet

AccuScore: Panthers-Chargers

Prim Siripipat goes inside the numbers for the Panthers-Chargers.

Share Tweet

AccuScore: Buccaneers-Saints

Prim Siripipat goes inside the numbers for the Buccaneers-Saints.

Share Tweet

Around the NFC South

Time for a quick tour of the morning headlines from around the division: ATLANTA FALCONS Running back Michael Turner admitted he's surprised that his role has been reduced so much. I don't know that anyone should be all that shocked about Turner's d

Share Tweet

Prim Siripipat goes inside the numbers for the Giants-Falcons.

Share Tweet

Bucs' Michael Bennett hula dances to campaign for Pro Bowl votes

After sacking Eagles quarterback Nick Foles on Sunday, Buccaneers defensive end Michael Bennett got up and did a hula dance. And in case that was too subtle, Bennett wants to make it perfectly clear: That was his way of hinting that people should vote t…

Share Tweet

NFL Cold Hard Facts

Dec 13

Cold Hard Facts looks at the top games of the week.

Countdown Daily Prediction: Panthers-Chargers

Dec 13

The NFL Live crew makes their picks for Carolina at San Diego

Preview: Carolina Panthers vs. San Diego Chargers

Dec 13

NFL Films previews the Week 15 matchup between the Carolina Panthers and the San Diego Chargers.

Preview: Tampa Bay Buccaneers vs. New Orleans Saints

Dec 13

NFL Films previews the Week 15 matchup between the Tampa Bay Buccaneers and the New Orleans Saints.