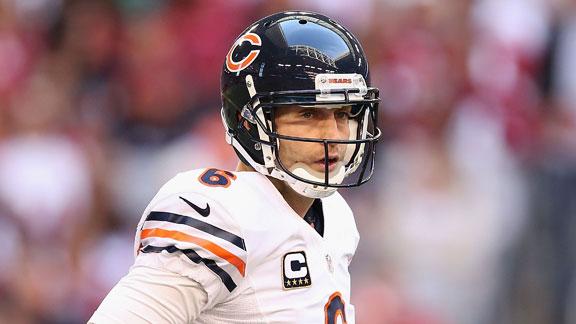 ESPN.com
profootballtalk.com
Updated Jan 2, 2013
The Chicago Bears will interview New Orleans Saints offensive coordinator Pete Carmichael Jr. for their vacant coaching position, according to multiple reports.
Share
Tweet
As of yesterday, Gregg Williams was apparently still the nominal defensive coordinator of the St. Louis Rams. As of today, Gregg Williams is apparently not still the defensive coordinator of the St. Louis Rams. Apparently Williams's Eat, Pray, Kill the …

Share Tweet

New Orleans Saints claim YAC title

The regular season can't be properly wrapped up until we reveal which defense led the league in yards allowed after the catch. Throughout most of the season, this was a close race between the Tampa Bay Buccaneers and the New Orleans Saints. Well, we don

Share Tweet

On Further Review, Roger Goodell Fucked Up This NFL Season From End To End

Cowboys-Redskins was the biggest matchup of the year, a win-or-go-home game for two division rivals. It turned out to be the most-watched regular-season sporting event in 15 years. But one familiar face was missing from the FedEx Field suites: commissio…

Share Tweet

profootballtalk.com

Jan 2, 2013

The two Falcons assistants planning to interview for the Eagles' head-coaching vacancy will not have to travel to Philadelphia. Instead, Eagles owner Jeffrey Lurie, President Don Smolenski and General Manager Howie Roseman are currently aboard a flight

Share Tweet

ESPN.com profootballtalk.com

Jan 2, 2013

Jonathan Vilma on Wednesday reacted angrily to a report citing an anonymous New Orleans Saints player criticizing defensive coordinator Steve Spagnuolo, saying "we're not the Jets."

Share Tweet

NFC South afternoon update

Time for a run through some odds and ends from around the division: ATLANTA FALCONS There's apparent good news on the injury front. Cornerback Dunta Robinson (concussion) said he expects to be ready for the Jan. 13 playoff game. Coach Mike Smith already

Share Tweet

The Panthers played a strange game against the Saints on Sunday. The final score makes it look like a potential classic: The Panthers won 44-38. So does the attached statistical story: Drew Brees cleared 5,000 yards on the season, completing 29 of 43 fo…

Share Tweet

ESPN.com profootballtalk.com

Jan 2, 2013

Atlanta Falcons offensive coordinator, who was a candidate for some of the seven current NFL head-coaching vacancies, has pulled himself out of consideration for any of the openings, the team announced Wednesday on Twitter.

Share Tweet

Best hands in the NFC South?

Although Tampa Bay's Vincent Jackson went deep into the season before dropping his first pass, Atlanta's Harry Douglas had the NFC South's best hands in 2012. At least if you go by the numbers. Douglas finished with a division-high 97.4 catch percen

Share Tweet

yahoo.com deadspin.com profootballtalk.com ESPN.com

Jan 2, 2013

It's safe to say that the first season for current New Orleans Saints defensive coordinator Steve Spagnuolo did not go well. The former New York Giants defensive coordinator and St. Louis Rams head coach, who replaced Gregg Williams as the man in charge…

Share Tweet

Vilma Angry Anonymous Saint Ripped Spagnuolo

Jan 2

Jonathan Vilma addresses report of a teammate criticizing defensive coordinator Steve Spagnuolo.

Blogger Blitz: Dirk Koetter Contract

Jan 2

NFC South blogger Pat Yasinskas thinks the Falcons avoided a major distraction by signing offensive coordinator Dirk Koetter to a contract extension

DeCoud singing Falcons way to the playoffs

Jan 2

Atlanta Falcons safety Thomas DeCoud talks about his singing skills, missing a tackle on Doug Martin on his touchdown in Week 17, along with what pressures comes with winning in the playoffs.