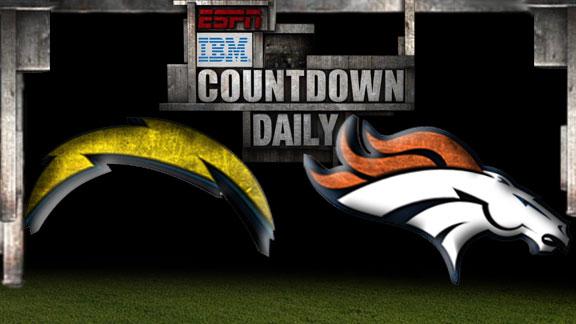 ESPN.com
profootballtalk.com
Updated Nov 15, 2012
Denver Broncos linebacker Von Miller was fined $21,000 for his low hit on Carolina Panthers quarterback Cam Newton, according to a Denver Post report.
Share
Tweet
Denver Broncos defensive end Elvis Dumervil has yet to practice this week after suffering a sprained left shoulder in a win over the Carolina Panthers last week. That's expected to change tomorrow. According to Arnie Stapleton of the Associated Press, D

Share Tweet

ESPN.com profootballtalk.com

Nov 15, 2012

Atlanta Falcons receiver Julio Jones missed practice for the second straight day with an ankle injury on Thursday and will be a game-time decision against Arizona.

Share Tweet

profootballtalk.com CNNSI.com

Nov 15, 2012

Saints running back Darren Sproles was expected by some to miss six games with a broken hand.  In the end, he may miss only two. A day after returning to practice on a limited basis, Sproles fully participated in Thursday's session.  We're told he"

Share Tweet

Cornerback Aqib Talib met the media on Thursday for the first time since the Patriots traded a fourth-round pick to the Buccaneers to acquire him just before the trade deadline. Talib said all the expected things about being excited to join the team and…

Share Tweet

We told you Wednesday that Atlanta Falcons tight end Tony Gonzalez and Tampa Bay Buccaneers safety Ronde Barber were the only NFC South players leading at their positions in the early fan voting for the Pro Bowl. Now, it's time to go a little deeper on

Share Tweet

Chargers running back Ryan Mathews remained in last Sunday's game after a scary helmet-to-helmet collision that led to Buccaneers linebacker Quincy Black being carted off the field, but he wasn't totally unscathed. Mathews has now missed practice on b

Share Tweet

Checking out the experts' picks

I went to check on the ESPN NFL Expert Picks expecting the panel to be unanimous in this week's games involving NFC South teams. But it turns out that's the case in only one game. The panel was unanimous in its choice of the Atlanta Falcons over the A

Share Tweet

panthersgab.com buccaneersgab.com

Nov 15, 2012

The Bucs travel to Carolina on Sunday for a NFC South battle between two teams whose seasons have not exactly gone like the script that many felt it would. The Panthers were expected to take a big step forward after their 2011 season in which Cam Newton…

Share Tweet

We've got a bunch of significant injuries around the NFC South, so let's take a look at the latest news. Carolina Panthers receiver/kick returner Armanti Edwards (groin) sat out Thursday's practice. That could clear the way for rookie Joe Adams to get

Share Tweet

tampabay.com

Nov 15, 2012

There does appear to be some concern whether starting right guard Jamon Meredith can play Sunday against the Panthers. Meredith did not practice Thursday due to an ankle injury suffered in the final period of Wednesday's practice, when another player fa…

Share Tweet

ESPN.com profootballtalk.com

Nov 15, 2012

Although he already has been released, defensive end Ray Edwards still will cost the Atlanta Falcons $4.65 million against the 2013 salary cap. The Falcons are off the hook for the $5.5 million in base salary that Edwards was scheduled to earn next year…

Share Tweet

Southern exposure for Week 11

The suddenly-surging New Orleans Saints will play to the largest audience of any NFC South team on Sunday. Take a look at the map of which games will be broadcast in which areas on Sunday and follow the yellow that represents the game between the Saints…

Share Tweet

CNNSI.com

Nov 15, 2012

The Saints have life again, as does their surprise featured back, Dennis Dillon writes. Chris Ivory has provided a spark that has fans asking the team's coaches, What took so long?

Share Tweet

Can the Falcons make the Super Bowl?

After a loss to New Orleans on Sunday, a lot of people started to write off Atlanta as "the same old Falcons." You know, the team that can't win the big one. The team that hasn't won a single playoff game since the arrivals of coach Mike Smith and q

Share Tweet

  This really has been true for only five weeks, but I don't think I'm going out on a limb by saying the Tampa Bay Buccaneers have the most exciting offense in franchise history and they have a true franchise quarterback for the first time. Start thi

Share Tweet

Around the NFC South

Let's take a quick look at the headlines from around the division: ATLANTA FALCONS Jeff Schultz writes that the Falcons have flaws, but points out every NFL team does. That's very true. It may seem like the world is picking the Falcons apart right now.

Share Tweet

Norv Turner, Antonio Gates stand behind Philip Rivers

After another costly interception from San Diego Chargers quarterback Philip Rivers in a loss to the Tampa Bay Buccaneers on Sunday, head coach Norv Turner was asked if he'd consider sitting his starting quarterback. Turner had benched running back Ryan

Share Tweet

NFL Cold Hard Facts

Nov 15

Cold Hard Facts looks at Andrew Luck, Tim Tebow and the New Orleans Saints

Freeman Finding Success

Nov 15

Ron Jaworski breaks down what's behind the improved play of Buccaneers' quarterback Josh Freeman

Tampa Bay Buccaneers quarterback Josh Freeman finding success by getting back to basics

Nov 15

Tampa Bay Buccaneers quarterback Josh Freeman joins "Around the League" to talk about the Buccaneers' emergence in the NFC playoff race, his own personal success and Freeman's new weapons by the bay.

Countdown Daily Prediction: Saints-Raiders

Nov 15

The NFL Live crew makes their picks for New Orleans at Oakland

Sports Columnists

Jim Trotter: To receive or to defer? That's the question

Nov 15

The biggest comeback in Broncos history did not begin with a touchdown. It began with a pre-game coin flip.

Biggest NFL games of Week 11 -- John Clayton's First & 10

Nov 15

This weekend will help determine how interesting the AFC playoff race will be down the stretch, John Clayton writes.