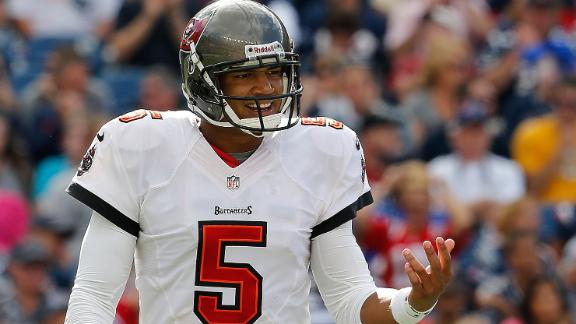 profootballtalk.com
ESPN.com
yahoo.com
Updated Oct 1, 2013
If the Buccaneers have a plan for dealing with the aftermath of benching quarterback Josh Freeman, we're not sure what it is. We're not sure they're sure, either. Six days ago, the former franchise quarterback officially fell out of favor with the franc…
Share
Tweet
Atlanta Falcons second-year offensive tackle Lamar Holmes has come to grips with one of his shortcomings -- his conditioning.

Share Tweet

METAIRIE, La. -- Every week, New Orleans Saints coach Sean Payton likes to come up with a point of emphasis that he drills into his team. It's not hard to guess what his message will be this week as the 4-0 Saints travel to face the 3-1 Chicago Bears: P…

Share Tweet

Bucs could look to Owusu or elsewhere to fill slot receiver role

With slot receiver Kevin Ogletree officially out in Tampa, the Bucs need a new slot receiver. As Rick Stroud of the Tampa Bay Times surmised during a Tuesday appearance on PFT Live, the new slot receiver could be Chris Owusu. Coincidentally, Owusu was e…

Share Tweet

Edholm's Early Edition (Week 5): Saints take unbeaten record on road to Chicago

yahoo.com

Oct 1, 2013

These are the biggest early storylines as we look ahead to Week 5, ranked in order of significance: 1. We're way too far away from the playoffs to be talking about seeding, but New Orleans Saints at Chicago Bears could help shape the NFC picture a littl…

Share Tweet

Former Buccaneers QB Shaun King believes coach Greg Schiano should be fired immediately

yahoo.com

Oct 1, 2013

Your browser does not support iframes. The Tampa Bay Buccaneers are actively trying to trade quarterback Josh Freeman after a series of public relations snafus over the past few weeks.However, former Bucs quarterback Shaun King believes coach Greg Schia…

Share Tweet

NFLPA files grievance against Bucs on behalf of Lawrence Tynes

After kicker Lawrence Tynes was placed on the non-football injury list by the Buccaneers in the wake of contracting a MRSA infection at the team's facilities, Tynes argued that the Bucs decision was the wrong one. "This whole thing is wrong," Tynes said…

Share Tweet

The Turmoil Continues

CNNSI.com

Oct 1, 2013

The turmoil in Tampa Bay grows worse by the day. Who comes off looking worse: Josh Freeman or the Buccaneers?

Share Tweet

ESPN.com yahoo.com profootballtalk.com

Oct 1, 2013

TAMPA, Fla. -- Once again, Tampa Bay coach Greg Schiano has found himself defending his approach to victory formations by other teams at the end of games. Some members of the Arizona Cardinals griped after the Bucs continued to play hard as the clock wa…

Share Tweet

Vikings coach Leslie Frazier said that Christian Ponder is "still our starting quarterback" but wouldn't commit to starting him Oct. 13 against the Carolina Panthers, even if his fractured rib is healed by then.

Share Tweet

Faced with the prospect of not having their starting wide receivers next Monday night against the Atlanta Falcons, the New York Jets will sign veteran free agent David Nelson, a league source confirmed Tuesday.

Share Tweet

Old Orleans: The Sizzling Saints Look Very Familiar

CNNSI.com

Oct 1, 2013

The Saints are looking every bit as dangerous as they did before the bounty scandal. The NFC race is now on.

Share Tweet

PFT Live: Buccaneers talk with Rick Stroud, PFT Planet calls and tweets

The Buccaneers hit the bye week with an 0-4 record and they started making moves on Tuesday to reshape the roster for their next 12 games. Cutting wide receiver Kevin Ogletree and safety Ahmad Black weren't the moves people have been waiting for, though…

Share Tweet

ESPN.com profootballtalk.com

Oct 1, 2013

The Buccaneers announced Tuesday that receiver Kevin Ogletree and safety Ahmad Black have been released.

Share Tweet

profootballtalk.com ESPN.com

Oct 1, 2013

It was hard to tell last night if the loudest sound was the Dolphins falling back to Earth, or Dolphins quarterback Ryan Tannehill going down again. Tannehill was dropped for four sacks by the Saints, which actually lowered his average per game. But he'…

Share Tweet

deadspin.com

Oct 1, 2013

Our "Buccaneers" tagpage is a chronicle of sadness, from a staph outbreak to the ignominious shelving of Bucco Bruce to an incipient player mutiny against college-to-pro hardass Greg Schiano to the swift divorce from once-franchise quarterback…

Share Tweet

NEW ORLEANS -- An examination of four hot issues from the New Orleans Saints' 38-17 victory over the Miami Dolphins: Feeling it: Saints quarterback Drew Brees insisted that the Saints still haven't played their best game and still have plenty of work to…

Share Tweet

Thomas thankful for concussion awareness

CHARLOTTE, N.C. -- Carolina Panthers starting cornerback Josh Thomas practically begged doctors to let him play against the New York Giants nine days ago. He told them he felt fine, that there were no side effects from the concussion he suffered a week …

Share Tweet

The Falcons are struggling to find consistency in several phases of the game, and injuries are a big part of the problem. So the news that left tackle Sam Baker could miss next Monday's game with the Jets comes as unwelcome news. According to D. Orlando…

Share Tweet

De Smith will visit Buccaneers today

The Bucs should sell the naming rights to the lingering brouhaha between the team and quarterback Josh Freeman. Then at least something good would come of it. From the team's perspective, nothing good will come of it today. The organization is trying to…

Share Tweet

Saints point to return of "genius" coach for 4-0 start

The difference in feeling in New Orleans from this time a year ago is obvious. "Oh-and-4 to 4-0, I'd say this feels better," quarterback Drew Brees said. And so is the reason for the flip, the return of coach Sean Payton, who has his team playing like n…

Share Tweet

NEW ORLEANS -- For the first 21 minutes of Monday night's game, the Miami Dolphins did something that no other defense had been able to do against the New Orleans Saints all season. They contained tight end Jimmy Graham, holding him without a single cat…

Share Tweet

About Last Night: Saints Make a Statement

grantland.com

Oct 1, 2013

In case you were busy watching Senator Ted Cruz do his best Eli Manning impression, here's what you missed in sports on Monday: The New Orleans Sain...

Share Tweet

Official Review: Week 4

Oct 1

NFL Vice President of Officiating Dean Blandino joins "NFL Total Access" to help clarify why Baltimore Ravens linebacker Terrell Suggs was called for unnecessary roughness against Buffalo Bills quarterback EJ Manuel and other penalties from Week 4.

New Orleans Saints' explosive 4-0 start

Oct 1

Starting the season 4-0, the New Orleans Saints have been explosive on both sides of the ball. The "NFL Total Access" crew evaluates the team's great start this season.

New Orleans Saints tight end Benjamin Watson: 'Never seen anything like (this) offense'

Oct 1

New Orleans tight end Benjamin Watson explains the difference between the Saints' and New England Patriots' offense and comments on the rise of a pair of Cleveland Browns youngsters.

Trade value of Tampa Bay Buccaneers quarterback Josh Freeman

Oct 1

With rookie Mike Glennon taking over at quarterback, what is former Tampa Bay Buccaneers starter Josh Freeman's trade value?