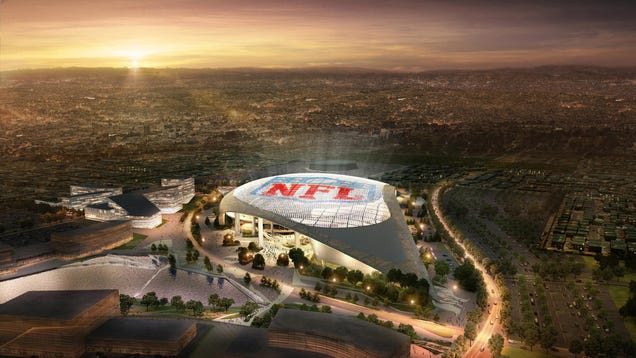 The Big Problem With LA's New Football Stadium
deadspin.com
Updated 8 hours ago
Who cares who won the Super Bowl yesterday—Los Angeles is getting a football team (again)! But luring the St. Louis Rams to Los Angeles was perhaps the easy part of a much bigger challenge when it comes to the urban planning issues around the stadium it…
Share
Tweet
profootballtalk.com

7 hours ago

Last year, a record 114.4 million viewers on average enjoyed Super Bowl XLIX, between the Patriots and Seahawks. This year, the numbers were down because the game was less compelling, but the audience was still gigantic. According to CBS, an average of …

Share Tweet

Tom Coughlin: Not coaching "a very difficult thing"

profootballtalk.com

9 hours ago

For the first time since 2004, Tom Coughlin isn't going to be preparing a team for September. Coughlin was replaced as the Giants' head coach by Ben McAdoo after a second straight 6-10 season and brief dalliances with the 49ers and Eagles didn't lead an…

Share Tweet

profootballtalk.com

9 hours ago

The 49ers have had repeated issues with the quality of the sod at Levi's Field. On Sunday, the NFL's first stint as the caretaker of the gridiron at Santa Clara encountered difficulties, too. "The footing on the field was terrible," Broncos cornerback A…

Share Tweet

nytimes.com profootballtalk.com yahoo.com

11 hours ago

When Marshawn Lynch was brought to Seattle early in the 2010 season, he was acquired because the Seahawks desperately needed a running back.

Share Tweet

yahoo.com

11 hours ago

There were lots of Americans tuned in to Super Bowl 50 between the Denver Broncos and Carolina Panthers on Sunday night, though not as many as watched last year's thrilling game between the New England Patriots and Seattle Seahawks. [Buy Broncos champio…

Share Tweet

Seahawks Defensive End Frank Clark On Cam Newton: "That Boy A Bitch"

deadspin.com

11 hours ago

Seahawks rookie defensive end Frank Clark, whose team lost to the Panthers in this year's divisional round, has some thoughts about Cam Newton:Read more...

Share Tweet

yahoo.com

12 hours ago

No matter what Peyton Manning decides to do — retire or keep playing — he's already reached a certain level of respect from his peers — and that happened well before his second Super Bowl title. In fact, for Seattle Seahawks quarterback Russell Wilson, …

Share Tweet

profootballtalk.com nydailynews.com

18 hours ago

The Broncos have been Super Bowl champions for less than 24 hours, but time waits for no man and no team. Las Vegas has already started looking ahead to next season and they've installed three teams as favorites to follow the Broncos as the top team in …

Share Tweet

profootballtalk.com

18 hours ago

On Sunday, Adam Schefter of ESPN reported that the Eagles are interested in turning back the clock and bringing Nick Foles back to Philadelphia a year after trading him to the Rams for Sam Bradford. That report also indicated that the Eagles are leaning…

Share Tweet

Our 2016 NFL crystal ball: Super Mario plays for Patriots, RG III to the Rams and Bengals win Super Bowl

ESPN.com

19 hours ago

Our 2016 NFL crystal ball: Super Mario plays for Patriots, RG III to the Rams and Bengals win Super Bowl

Share Tweet

Hardcore, Bandwaggoners Turn Out for Super Bowl in Hayne's Hometown

nytimes.com

Feb 8 (yesterday)

The numbers were modest and the hour a lot less sociable than in California but Australian NFL fans had themselves a proper Super Bowl party in the hometown of San Francisco 49ers punt returner Jarryd Hayne on Monday.

Share Tweet

It Looks Like The 49ers Kicked Out The Girl Scouts For A Beyoncé Concert

deadspin.com

Feb 7 (yesterday)

Earlier this week, the San Francisco 49ers cancelled a planned sleepover at Levi's Stadium for the top cookie sellers from Girl Scout troops around Northern California. As a reward for selling the most cookies, the scouts were going to spend the night o…

Share Tweet

Broncos open the scoring with a field goal drive

profootballtalk.com

Feb 7 (yesterday)

It might not have ended in the end zone, but it was definitely better than Peyton Manning's previous first possession in a Super Bowl. Of course, it couldn't be much worse than the safety off a bad snap to open the blowout loss to the Seahawks. But sett…

Share Tweet

Dawkins: Not surprised Lynch is retiring

Feb 8

The NFL Live crew discusses Marshawn Lynch's retirement and if his running style led to leaving the game early.

Jemele on Lynch: 'This may be the best for both parties'

Feb 8

Michael Smith and Jemele Hill explain why they believe Seahawks RB Marshawn Lynch announcing his retirement works out well for both the team and the player.

Lynch indicates retirement on Twitter

Feb 8

ESPN Seahawks reporter Sheil Kapadia reacts to Marshawn Lynch's apparent retirement announcement on Twitter.

'Unlike any other' Lynch intending to retire?

Feb 7

Ryan Kerrigan and Eric Allen discuss Marshawn Lynch telling people he intends to retire and the Seahawks RB's legacy.