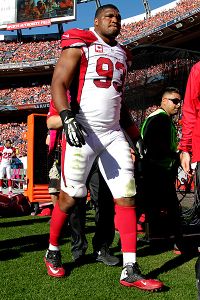 ESPN.com
Updated 9 hours ago
TEMPE, Ariz. – If it was up to Calais Campbell, he would be playing Sunday against Philadelphia. But Arizona Cardinals coach Bruce Arians will be the one who makes that call, and Arians said Friday that that status of his 6-foot-8 defensive end will be …
Upvote
Share
Tweet
Muffed returns could have led to different issue for Ted Ginn

ESPN.com

7 hours ago

TEMPE, Ariz. – Had Ted Ginn Jr. not recovered either of his muffed returns Sunday in Oakland, he knew this week might have been vastly different. But he did and he kept his job as the Arizona Cardinals' kickoff and punt returner for at least another gam…

Upvote Share Tweet

Rams look to improve perimeter run D

ESPN.com

11 hours ago

EARTH CITY, Mo. -- As they make their final preparations for the Kansas City Chiefs, perhaps the St. Louis Rams defense can get some pointers from Vanderbilt alum/running back Zac Stacy. Vanderbilt's catch phrase -- "Anchor Down" -- makes plen…

Upvote Share Tweet

yahoo.com ESPN.com profootballtalk.com

12 hours ago

Folks in the United States are starting to understand the seriousness of the Ebola crisis worldwide now that there have been documented cases in this country, but it has plagued Western Africa with nearly 5,000 deaths. One NFL owner is doing everything …

Upvote Share Tweet

profootballtalk.com

13 hours ago

Eagles center Jason Kelce has been targeting Week 10 for his return from sports hernia surgery, but things appear to be progressing more quickly. Kelce returned to practice this week and has been listed as questionable for the team's trip to Arizona to …

Upvote Share Tweet

Bye comes at perfect time for wounded 49ers

ESPN.com

14 hours ago

Jim Harbaugh's instructions and hopes for his San Francisco 49ers team as it broke in Santa Clara this week for the much-needed bye? "I want them to enjoy their families, enjoy their children if they have them, play with their kids and come back mentall…

Upvote Share Tweet

Unfazed, 49ers Coach Jim Harbaugh Doing It His Way

nytimes.com

15 hours ago

The way his big brother tells it, Jim Harbaugh never minded the regular moves every few years for his father's football coaching jobs because he needed a change in towns to find fresh surroundings and make new friends given how quickly he ran them off.

Upvote Share Tweet

Larry Fitzgerald: Lack of touches is a "champagne problem"

profootballtalk.com

15 hours ago

Larry Fitzgerald has piled up a lot of stats for a lot of mediocre teams. So now that he's not getting as many stats for a good one, he's not going to complain, at least out loud. While it's clear that the Cardinals wide receiver isn't getting the ball …

Upvote Share Tweet

Free tickets to 49ers games create problems for San Jose police

profootballtalk.com

17 hours ago

A troubling picture has been painted in recent weeks regarding the relationship between the 49ers and San Jose police. In addition to the team routinely hiring San Jose police officers to provide security services (a practice that has been suspended due…

Upvote Share Tweet

ESPN.com

18 hours ago

TEMPE, Ariz. -- The pop came overnight. When Carson Palmer threw the Thursday before Arizona hosted Washington in Week 6, wide receiver Larry Fitzgerald saw passes that were "a little soft coming out." A day later, when the Cardinals took the field for …

Upvote Share Tweet

ESPN.com

19 hours ago

Anyone looking for a good, old-fashioned running battle won't have to look further than University of Phoenix Stadium on Sunday. The Arizona Cardinals' top-ranked rushing defense will have its hands full trying to corral Philadelphia Eagles running back…

Upvote Share Tweet

ESPN confirms existence of Seattle locker-room divide, in unusual way

profootballtalk.com

19 hours ago

The Seahawks have a divided locker room. Unless they don't. Unless they do. ESPN has advanced the ball on this topic in an unusual way. Appearing on SportsCenter and introducing Thursday's sound from Seahawks quarterback Russell Wilson, anchor Kenny May…

Upvote Share Tweet

Week 8 N.F.L. Matchups

nytimes.com

21 hours ago

This week's games include a matchup between the Eagles and the Cardinals, who have unexpectedly taken control of the N.F.C. West.

Upvote Share Tweet

Eagles will test Cards' offseason focus on defending tight ends

TEMPE, Ariz. -- Tyrann Mathieu was counting in his head. Did the Arizona Cardinals allow the Philadelphia Eagles' tight ends to catch two touchdowns last season? Or three? At first he was sure of two because he allowed them in the Eagles' 24-21 win in W…

Upvote Share Tweet

EARTH CITY, Mo. -- A day after the St. Louis Rams went through a practice missing a handful of key starters, they got many of them back for Thursday night's session. Heading the list was safety T.J. McDonald, who missed Wednesday with a concussion. McDo…

Upvote Share Tweet

Seattle Seahawks quarterback Russell Wilson said a report about a division in the team's locker room is not true.

Upvote Share Tweet

profootballtalk.com

Oct 23 (yesterday)

It will be another week without running back DeAngelo Williams for the Panthers. Coach Ron Rivera said Thursday that Williams is not sufficiently healed from his ankle injury to play against the Seahawks this Sunday. That will make four straight games o…

Upvote Share Tweet

profootballtalk.com

Oct 23 (yesterday)

Seahawks quarterback Russell Wilson denies that he and Percy Harvin had a rift. Wilson said that Harvin, who was traded from the Seahawks to the Jets last week, is a lot like him. And Wilson said he thinks reporters were trying to make a big deal out of…

Upvote Share Tweet

EARTH CITY, Mo. -- St. Louis Rams special teams coach John Fassel met with the local media Wednesday for the first time since his group's game-changing performance in the Rams' 28-26 win against the Seattle Seahawks this past Sunday. As you'd expect fro…

Upvote Share Tweet

Despite rough return, CB Tramaine Brock key to 49ers secondary

Tramaine Brock suffered a painful toe injury in the San Francisco 49ers' season-opening victory at the Dallas Cowboys Sept. 7. The starting cornerback did not play again until this past Sunday night. Against the Denver Broncos. And Peyton Manning. It di…

Upvote Share Tweet

Sackless in Seattle, but will it change?

RENTON, Wash. – The sacks have been few and far between for the Seattle Seahawks this season, with only seven sacks in the first six games. Seahawks coach Pete Carroll believes it's going to get better for two men the team is counting on to bring pressu…

Upvote Share Tweet

The Seattle Seahawks and Carolina Panthers are reeling as they enter Sunday's 1 p.m. ET game at Bank of America Stadium. The defending Super Bowl champion Seahawks have lost two straight games to fall to 3-3, two games behind Arizona in the NFC West. Th…

Upvote Share Tweet

The 3-3 Kansas City Chiefs and 2-4 St. Louis Rams, both coming off big divisional victories, meet for the Governor's Cup this Sunday at Arrowhead Stadium. The Chiefs won in San Diego for the first time in seven years last week when they beat the Charger…

Upvote Share Tweet

Rams sticking with running back by committee approach

profootballtalk.com

Oct 23 (2 days ago)

Jeff Fisher is channeling his inner Mike Shanahan with his handling of the running backs for the St. Louis Rams. Zac Stacy entered last week as the Rams leading rusher and had started the first five games of the year for St. Louis. Against the Seattle S…

Upvote Share Tweet

profootballtalk.com

Oct 23 (2 days ago)

Robert Turbin found out less than 10 minutes before kickoff that he was going to be called into duty at fullback for the Seattle Seahawks last week against the St. Louis Rams after starter Derrick Coleman broke a bone in his foot during pregame warm ups…

Upvote Share Tweet

'Playbook': Philadelphia Eagles vs. Arizona Cardinals

Oct 24

The "Playbook" crew breaks down the battle of the birds and what it's going to take for the Philadelphia Eagles to go into Arizona and defeat the Arizona Cardinals.

'NFL Live' OT Challenge Flags

Oct 24

Tedy Bruschi, Mark Schlereth and Trey Wingo throw their challenge flags for teams and players in Week 8.

Allen Donates $100 Million To Ebola Fight

Oct 24

John Clayton talks about Seahawks owner Paul Allen's pledge to contribute at least $100 million to the fight against the deadly Ebola virus.

'Playbook': Seattle Seahawks vs. Carolina Panthers

Oct 24

The "Playbook" crew previews the Carolina Panthers' Week 8 matchup against the Seattle Seahawks.