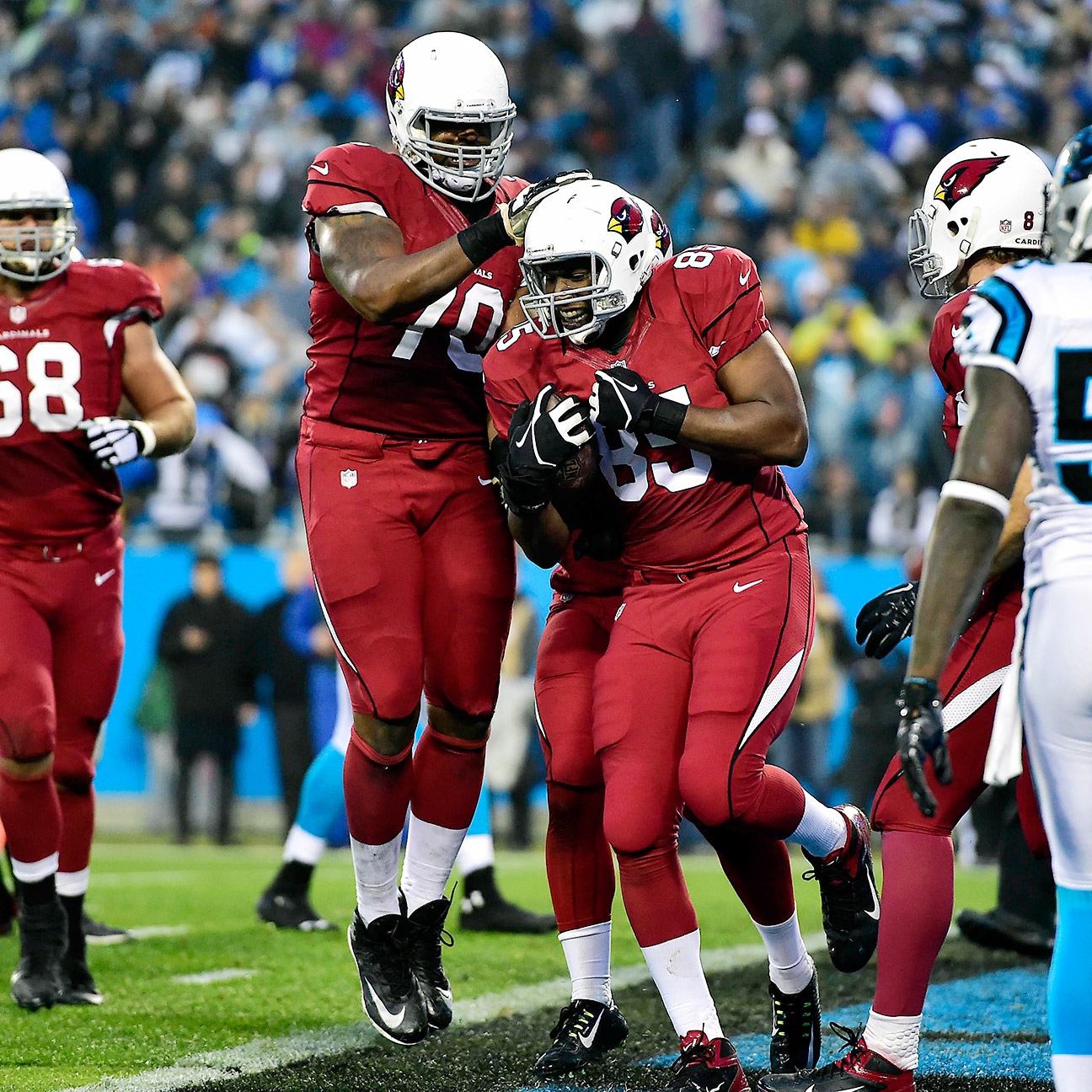 profootballtalk.com

9 hours ago

Wide receiver Jermaine Kearse is back under contract with the Seattle Seahawks after signing his restricted free agent tender with the team. According to Adam Schefter of ESPN.com, Kearse signed the tender worth $2.356 million on Tuesday. The signing wa…

Share Tweet

profootballtalk.com

12 hours ago

The Seahawks waived five veteran backups on Tuesday, including fullback/linebacker Mike Zimmer, defensive end Julius Warmsley and offensive tackle Justin Renfrow, each of whom had stints on the Seattle practice squad last season. The transactions were a…

Share Tweet

ESPN.com profootballtalk.com

14 hours ago

John Carlson's retirement leaves Cardinals with two big, inexperienced tight ends

Share Tweet

profootballtalk.com

16 hours ago

In the last three seasons, the 49ers have gone from first to second to third place in the four-team NFC West. Perhaps, then, it is not a surprise to see San Francisco as the longest shot to win the West in 2015 at one notable Nevada sports book. As of T…

Share Tweet

Quarterback, five WRs among 49ers' undrafted free agents

profootballtalk.com

18 hours ago

Though the 49ers did not draft a quarterback, they have added a rookie free agent at the position. San Francisco has signed South Carolina's Dylan Thompson, the team said Tuesday. Thompson is the lone quarterback among the 49ers' nine undrafted free age…

Share Tweet

deadspin.com profootballtalk.com

22 hours ago

The Seattle Seahawks went on the defensive when they drafted former Michigan defensive end Frank Clark, who was kicked off his college team after being arrested on charges of domestic violence last November. Facing criticism of the second-round selectio…

Share Tweet

ESPN.com

May 5 (yesterday)

NFL Nation TV delves into 'Thumbs Down' NFL draft grades

Share Tweet

Carson Palmer was on field with Cardinals on Monday

profootballtalk.com

May 5 (yesterday)

The Cardinals started the second phase of their offseason workouts on Monday, which means that they are permitted to start running plays on the field without helmets or pads. Among the Cardinals doing that with the first team was quarterback Carson Palm…

Share Tweet

Kam Chancellor's half-brother Keenan Lambert among Seahawks undrafted free agents

In addition to reaching an agreement with 34-year-old long snapper and former Green Beret Nate Boyer, the Seattle Seahawks have brought in Kam Chancellor's half-brother as a part of their undrafted free agent class. Keenan Lambert, a safety from Norfolk…

Share Tweet

profootballtalk.com yahoo.com

May 4 (yesterday)

As a trio of NFL franchises slowly circle Los Angeles, a now-removed quirk in the league's official website suggested that at least one of them will eventually land there. The NFL claims there's nothing to it. Via Joe Holleman of the St. Louis Post-Disp…

Share Tweet

The Bills didn't draft any defensive linemen this year, but they added five players to the group on Monday. Defensive end Alex Carrington returned to the team as a free agent after spending last season with the Rams and the team added five other defensi…

Share Tweet

Justin Smith: You'll know in three weeks or so if I'm playing in 2015

After making defensive lineman Arik Armstead their first-round pick on Thursday, 49ers General Manager Trent Baalke said that the selection wasn't made because of the uncertainty about Justin Smith's status for 2015. It was made because the 49ers know t…

Share Tweet

The Bills are back in the Alex Carrington business. The defensive tackle was a third-round pick of the team in 2010 and spent four years on their defensive line before making the move to the Rams as a free agent last year. The Bills changed coaching sta…

Share Tweet

49ers FB charged with vandalism after argument with girlfriend

A football player being charged with misdemeanor vandalism might not sound like that big of a deal, but the circumstances of 49ers fullback Bruce Miller's arrest will create more questions. According to Matt Maiocco of CSNBayArea.com, Miller is schedule…

Share Tweet

ESPN.com

May 4 (yesterday)

Rams still interested in OT Joe Barksdale, but where does he fit?

Share Tweet

PFT Live: Seahawks talk with Bob Condotta, NFL draft review

It was a busy weekend all over the world of sports with the NFL draft ranking near the top of the list of events drawing attention around the country. We'll take a look back at the three days of picks during Monday's edition of PFT Live. Mike Florio wil…

Share Tweet

Cardinals plan same role for Andre Ellington

During the weeks leading up to the draft, the Cardinals were often mentioned as a potential trade destination for Adrian Peterson. It made sense as a landing spot because the Cardinals struggled to run the ball effectively last season and because they'r…

Share Tweet

profootballtalk.com

May 4 (2 days ago)

The Seahawks "expect" to have linebacker Bruce Irvin on the team for a long time, but they won't be ensuring a fifth year at this point via the exercise of the automatic option that would extend his rookie deal. And while coach Pete Carroll said over th…

Share Tweet

49ers pick up a pair of 2016 draft picks

The 49ers will have a little added picking power in the 2016 NFL Draft. In trades this week, San Francisco snagged a pair of extra selections in next year's draft, getting a fifth-round pick from San Diego when trading down on Thursday and a sixth-round…

Share Tweet

Instead of taking a shot on a rookie running back with a seventh-round pick on Saturday, the Jets opted to trade it to the Rams in exchange for Zac Stacy. Stacy, a 2013 fifth-round pick, became an odd man out in St. Louis when the team drafted Todd Gurl…

Share Tweet

yahoo.com

May 3 (3 days ago)

The NFL draft is (finally) over. From the Tampa Bay Buccaneers drafting Jameis Winston (and the dumb Social Media Outrage that followed the crab legs photo) to the Arizona Cardinals taking Mr. Irrelevant, it was a wild three days. What moments won the t…

Share Tweet

Seahawks "expect" to have Bruce Irvin for a long time

The Seahawks may not be picking up the 2016 option on linebacker Bruce Irvin's contract, but that doesn't mean they are in a rush to have him off their team. That was the message sent by coach Pete Carroll and General Manager John Schneider when they me…

Share Tweet

TE Carlson retires after seven seasons in NFL

May 5

Tim Hasselbeck discusses why he's surprised that Cardinals tight end John Carlson, who suffered multiple head injuries at the collegiate and professional level, called it a career after a 2014 campaign in which he played in all 16 games.

Seahawks criticized for drafting Frank Clark

May 5

ESPN Seahawks reporter Terry Blount discusses Seattle's decision to draft DE Frank Clark, who was kicked off the team at Michigan after being accused of domestic violence.

NFL Media Insider Ian Rapoport: Linebacker Bruce Irvin's option too pricey for Seattle Seahawks

May 4

NFL Media Insider Ian Rapoport discusses why the Seattle Seahawks declined to pick up linebacker Bruce Irvin's fifth-year option.

Value picks in NFL draft

May 4

Todd McShay and Mel Kiper Jr. discuss the biggest sleepers and steals in the NFL draft.