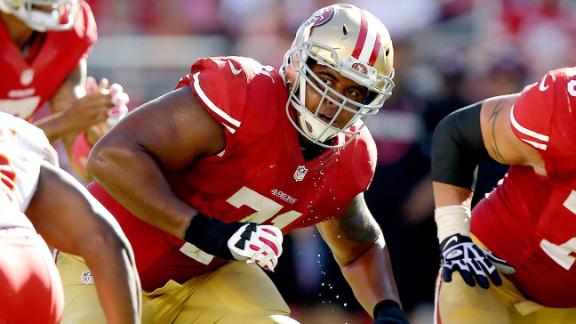 ESPN.com
profootballtalk.com
nytimes.com
yahoo.com
Updated 8 hours ago
The Carolina Panthers claimed former San Francisco 49ers offensive tackle Jonathan Martin off waivers on Friday.
Share
Tweet
49ers waive CB Cameron Fuller

profootballtalk.com

6 hours ago

The 49ers will have a different look at cornerback entering 2015. This extends even to the reserve ranks. San Francisco announced Friday it had waived second-year corner Cameron Fuller. The 24-yar-old Fuller joined the 49ers's practice squad in mid-Dece…

Share Tweet

Alameda Ta'amu's workout bonus based on weight

ESPN.com

7 hours ago

TEMPE, Ariz. – If Arizona Cardinals nose tackle Alameda Ta'amu wants his workout bonus, he'll have to watch his pounds. His one-year contract, signed on March 9, includes a $216,000 workout bonus, according to ESPN Stats & Information, but it's all …

Share Tweet

Foles may just be a stopgap in St. Louis

profootballtalk.com

11 hours ago

The Rams like Nick Foles enough that they turned down at least one offer of a first-round draft pick for Sam Bradford, and traded for Foles instead. But the Rams may not like Foles enough to keep him around beyond this year. Rams coach Jeff Fisher says …

Share Tweet

yahoo.com profootballtalk.com

14 hours ago

It has been widely assumed, as it should be, that Michael Sam was not the only gay player in the NFL when he was with the St. Louis Rams and the Dallas Cowboys last year. Sam confirmed that, saying several NFL players contacted him after he was drafted …

Share Tweet

Defensive end could be in Rams' draft plans

ESPN.com

14 hours ago

EARTH CITY, Mo. -- St. Louis Rams coach Jeff Fisher has never made any bones about his affinity for drafting defensive linemen early and often. In Fisher's two decades as an NFL head coach in Houston, Tennessee and now in St. Louis, he believes he has o…

Share Tweet

Marshawn Lynch to appear in "Beast Mode" music video

profootballtalk.com

17 hours ago

It's been a good year for Marshawn Lynch, even without getting the chance to become the face of the nation. Lynch, who has received a $5 million raise for returning to the Seahawks, gone to Turkey to promote football, and has a movie about him (although…

Share Tweet

nytimes.com

23 hours ago

Labor leaders said on Thursday they had reached an agreement with developers of a proposed Los Angeles-area stadium project, which is backed by the billionaire owner of the St. Louis Rams, that could become home for an NFL team.

Share Tweet

Vinny Testaverde working as quarterback tutor for ECU prospect

profootballtalk.com

Mar 26 (yesterday)

When Chris Weinke left IMG to take a job as the Rams quarterback coach, he was replaced by another old guy who once played for the Panthers. According to Bill Voth of Black and Blue Review, East Carolina quarterback Shane Carden is under the tutelage of…

Share Tweet

profootballtalk.com

Mar 26 (yesterday)

Rams coach Jeff Fisher has said that his team only agreed to trade Sam Bradford because Nick Foles was the player the Eagles' offered, and that the Rams thought Foles could be their franchise quarterback. That meshes with what Chip Kelly revealed at thi…

Share Tweet

profootballtalk.com ESPN.com

Mar 26 (yesterday)

San Francisco coach Jim Tomsula says the 49ers think their new running back, Reggie Bush, can carry the load as the featured back in their offense. "Reggie can be an every down back. He's done that in the NFL," Tomsula said. "He's a running back. He's n…

Share Tweet

ESPN.com

Mar 26 (yesterday)

PHOENIX -- Seattle Seahawks coach Pete Carroll talked Wednesday about some the team's players who are coming off injuries. He said the only two players who might not make it back for the start of the 2015 season are wide receiver Paul Richardson (ACL su…

Share Tweet

Panthers Claim Jonathan Martin Off Waivers

Mar 27

ESPN Panthers reporter David Newton breaks down the teams decision to claim former 49ers offensive tackle Jonathan Martin off waivers on Friday.

McShay On QB Landing Spots

Mar 27

Todd McShay discusses the teams that could be interested in drafting quarterbacks Jameis Winston and Marcus Mariota in the 2015 NFL draft.

Leading The Pack?

Mar 27

Skip Bayless and Stephen A. Smith react to ESPN Insider Mike Sando's grade for Green Bay's free-agency signings this season.

49ers Waive Jonathan Martin

Mar 26

Eric Branch of the San Francisco Chronicle breaks down the 49ers' releasing offensive lineman Jonathan Martin.