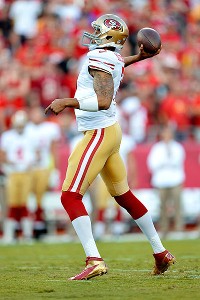 ESPN.com
Updated Aug 21, 2013
49ers quarterback Colin Kaepernick received high praise from ESPN analyst Ron Jaworski and managed to take it in stride.
Share
Tweet
EARTH CITY, Mo. -- It remains to be seen whether or not Rams offensive tackle Rodger Saffold will play in Saturday night's third preseason game in Denver, but he's at least taking steps in the right direction. Saffold suffered a dislocated left shoulder…

Share Tweet

EARTH CITY, Mo. -- With the first round of scheduled cuts less than a week away, many players around the league will not have the chance to walk away from the game on their own accord. On Wednesday morning, Rams running back Terrance Ganaway opted to do…

Share Tweet

A.J. Jenkins no longer is in a San Francisco 49ers uniform after being dealt to Kansas City. Coach Jim Harbaugh is still coming to the defense of his former receiver.

Share Tweet

QB Wilson missed chance to see Lambeau

RENTON Wash. -- Believe it or not, Seattle quarterback Russell Wilson never has been to Lambeau Field in Green Bay. It's a little surprising since he played his senior year of college at the University of Wisconsin, only 120 miles away. "Ironically, I'v…

Share Tweet

The Arizona Cardinals have signed former Miami Dolphins kicker Dan Carpenter after coach Bruce Arians used the word "unacceptable" to describe the 30-yard try Jay Feely missed during the team's most recent exhibition game. Feely connected from…

Share Tweet

The San Francisco 49ers' reported interest in free-agent quarterback Seneca Wallace affirms concerns over the situation behind starter Colin Kaepernick. The team isn't necessarily banking on Colt McCoy, Scott Tolzien and B.J. Daniels. 2008-12 QB Stats a…

Share Tweet

Seattle stockpiling defensive linemen

RENTON, Wash. -- The Seahawks continue to stockpile defensive lineman, adding two more in the past two days. Seattle now has 11 defensive lineman who were not with the team one year ago. The John Moffitt trade, which took two tries (first to Cleveland, …

Share Tweet

St. Louis Rams coach Jeff Fisher recently affirmed Daryl Richardson's status as the team's starting halfback. Isaiah Pead, Zac Stacy and undrafted rookie Bennie Cunningham are among those competing for the backup job. Steven Jackson is long gone after p…

Share Tweet

Rams check in at No. 21 in uniform rankings

EARTH CITY, Mo. -- For nearly the entire time I've covered the Rams in which Twitter and social media have been a thing, I've tweeted pregame with injury information, inactives and other pertinent information. But nothing drew the attention and, in many…

Share Tweet

Rise and shine for the 2013 Seahawks

RENTON, Wash. -- The Seahawks have five games this season that will kick off at 10 a.m., body time this is. Historically speaking, that hasn't worked out well for Seattle. Over the past 12 seasons, the Seahawks are 19-34 (.358) in regular-season games t…

Share Tweet

CNNSI.com

Aug 21, 2013

A dynamic playmaker who can change the game at a moment's notice, Patrick Peterson remains underappreciated.

Share Tweet

"Anything is an option" when it comes to Jonathan Stewart's availability for Week One

profootballtalk.com

Aug 21, 2013

Last week, Panthers coach Ron Rivera described himself as "pretty optimistic" about running back Jonathan Stewart playing in the season opener against the Seahawks. Rivera cited the work that Stewart had been doing over the previous few days as the reas…

Share Tweet

yahoo.com ESPN.com profootballtalk.com

Aug 21, 2013

You probably heard the story a few weeks ago: Tarell Brown, a pretty decent cornerback for the 49ers, failed to trigger a bonus of $2 million (as in six zeroes) by not working at the team's facility this offseason, instead doing his own thing at home in…

Share Tweet

Austin favored to win offensive ROY

EARTH CITY, Mo. -- As the highest-drafted skill position player in this year's NFL draft, the expectations for St. Louis Rams rookie Tavon Austin match his lofty status. The gambling website Bovada.lv, among the companies providing NFL odds to ESPN.com,…

Share Tweet

Around the NFC West: Cutting their losses

NFC West teams recently cast aside three relatively high draft choices aged between 23 and 26. The moves showed a willingness to disregard draft status when making decisions. Whether recent NFC West castoffs O'Brien Schofield, John Moffitt and A.J. Jenk…

Share Tweet

profootballtalk.com

Aug 21, 2013

Earlier this week, the 49ers and Chiefs swapped a pair of first-round disappointments at the receiver position. Chiefs (and former 49ers) quarterback Alex Smith has vouched for A.J. Jenkins. Likewise, the man who made the former Pitt wideout a member of…

Share Tweet

Will Seattle Seahawks win the NFC West?

Aug 21

The San Francisco 49ers were the NFC West champions in 2012, but are the Seattle Seahawks the favorites to take the crown this season?