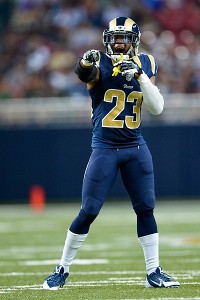 ESPN.com
Updated Aug 24, 2013
A look at how the Rams fared in five key areas of Saturday night's 27-26 loss to the Broncos. Safety First: As expected, Rodney McLeod got the start in place of injured starter Darian Stewart, who was a pregame scratch because of a hamstring injury. McL…
Share
Tweet
Rashard Mendenhall sidelined because of right knee

Early in Saturday's preseason game vs. San Diego, Cardinals running back Rashard Mendenhall showed an ability to bounce runs outside and to then use his good speed to quickly pick up yardage. However, Mendenhall was sidelined in the first half because o…

Share Tweet

yahoo.com profootballtalk.com

Aug 24, 2013

The Denver Broncos would like to be more balanced than they showed in the dress rehearsal third preseason game, one would assume. Peyton Manning threw 29 times in the first 25 minutes against the Rams on Saturday. He's one of the best in the NFL right n…

Share Tweet

Vince Young's performance against the Seahawks on Friday night was good enough to land him the job backing up Aaron Rodgers this season. That's one of the conclusions we can draw from the news that Graham Harrell is on his way out of Green Bay. Adam Sch…

Share Tweet

Rams-Broncos: What to watch

EARTH CITY, Mo. -- The St. Louis Rams travel to Denver for tonight's third preseason game against the Denver Broncos. They kick off at 8 p.m. ET. The third preseason game is generally considered the closest thing to a regular-season game as you'll find …

Share Tweet

Three things to watch for Saturday in the Arizona Cardinals' third exhibition of the 2013 season, set for 10 p.m. ET at home against the San Diego Chargers: 1. Whisenhunt homecoming. Former Cardinals coach Ken Whisenhunt returns to University of Phoenix…

Share Tweet

Penalties, lots of penalties, haven't kept the Seattle Seahawks from winning in the preseason. Seattle now has an unimaginable 34 penalties for 354 yards in the first three games, but the Seahawks won each of them. That includes a 17-10 victory Friday n…

Share Tweet

Packers' rookie running backs total -4 yards on 12 carries

Packers rookie running backs Eddie Lacy and Johnathan Franklin had about as rough a night as it gets in Friday's preseason game against the Seahawks. The first time Lacy got the ball, he went for 11 yards, but it was called back by a holding penalty. Af…

Share Tweet

With Aaron Rodgers getting just one series of play against the Seattle Seahawks on Friday night, Green Bay Packers backup quarterbacks Graham Harrell, Vince Young and B.J. Coleman each had an opportunity to show what they could bring to the table. Young…

Share Tweet

St. Louis Rams tight end Jared Cook makes a tremendous touchdown grab

Aug 24

St. Louis Rams tight end Jared Cook elevates to grab a 3-yard touchdown pass.

Concern For Seahawks Offense

Aug 24

Eric Allen breaks down what he thinks is the biggest concern for the Seahawks' offense.

Mathews, Chargers Top Cardinals

Aug 24

Ryan Mathews rushed for 57 yards and a touchdown in the Chargers' 24-7 win over the Cardinals.

Manning, Broncos Top Rams

Aug 24

Peyton Manning was 25-for-34 with 234 yards, a touchdown and an interception in the Broncos' 27-26 win over the Rams.