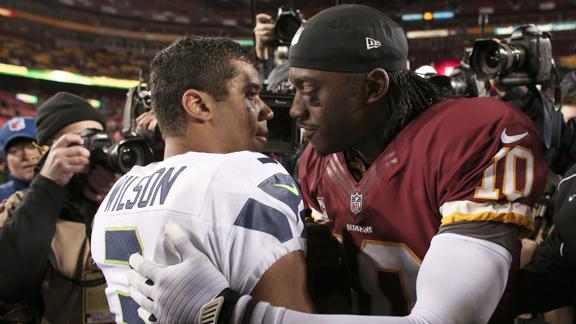 profootballtalk.com
ESPN.com
Updated Jan 7, 2013
With defensive end Chris Clemons lost for the season due to a torn ACL and meniscus, the Seattle Seahawks will have to hope rookie Bruce Irvin can fill the void. Irvin was Seattle's first-round pick in last April's draft and has been used almost exclu
Share
Tweet
Harbaugh says Kaepernick has "savant-like" understanding of playoff prep

With the 49ers preparing for a playoff game that they won a year ago against the team they beat to start the current season, it's becoming harder to overlook the fact that the quarterback who led San Fran to victory against the Saints in January 2012 an

Share Tweet

CNNSI.com

Jan 7, 2013

RICHMOND, Va. (AP) -- Henriette "Etty" Allen, matriarch of a famed American football family and mother to former Virginia Gov. George F. Allen, has died. She was 90.

Share Tweet

yahoo.com

Jan 7, 2013

With the divisional round set, let's take a quick look at the main storylines setting up for this weekend's playoffs. We'll have much more comprehensive coverage through the week, but here's a quick primer, starting with the two Saturday games. Seattle …

Share Tweet

Defensive end Chris Clemons wasn't the only member of the Seahawks to pick up an injury in Sunday's victory over the Redskins. Kicker Steven Hauschka injured his left calf during the game, which limited him to extra points and field goals while punter

Share Tweet

ASHBURN, Va. (AP) -- Robert Griffin III will get more tests on his injured right knee after an MRI proved inconclusive because of a previous ACL tear.

Share Tweet

David Akers and Billy Cundiff were taking their competition to be San Francisco's playoff kicker to Candlestick Park on Monday.

Share Tweet

2013 NFL draft order: Picks 1-24

The St. Louis Rams will hold the 16th and 22nd overall choices in the 2013 NFL draft. The 16th pick was their own. The 22nd pick was acquired from Washington as part of the trade enabling the Redskins to select Robert Griffin III in 2012. The Redskins' …

Share Tweet

Harbaugh says there's a "leader in the clubhouse" at kicker

The 49ers sent both their kickers to Candlestick Park Monday, to continue the competition that will determine who kicks against the Packers Saturday. And while 49ers coach Jim Harbaugh said he had a hunch which way he was leaning, he didn't divulge whic

Share Tweet

Seahawks vs. 49ers for SB: What are odds?

Greetings. The mind wanders during a six-hour flight across the country. More than once during the trip home I envisioned the Seattle Seahawks and San Francisco 49ers playing one another in the NFC Championship Game. Imagine what that one would do for t…

Share Tweet

yahoo.com

Jan 7, 2013

Below is your head coaching and general manager rumors and interview roundup for Monday, Jan. 7. Arizona Cardinals: The Cardinals' search for a head coach and general manager continues into a second week. The team has already interviewed current defensi…

Share Tweet

The Seahawks beat the Redskins on Sunday at FedEx Field.  But Seattle coach Pete Carroll wasn't happy with the quality of the turf. "It was horrible," Carroll told Brock & Salk of ESPN 710.  "It's a horrible field.  It's as bad as a field c

Share Tweet

Patrick Willis may play more of a role for 49ers this time

The Packers are a different offense than the first time they played the 49ers. And that may actually help the 49ers this time through. As Matt Barrows of the Sacramento Bee points out, because Green Bay spent much of the opener spreading the field with …

Share Tweet

No injuries "of serious nature" for Packers

The Packers had a couple of offensive starters leave Saturday night's win over the Vikings before the game was complete, but it doesn't sound like there's much worry about either player's status for next weekend's game against the 49ers. Tight e

Share Tweet

You called it: Fearless predictions (Wk. 19)

2008-12 You Called It Repeat Winners OK, I'm going to make this one quick. My laptop battery is about toast here on the nearly six-hour flight from Washington, D.C. to Seattle. That means I'll have a hard time posting anything to the blog for a bit, but…

Share Tweet

Status of coach, G.M. searches, one week later

[Editor's note:  With the hiring cycle seven days old and only two head-coaching jobs filled, we thought it would make sense to wipe the slate clean and provide a fresh, one-stop update as to all current vacancies.] Arizona Cardinals:  Looking for both

Share Tweet

On Sunday, there were reports that indicated 49ers exec Tom Gamble was poised to become the next general manager of the Jets. That may come to pass, but multiple reports from New York put Gamble's hiring as less of a sure thing than it seemed during the

Share Tweet

Closer look at Cards coaching candidates

A few thoughts on each of the known candidates for the Arizona Cardinals head coaching vacancy: Andy Reid: Hiring Reid would have been the safest move for several reasons. Reid has 130 regular-season victories and a Super Bowl appearance, so he's proven…

Share Tweet

Seahawks running back Marshawn Lynch has gained so many tough yards, scored so many big touchdowns, the surprise was when he fumbled in the third quarter of last night's playoff win. But though he didn't say much after the game, his teammates said the

Share Tweet

After the conclusion of Sunday's Seahawks-Redskins game, Washington left tackle Trent Williams put a hand in the face of Seattle cornerback Richard Sherman. Williams later expressed remorse for his conduct. "Just high emotions, man, and, you know, I l

Share Tweet

Greetings from somewhere over the space between Washington, D.C., and Seattle. Thanks to those who shared photos for the latest NFC West game-day slideshow, including those who were waiting at the airport when the Seahawks returned from their 24-14 vict…

Share Tweet

The Redskins' playoff loss to the Seahawks may have been the final game of linebacker London Fletcher's career. "I'll take some time to let the emotions of the season kind of get away, refresh a little bit and then sit down with my family and make

Share Tweet

Around the NFC West: Jan. 7, 2013 WASHINGTON -- Greetings from a table near Gate 18 at Reagan National Airport. I've got about 25 minutes until boarding and hope to share a few NFC West-related thoughts to help get the conversation going this morning. S…

Share Tweet

nytimes.com

Jan 7, 2013

The Seahawks may have done the Redskins a favor. By eliminating them, they prevented the Redskins from continuing to let their injured franchise player limp around the field another week.

Share Tweet

Which running back is the most important to his team?

Jan 7

Is Marshawn Lynch the most important running back left in the playoffs? LaDainian Tomlinson explains why Lynch is so important to the Seattle Seahawks' success and also discusses Ray Rice's fumbling issues.

Seattle Seahawks locker-room speech

Jan 7

Listen in as Pete Carroll and the rest of the Seattle Seahawks celebrate their wild-card win over the Washington Redskins on Sunday.

'The Coaches Show': Pete Carroll explains Seattle Seahawks winning ways

Jan 7

Seattle Seahawks head coach Pete Carroll explains how Russell Wilson has been able to have success this season and if it can continue in the playoffs against the Atlanta Falcons.

How To Fix The Chiefs

Jan 7

Herm Edwards discusses the challenges that Andy Reid will face as the new coach of the Chiefs.