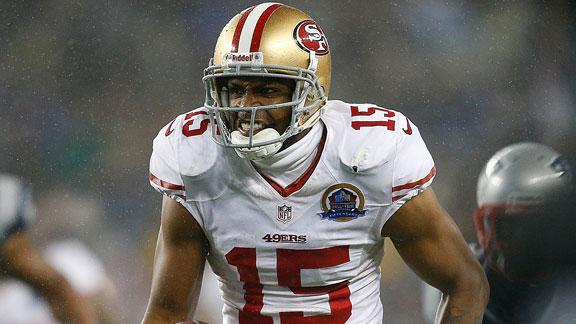 ESPN.com
Updated Jan 19, 2013
San Francisco 49ers wide receiver Michael Crabtree has voluntarily met with police in their investigation into an alleged sexual assault in a hotel after the team's playoff victory over the Green Bay Packers last weekend, his attorney said Saturday.
Share
Tweet
49ers-Falcons rewind: Go to 'White Shoes'

ATLANTA -- The San Francisco 49ers and Atlanta Falcons were division rivals for more than three decades until the NFL realigned into eight four-team divisions in 2002. Their matchup Sunday in the NFC Championship Game marks the fifth game between the te…

Share Tweet

ATLANTA -- ESPN recently made available analyst Trent Dilfer for a media session focusing on the AFC and NFC championship games. I've made available below some of Dilfer's comments relating to the San Francisco 49ers-Atlanta Falcons matchup Sunday. I wa…

Share Tweet

49ers: Ryan next after Wilson, Brady, Brees

The San Francisco 49ers face one of the NFL's top quarterbacks, Matt Ryan, on the road in the NFC Championship Game on Sunday. They know what they are getting into. The 49ers have faced Russell Wilson, Aaron Rodgers, Tom Brady and Drew Brees over their …

Share Tweet

Dashon Goldson fined $10,000, admits "It was a good call by the ref"

San Francisco safety Dashon Goldson has been fined $10,000 for a hit in the 49ers' win over the Packers, and he says he understands what he did wrong. The NFL has confirmed that Goldson was fined for a hit on Green Bay's DuJuan Harris. Goldson said he

Share Tweet

CNNSI.com

Jan 19, 2013

ALAMEDA, Calif. (AP) -- The Oakland Raiders chose a coordinator to get their offense back to a power-running scheme suited to star back Darren McFadden.

Share Tweet

Matt Ryan, 49ers' D on collision course

Greetings. I'm en route to Atlanta and looking at the San Francisco 49ers' NFC Championship Game matchup with the Falcons from a few angles. First up: a look at how Falcons quarterback Matt Ryan has played at home, compared to how the 49ers' defense has…

Share Tweet

New Cardinals coach Bruce Arians is bringing along a Colts assistant as his offensive coordinator. Harold Goodwin, who coached under Arians as offensive line coach in Indianapolis last year, will be the Cardinals' offensive coordinator this season, acco

Share Tweet

New Jaguars coach Gus Bradley's going with what he knows, hiring University of Miami offensive coordinator Jedd Fisch for the same job on his new staff, according to ESPN's Adam Schefter. Fisch and Bradley worked together with the Seahawks in 2010, be

Share Tweet

CNNSI.com

Jan 19, 2013

INDIANAPOLIS (AP) -- The Indianapolis Colts have their new offensive coordinator, and it's someone Andrew Luck already knows.

Share Tweet

San Francisco 49ers head coach Jim Harbaugh looking to overcome Super Bowl hurdle

Jan 19

The Super Bowl has eluded San Francisco 49ers head coach Jim Harbaugh his entire career. Can Colin Kaepernick make the third time a charm for Harbaugh?

Roddy White: Go Get It

Jan 19

Roddy White sits down with rapper T.I. to discuss his performance in the Falcons' playoff win against the Seahawks.