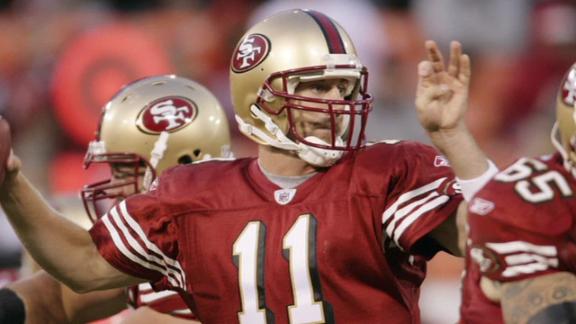 On Alex Smith's future beyond the 49ers
ESPN.com
Updated Jan 26, 2013
Alex Smith 3-year Starting Stats ESPN's John Clayton offers some thoughts in the video above regarding Alex Smith's future beyond the San Francisco 49ers' current season. I've put together a companion chart showing traditional and advanced stats for the…
Share
Tweet
Kaepernick benefits from ironman offensive line

While the play of quarterback Colin Kaepernick has certainly been exceptional, he has also benefitted from playing behind a stable, and very good 49ers offensive line. The five starting linemen played every game, and the right side of his line hasn't mi

Share Tweet

When the Bears were looking for a head coach to replace Lovie Smith, their list of candidates skewed heavily toward the offensive side of the ball. Former 49ers head coach and Bears icon Mike Singletary was the exception. There were suggestions that Sin…

Share Tweet

nytimes.com

Jan 26, 2013

The Baltimore Ravens, a traditional defensive powerhouse, will face the San Francisco 49ers' speed and youth. Tom Jolly and Carl Nelson have their annual debate on who will win.

Share Tweet

NFL32: Rob Ryan, Joe Flacco and Spags

ESPN.com

Jan 26, 2013

Passing along: Chris Mortensen's thoughts on the Rob Ryan hiring in St. Louis, Trent Dilfer's take on how Joe Flacco should attack the San Francisco 49ers' defense, and Herm Edwards' thoughts on New Orleans' firing of former Rams coach Steve Spagnuolo.

Share Tweet

Near the end of the regular season, Cardinals running back Beanie Wells said that he was only concerned with putting good performances on film for the other 31 teams in the league because he was certain he wouldn't be back with Arizona in 2013. The situ

Share Tweet

ESPN.com

Jan 26, 2013

A few thoughts after a district attorney in San Francisco announced no charges would be filed "at this time" against 49ers receiver Michael Crabtree, who had been questioned in a sexual-assault investigation: No surprise. There was never any i…

Share Tweet

Alex Smith's Future With The 49ers

Jan 26

John Clayton gives his take on what the future holds for Alex Smith.

Crabtree Won't Be Charged

Jan 26

49ers wide receiver Michael Crabtree will not have criminal charges filed against him in relation to an alleged sexual assault after the team's playoff victory against the Packers.