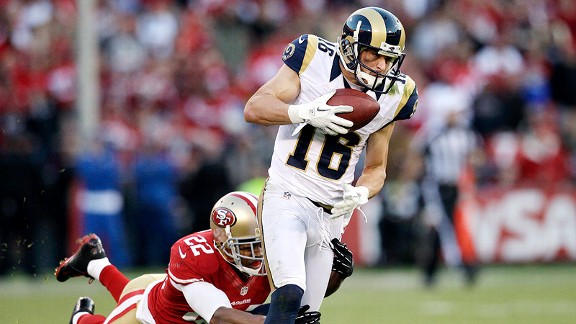 ESPN.com
Updated Nov 11, 2012
SAN FRANCISCO -- There were so many compelling stories waiting to be written on this confounding November Sunday at Candlestick Park. We'll have to settle for all of them. The San Francisco 49ers and St. Louis Rams made it so, with a few assists from re…
Share
Tweet
nytimes.com ESPN.com profootballtalk.com

Nov 11, 2012

A capsule look at the Jets' 28-7 loss to the Seahawks.

Share Tweet

CNNSI.com

Nov 11, 2012

The Giants know how to get themselves out of their November slumps, and they'll have to do it again this year, says Don Banks, who goes around the league in his Snap Judgments.

Share Tweet

ESPN.com profootballtalk.com yahoo.com

Nov 11, 2012

The St. Louis Rams and San Francisco 49ers played the NFL's first tie game in four years as both team's kickers missed overtime field goals Sunday.

Share Tweet

Rams, 49ers tie 24-24 after both teams miss OT FGs

Share Tweet

The 49ers have had to make a change at quarterback, with Colin Kaepernick replacing starter Alex Smith. The team has announced he suffered a concussion and will not return. Smith was being checked by team doctors on the sideline, and just walked into th…

Share Tweet

I think we all saw this coming. The 3-5 Rams went up 14-0 at San Francisco, running up and down the field on the league's second-ranked defense. The Rams went up early on a 36-yard touchdown pass to rookie wide receiver Brian Quick. Then Steven Jackson

Share Tweet

Rams: Knocking out Smith continues trend

ESPN.com

Nov 11, 2012

SAN FRANCISCO -- Looks like Jeff Fisher's addition to the NFC West as St. Louis Rams coach is having its desired effect on opposing quarterbacks. The Rams knocked out San Francisco 49ers quarterback Alex Smith with a concussion while taking a 14-7 lead …

Share Tweet

deadspin.com

Nov 11, 2012

We continue on our Sunday viewing with a double shot of divisional play and a random Jets-Seahawks game. Let's go! More »

Share Tweet

ESPN.com profootballtalk.com yahoo.com

Nov 11, 2012

St. Louis cornerback Janoris Jenkins and wide receiver Chris Givens are inactive for the Rams' game Sunday against the San Francisco 49ers for a violation of team rules.

Share Tweet

There are three late kickoffs on Sunday afternoon. We've got all the inactives from those games right here. Jets at Seahawks Jets: QB Greg McElroy, RB Joe McKnight, LB Aaron Maybin, G Caleb Schlauderaff, G Hayworth Hicks, TE Hayden Smith, DT Kenrick El

Share Tweet

Week 10 review: John Clayton's Last Call

ESPN.com

Nov 11, 2012

In a week of surprises, the Rams-49ers tie tops them all, writes John Clayton.

Share Tweet

Okung emerges in year three

In an effort to beef up a bad offensive line, Seahawks coach Pete Carroll and G.M. John Schneider used their first draft pick in 2010 on tackle Russell Okung. Injuries and ineffectiveness have prompted some to suggest that Okung may be a bust, based on …

Share Tweet

nytimes.com

Nov 11, 2012

For the Jets to turn their season around, Mark Sanchez needs to find another gear in his development.

Share Tweet

Lil Wayne With Randy Moss

Nov 11

San Francisco WR Randy Moss talks candidly with Lil Wayne

Sunday Blitz: Rams-49ers Recap

Nov 11

Jim Basquil and Eric Allen break down the Rams vs 49ers game which ended in a 24-24 tie.

Alex Smith Injured In Rams-49ers Tie

Nov 11

Alex Smith left the game early after suffering a concussion as the Rams and 49ers played to a 24-24 tie, the first in the NFL since 2008.

Sunday Blitz: Jets-Seahawks Recap

Nov 11

Jim Basquil and Eric Allen break down the Seahawks' 28-7 win over the Jets.

Sports Columnists

Don Banks: Giants in the midst of another stagnant second half; more Snaps

Nov 11

CHICAGO -- Musings, observations and the occasional insight on Week 10 in the NFL, from a wind-swept Soldier Field...