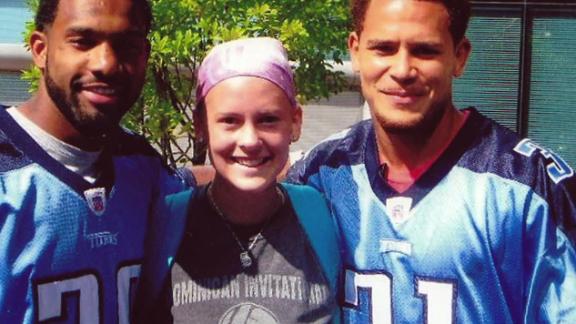 Poignant look at Rams' Finnegan via 'E:60'
ESPN.com
Updated Nov 13, 2012
Cortland Finnegan was well on his way to bowling a 300 game when news came from his agent that he would be signing with the St. Louis Rams. That is far from the most compelling aspect of this "E:60" program featuring what matters to the vetera…
Upvote
Share
Tweet
49ers Alex Smith suffered a concussion on Sunday.  And while it's unclear whether he'll be cleared by an independent neurologist to return to action on Monday night against the Bears, a league source tells PFT that Smith is seeking a second opinion.

Upvote Share Tweet

Every NFC West offense but San Francisco's lags in league-wide rankings through Week 10 despite recent gains for St. Louis and especially Seattle. The Seahawks have scored between 24 and 30 points in each of their past three games after doing so only tw…

Upvote Share Tweet

In the middle of a wave of offensive line problems, the Panthers are apparently turning to a guy they're familiar with. Jeremy Bridges, who was waived off injured reserve by the Cardinals recently, will be signed by the Panthers, according to Aaron Wils

Upvote Share Tweet

CNNSI.com

Nov 13, 2012

Week 10 in the NFL saw the vexing issue of concussions raise its ugly (and groggy) head again, with three starting quarterbacks in the NFC going down like so many bowling pins. Michael Vick on the East Coast, Alex Smith on the West Coast and Jay Cutler …

Upvote Share Tweet

nydailynews.com

Nov 13, 2012

Mike Shanahan had not been given much of a chance by Al Davis, which didn't necessarily make him unique, although it did make him bitter.

Upvote Share Tweet

NFC West QB play mostly on rise lately

The past few weeks have been mostly better ones for NFC West quarterbacks. The San Francisco 49ers' Alex Smith completed 18 of 19 passes with three touchdowns in Week 8. Seattle Seahawks rookie Russell Wilson has seven TD passes with one interception ov…

Upvote Share Tweet

Outside the Game: Vernon Davis is finally following his artistic heart

yahoo.com

Nov 13, 2012

Growing up as he did in a tough Washington D.C. neighborhood, San Francisco 49ers tight end Vernon Davis had artistic interests and talents that were sidetracked by the pressures and prejudices of the inner city. Davis avoided art classes in high school…

Upvote Share Tweet

You've heard the chatter by the sports pundits and on the talk shows. Heck, you may have even heard it here. So are the knee-jerk reactions about your team based in reality? Our NFL bloggers weigh in.

Upvote Share Tweet

Awaiting tests for 49ers QB Alex Smith

The San Francisco 49ers won't know their quarterback situation until later in the week. Coach Jim Harbaugh, speaking Monday in the video above, was vague regarding Alex Smith's prospects for playing against Chicago in Week 11. Initial indications sugges…

Upvote Share Tweet

Falling 1. Wayward Rams rookies. The St. Louis Rams battled to a 24-24 tie in San Francisco without cornerback Janoris Jenkins or receiver Chris Givens. Coach Jeff Fisher named both players inactive for violating team rules. Jenkins had been struggling …

Upvote Share Tweet

San Francisco 49ers kicker David Akers seemed like a natural candidate for the "falling" category in our weekly NFC West Stock Watch scheduled for later Tuesday. Akers missed a 41-yard attempt in overtime against St. Louis on Sunday, after all…

Upvote Share Tweet

After a second consecutive win to move to 6-4 on the season, Seattle Seahawks head coach Pete Carroll gave his team a simple message on Monday. Get outta here. Carroll gave his players the entire week off as Seattle finally gets their bye in Week 11 of …

Upvote Share Tweet

E:60 - Cortland Finnegan

Nov 13

Instigator, annoying, dirty... to most these are the words that define Rams cornerback Cortland Finnegan. But to 19-year-old Kelsey Towns, the words that define Cortland Finnegan are inspiring, loving, genuine and friend.

NFLPA Wants Concussion Specialists On Sidelines

Nov 13

Stephania Bell discusses NFLPA executive director DeMaurice Smith's call for the league to hire "concussion specialists" to man the sidelines.